A bird view of Intercontinential Phu Quoc. – Photo BIM Group
---
Not shying away from talking about challenges or past failures, but learning from them as great lessons, deputy chairman of BIM Group Doan Quoc Huy has proven to be a fully-fledged successor who leads the diversified group to overcome difficulties and affirm its solid position in the business world. With knowledge gained during his time studying abroad, coupled with rich experiences accumulated from doing business in Viet Nam, Huy continues realising the ambition of moving BIM Group toward sustainability and prosperity.
Being the successor generation of BIM Group, your career, however, started with a lot of challenges, such as when you had just taken over the property business, the real estate market was in crisis, following the suspension of flights for the group's subsidiary carrier, Air Mekong. How can a young businessman stand firm at the "heart of the storm" and successfully contribute to navigating BIM Group out of difficulties and to take off?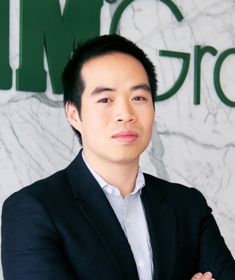 Doan Quoc Huy
Since childhood, I had been fortunate to have opportunities to follow my father, Doan Quoc Viet, an elite businessman, during business trips, which gradually developed my passion for business. My father started BIM Group in 1994 in Quang Ninh Province and built it into a diversified group. This is the impetus, the foundation for me to continue his career, after finishing my studying abroad.
In business, there unavoidably occurs unexpected problems. We founded Air Mekong with a desire to promote a dynamic, privately-run aviation business with premium quality and new flight routes. When Air Mekong stopped operations, many of our friends, partners and customers said that the absence of the "red-headed crane" (Air Mekong's symbol) had left them with much regret.
When deciding to stop the operations of Air Mekong, we set three prioritised targets, namely: ensuring the interests of our customers, ensuring our responsibilities to partners, and ensuring jobs for employees. For our customers, we actively refunded tickets. For our partners, we rounded up all responsibilities, fulfilled all the necessary obligations and thoroughly solved the debt problem. For the airline's employees, we fully supported them by arranging new jobs in the group's other member companies. Many of them are still working for BIM Group now.
After Air Mekong's closure, BIM Group was able to focus its resources to the fullest on its core businesses. Thus, during the past three years, the group has posted strong growth in all three business lines.
Also, after Air Mekong, we assert that the "heart" will assure the "reach" of a business.
What lessons did Air Mekong's failure teach BIM Group?
It was about the trust and prestige that accompanies BIM Group over the tough times. With experiences from Air Mekong's lessons, BIM Group's leaders had changed the investment and development strategies to ensure the appropriateness to the market demand. Moreover, in our business strategy, we always uphold prestige and quality for customers, as being the first priority. Thus, this helped us not only overcome the tough period, but also reap success.
In the group's agriculture business, our salt production captures more than 70 per cent of Việt Nam's refined industrial salt market. In the condition in which Vietnamese seafood companies operate, they often face difficulties in exports due to barriers in food hygiene and safety, the group's shrimp production posts high yields, at more than 18 tones per hectares, and our shrimp products are always welcomed by large domestic and foreign partners.
In the trade and service business, Elite Fitness has opened many premium fitness clubs in Ha Noi, HCM City and Quang Ninh Province, and continued to affirm its position as a leading gymnasium club chain in Viet Nam. BIM Group also extends its reach to education with tiNi World, the country's first education and recreation complex, which is for children ages 2 to 12 year, and has gained the trust of parents.
Zpizza, coming from the US, is developing into a favourite restaurant chain of the Vietnamese.
Notably, although the realty market in Viet Nam underwent a crisis, BIM Group, with appropriate investment strategies and the development of products suitable to customers' demands, has quickly risen as a reputable developer. BIM Group has been honoured with prestigious awards, including BCI's Top 10 Developers and Asia-Pacific Property Awards. During the past three years, we constantly spoke of our commitments to customers and successfully handed over thousands of quality property products.
Can you share the development orientation, as well as business plan of BIM Group?
BIM Group will continue focusing on our three core businesses this year, with special importance to be attached to investments in commercial and resort properties. Besides Halong Marina Uban Area in Quang Ninh Province, BIM Group expanded its reach to Laos and Phu Quoc.
Specially, Phu Quoc will be BIM Group's key market this year and in the coming years. Here, on those islands rich in tourism potential, BIM Group is developing Phu Quoc Marina tourism complex with first component projects, including InterContinental Phu Quoc Long Beach Resort, Phu Quoc Waterfront, Marine Square and Sailing Club, which BIM Group plans to debut within the third quarter of this year.
Apart from InterContinental Hotels Group, we will promote partnership with the leading global names in hotel and resort operations, such as Regent Hotels and Resorts, Fusion, and Hyatt Hotels, to operate projects in Phu Quoc Marina. Having a confirmed reputation and the known service quality of these groups will not only assure that their projects are original, but will raise the quality of service in Phu Quoc to international standards, and help promote Phu Quoc's tourism, in general, and Việt Nam's in particular.
Being among the first developers to set foot in Phu Quoc, BIM Group seemingly lost the advantages of being a pioneer, however, when several developers successfully grasp opportunities, they can do business with good results. Not until recently did BIM Group introduce Phu Quoc Marina. Is BIM Group moving slowly in Phu Quoc, compared to its rivals? Is it true that Air Mekong's lesson from its failure in opening flight routes to Phu Quoc makes BIM Group more cautious when investing in this island?
In my opinion, it is a ripe time to invest in Phu Quoc. Previously, running a tourism business in Phu Quoc was very difficult, due to poor infrastructure, higher construction costs than on the mainland, and higher power costs pushing up hotel operation costs. Now, barriers which blocked the development of Phu Quoc are gradually being removed. The new airport, since being put into operation, welcomes some 50 flights from both domestic and international routes travelling to and from Phu Quoc every day. The road system running across and around the island is being improved. The island is now connected to the national power grid. Together with tax incentives, investment costs are lower for businesses.
Tourist arrivals to Phu Quoc also skyrocketed in recent years, from just 313,000 in 2012 to 1.64 million in 2015. In the first half of this year, the island welcomed 1 million tourist arrivals, representing a rise of 22 per cent over the same period last year. The number of tourists coming to Phu Quoc is expected to soon hit 3 million, given the current growth rate. Besides the endowed tourism advantages, Phu Quoc is increasingly gaining traction with new tourism products, such as safaris, a sea-crossing cable car, golf courses and casinos.
Despite a boom in tourist visits, Phu Quoc's tourism is still in its early stage of development. There is a shortage of high-end hotel rooms. Thus, there is significant room for investments and doing businesses in Phu Quoc, as the island needs high calibre investors to turn it into the new "Bali" or "Phuket" of the region. However, opportunities and challenges always accompany each other. Rapid growth needs cautious investment. This is what we have learnt from Air Mekong's failure. I can say that it is not that we are slow in Phu Quoc, but we are carefully preparing our steps. — VNS
The article "After Air Mekong's closure, BIM Group looks for sustainable growth" was originally published on https://www.talkvietnam.com/2016/09/after-air-mekongs-closure-bim-group-looks-for-sustainable-growth/