Angela Stanford Wins the Evian Championship, Her First Major Title
ÉVIAN-LES-BAINS, France — In her 18th year on tour, after a wild and tearful final few holes, Angela Stanford became a major tournament champion on Sunday.
It was a long journey to an unlikely one-shot victory at the Evian Championship for a player who believed as an L.P.G.A. rookie in 2001 that major titles would come sooner than her 40th birthday — and probably not in France.
"I would have laughed, 'No way, it's going to happen before,'" said Stanford, whose runner-up finish at the 2003 United States Women's Open was the first of 13 top-10 finishes in majors without a win.
"I didn't know at the time how close I was," she said of that playoff loss 15 years ago. "It was only my third year, and I had no idea what I was doing, to be perfectly honest."
Those feelings returned on the 17th tee at Evian Resort Golf Club, she said, after a double bogey at the par-3 16th dropped her out of a tie with the longtime leader, Amy Olson.
Stanford closed her round of three-under-par 68 by shooting eagle-double bogey-birdie and then barely missing a birdie, leaving her in tears minutes before Olson played the 18th and made double bogey.
Her 12-under 272 for four rounds was good for a one-shot win and a $577,500 check.
Olson (74) fell into a four-way tie for second place with her fellow Americans Austin Ernst (68) and Mo Martin (70) and Sei Young Kim of South Korea (72). Martin barely missed a birdie try on the 18th that would have forced a playoff.
Olson also failed to force a playoff, missing a 6-foot putt for bogey on the 18th. Stanford waited greenside out of sight of the putting surface after signing autographs for young spectators.
Tears flowed again as Stanford watched on a giant screen while Olson — who had spent all day as the outright or joint leader — putted.
More than six years after winning the last of her five tour titles, the 76th-ranked Stanford put her hands to her mouth in surprise before beginning an emotional round of television interviews.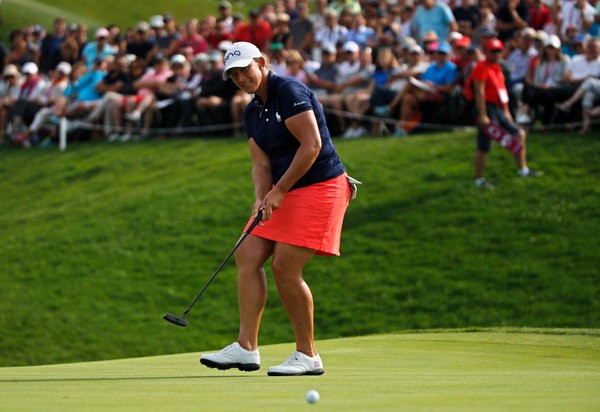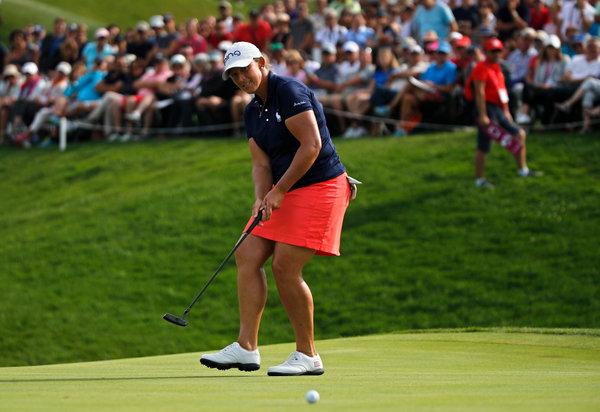 The result ensured that American women extended a streak of winning at least one major title each year since the Evian was added as the fifth in 2013.
Olson, who led by three shots with five holes to play, was stoic about a career-best result that ended with her three-putting.
"It's disappointing to finish like that," said Olson, 26, whose previous best finish in an L.P.G.A. event was a tie for seventh in 2014. "I committed to every shot and did everything I could."
Playing in the second-to-last group, Stanford started the day five shots back of Olson, who had a two-shot lead over Kim.
The leaderboard changed little on the front nine until Olson made bogey at the par-3 No. 8. She stayed as the joint leader with Kim at 13 under — three shots clear — only when Kim's putt from off the same green hit the pin and stayed out.
Olson's two-shot lead was soon restored after Kim's double-bogey 6 at the 10th. She padded her lead to three with a tap-in for birdie at the par-5 13th.
Two more Americans, Stanford and Ernst, joined Kim three behind Olson, who let a good chance slip at the par-5 15th after her short approach chip to the green was weak.
In a wild ride for Stanford, she joined Olson at 13 under after making eagle at the 15th, then gave back both shots when she found thick rough below the par-3 16th green. Soon, Stanford was punching the air with her right fist after sinking a 25-footer for birdie on the 17th.
Olson went to the 17th with a one-shot lead at 13 under as Ernst, who shot a bogey-free 68, set a clubhouse target of 11 under.
Olson, who had refused to check the leaderboard all day, said she knew only on the 18th tee where she stood. A par 4 would win, but she hooked her tee shot into the rough, and her third-shot approach was well below the pin. A 40-foot par putt for victory raced past.
On a stellar day for Americans, the 16-year-old amateur Rachel Heck (71) tied for 44th in her second major. Her 286 tied her with the defending champion, Anna Nordqvist.
"I really hope that this is what I'll be able to do with my life in a few years after college," said Heck, a Memphis native who is set to attend Stanford. "I can't wait to be out here full time."
A version of this article appears in print on , on Page D3 of the New York edition with the headline: Patience Rewarded, an American Golfer Claims Her First Major Title
. Order Reprints | Today's Paper | Subscribe
The article "Angela Stanford Wins the Evian Championship, Her First Major Title" was originally published on https://www.nytimes.com/2018/09/16/sports/golf/angela-stanford-evian-championship-.html?partner=rss&emc=rss