BRG Legend Hill Golf Resort – Where legends met to create an amazing first in golfing experiences
Hanoi, August 9, 2015 – BRG Group today announces the opening of BRG Legend Hill Golf Resort at Phu Linh commune, Soc Son district, Hanoi city. This is the most highly anticipated event of the year for Vietnamese golfers.

With both happiness and excitement BRG Group Chairman, Madame Nguyen Thi Nga, said: "We are very proud to offer this new, high quality legend golf course to golfers of all standards. Our world class golf course with twin "legend" signatures of location and golf design has been an inspiration and challenge to Nicklaus Design, Flagstick golf construction management, Z-Design clubhouse architects, GCH landscaping designs and numerous other famous international and domestic industry leaders who have participated in this project."
The opening of BRG Legend Hill Golf Resort is a significant milestone for the game of golf in Vietnam in efforts to satisfy the high expectations of premium golfers of all levels. As the first Nicklaus Design golf course to open in Vietnam it has drawn the World's leading golf course design company, senomimous for designing more than 390 golf courses in 41 countries, to BRG Legend Hill to offer an excillerating "twin green" experience never before seen in Vietnam.
Madame Nguyen Thi Nga receives the special present from Mr.Jack Nicklaus and Nicklaus Design
As the first Nicklaus Design course in Asia to offer this amazing "twin green" concept players can expect to find a unique option to play to two different greens on all 18 holes. Talking about this unique feature, Mr. Paul Stringer, President of Nicklaus Companies Asia Pacific said "The result will be a variety of strategic hole combinations that can be played in one 18-hole round. We have created two separate green complexes playing from one primary landing zone on each hole. From a Nicklaus team perspective the twin greens add interest, challenge, and a unique design feature to the golf course. The golf course at BRG Legend Hill Golf Resort has water, strategically placed bunkers, and is a beautiful environment in which to play golf."
BRG Legend Hill Golf Resort is a first cooperative project between BRG Group and Nicklaus Design which will be closely followed by a series other joint projects such as a Jack Nicklaus Golf Academy. In a June 2015 announcement on strategic cooperation the parties declared commencement of a new chapter of business initiatives that will go well beyond golf course design and cover a wide range of other golf-related business opportunities. The partnership will not only enable Vietnam to rapidly reach true international golf standards but also improve domestic lifestyles as golf continues to boom in Vietnam.
Becoming a member BRG Legend Hill Golf Resort's international club means members can enjoy the rights associated with Jack Nicklaus International Golf Club and have opportunities to play golf at over 140 golf courses in countries such as America, Canada, Mexico, Europe, China and South East Asia.
On the golf course Opening Day invited golfers played Holes 10-18 with its 9 'Masters' greens followed by 9 'Legend' greens for a total 18-hole game to test the unique "twin green" feature. During the post event presentation BRG Golf shared its golf vision for the future and made several announcements including its BRG Golden Hattrick membership program, the upgrading and rebranding of BRG Doson Seaside Golf Resort to BRG Ruby Tree Golf Resort and the ambitious BRG Vietnam U16 program for young people of Vietnam.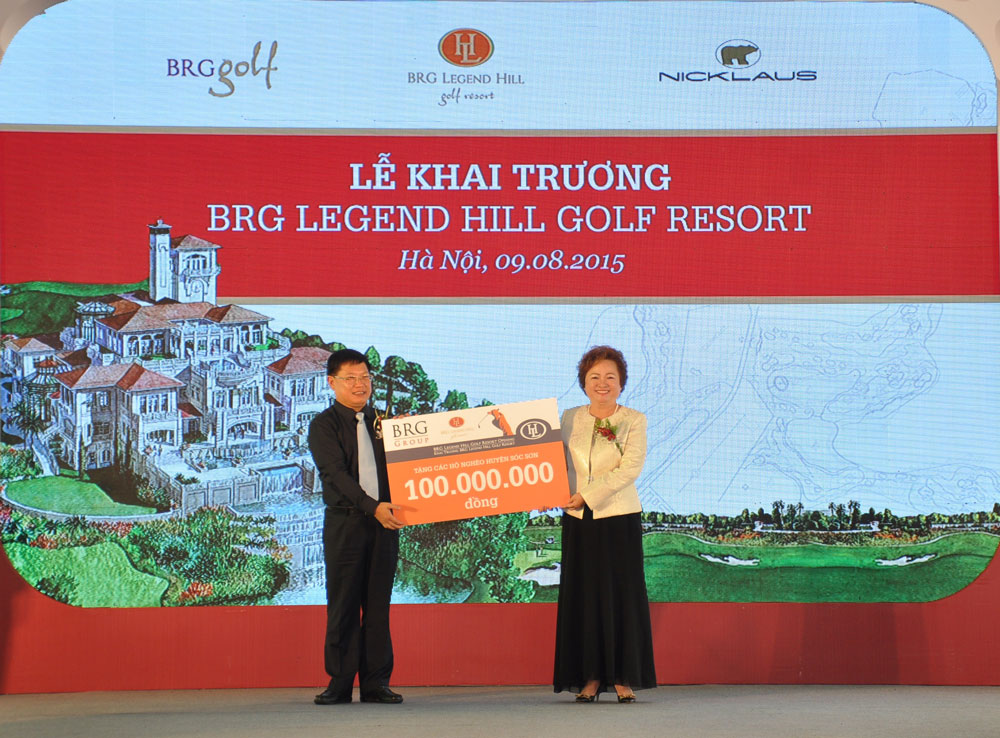 On the opening ceremony day Madame Nguyen Thi Nga gives 100.000.000 dong for the poor families in Soc Son.
As pioneers and the first and only business to own three international standard golf courses, BRG Group has always sought development opportunities for this modern and innovative game in Vietnam. Holding a strategic vision for the game BRG Group has constantly upgraded its technology and service standards at its three golf facilities. With over 20 years of expertise in building, operating and managing golf courses BRG Group has maintained its leading industry position in golf and won numerous prestigious awards; both domestic and international.
The article "BRG Legend Hill Golf Resort – Where legends met to create an amazing first in golfing experiences" was originally published on http://brggroup.vn/2/245-ct/Golf-News/BRG-Legend-Hill-Golf-Resort-Where-legends-met-to-create-an-amazing-first-in-golfing-experiences.aspx