Hanoi, 27 March 2018 – CapitaLand has launched a global Earth Hour campaign across more than 20 countries, in over 280 of its properties – including 35 properties in Singapore – in support of Singapore's Year of Climate Action. To encourage the global community to take climate action, a slew of activities focused on sustainable practices and caring for the environment will be taking place at participating CapitaLand properties worldwide, engaging millions of customers to lead greener lifestyles.
Iconic properties in CapitaLand's portfolio such as Raffles City Singapore, ION Orchard, CapitaGreen, Ascott Raffles Place Singapore, Suzhou Center Mall, Raffles City Hangzhou will take part in WWF's Earth Hour movement on 24 March 2018, 8.30pm local time, by switching off their façade and other non-essential lights.
Mr Tan Seng Chai, Group Chief People Officer of CapitaLand Group and Chairman of the CapitaLand Sustainability Steering Committee said: "As we work towards our vision to transform city living globally, our focus on sustainability helps in our efforts to future-proof our portfolio. Building resilient and inclusive buildings prepares us to face oncoming climate and demographic challenges while improving the economic, environmental and social well-being of our shared communities. To play our part as a responsible real estate developer, CapitaLand has participated in Earth Hour every year since its inception in Singapore in 2008."

Singapore's Year of Climate Action
Building on the success of CapitaLand's Earth Hour digital quiz on the CapitaStar mobile app last year, the quiz this year offers more opportunities for CapitaStar members to earn STAR$®. From 21 to 24 March 2018, CapitaStar members in Singapore stand a chance to earn STAR$® rewards when they participate in the CapitaLand Earth Hour quiz. There will be a new quiz every day, designed to raise CapitaStar members' knowledge about the environment and recommend simple but achievable lifestyle changes to reduce their plastic, carbon and water footprint.
Mr Tan added: "When CapitaLand shapes real estate of the future, we are mindful to develop sustainable designs and solutions, with active placemaking initiatives to engage and educate our shoppers, tenants, residents, partners and stakeholders to play an active role in safeguarding our environment. Through the activities organised at our properties in conjunction with Earth Hour 2018, we are bringing the community together to combat climate change. We have also taken our activities online, leveraging our digital capabilities to better engage with the next generation of increasingly tech-savvy and mobile-first customer base."
CapitaLand's participating properties worldwide, have organised activities such as eco-quizzes, recycling drives, cycling, terrarium building workshops, tree planting initiatives, candle light dinners, screenings of environment-related movies and more, all designed to engage the community, rallying everyone to play their part to save the environment.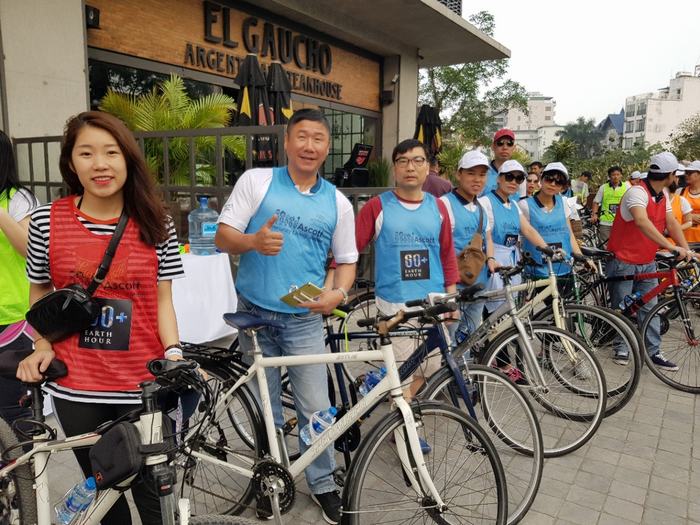 In Vietnam, CapitaLand and Ascott have banded together to organise a series of green activities in the weeks leading up to Earth Hour. Over 1,000 residents and employees contributed to the movement with upcycling and energy saving activities. They went beyond an hour of going dark by preparing Green Corners made of recycled materials, organising Green Market Bazaar, tree planting, mass cycling events, as well as gathering employees, residents and office tenants to learn about the importance of environmental sustainability.
This is the eleventh year CapitaLand and Ascott have joined hands in support of Earth Hour, engaging the community of individuals and businesses to show how simple steps can make a significant impact on addressing climate change. Besides participating in this global movement, Ascott has been recognised for its sustainable practices by Singapore's Building and Construction Authority (BCA), an agency under the Ministry of National Development, championing the development of an excellent built environment for Singapore. This year's notable achievement for Ascott includes the recent BCA Green Mark GoldPLUS Award for Somerset Ho Chi Minh City. The BCA Green Mark Certification is internationally renowned as a benchmarking scheme which incorporates world-wide recognised best practices in environmental design and performance. The recent achievement of Somerset Ho Chi Minh City affirms Ascott's commitment to operating in an economically, environmentally, and socially responsible manner.
For more information, please contact:
Nguyen Do Thuy Anh, Senior Marketing Manager
Tel: +84-24-39342342 Mobile: +84-915667005 Email: nguyen.dothuyanh@the-ascott.com
Tran Nhi, Marketing Manager
Tel: +84-28-38228899 ext.618 Mobile: +84-908886369 Email: tran.nhi@the-ascott.com
The post CAPITALAND AND ASCOTT LAUNCHES GLOBAL EARTH HOUR CAMPAIGN WITH OVER 280 PROPERTIES appeared first on VGM Viet Nam Golf Magazine.
The article "CAPITALAND AND ASCOTT LAUNCHES GLOBAL EARTH HOUR CAMPAIGN WITH OVER 280 PROPERTIES" was originally published on http://vietnamgolfmagazine.net/en/capitaland-and-ascott-launches-global-earth-hour-campaign-with-over-280-properties/