Quy Nhon, Vietnam, October 13 — How long does it take to build a world-class golf course? Eighteen months? Or perhaps two years if there are weather delays?
Depending on location, this has been the accepted time frame for new courses built in recent years – from the moment earthworks begin until grass is sufficiently grown and greens settled to allow play. Even so, everything has to come together to finish construction on such a schedule.
But new courses being built in Vietnam by FLC Group, the world's new leader in golf course development, are turning accepted construction schedules on their head.
The first course built at FLC Golf Links Quy Nhon in coastal central Vietnam, a Nicklaus Design layout, was completed in FIVE months and opened for play earlier this year just seven months after breaking ground. A second course at Quy Nhon, designed by Schmidt-Curley and built by Flagstick Constructions, will by handed over in December, also five months after the first bulldozers moved on to the site. It will open for play early in 2017, six or seven months after breaking ground.
Both courses are based on natural sand, which makes construction faster as the need for sand capping – to prevent compaction and facilitate moisture release on most new courses – isn't required.
Even so, such short construction times have previously been nothing more than fantasies.
Kelly Cherkowski, golf director for Biscom, the business unit that manages FLC Group's golf courses, says to his knowledge the dual Quy Nhon courses have set a construction record in Asia.
"We have a professional construction team comprising a project manager who has built 144 golf courses around the world – 35 of which are in the world top 100 – and four shapers. They really know how to get the job done professionally and in the shortest possible time," he says.
"The new golf course, with up to 30 metres of elevation change, will have ocean views on 16 of the 18 holes. The fairways will be wider than on the first course, there are more elevated tees and it has stunning ocean views. The greens will be more undulating, larger, and the bunker style is different to the first layout."
A clubhouse with stunning ocean views and a restaurant seating 75 people will be built behind the 18th green and next to the first tee and the putting/chipping green.
Meanwhile, a new FLC Group course at Halong Bay will be completed next March, 12 months after construction began, and will be ready for play in April. The layout, also designed by Schmidt-Curley and also built by Flagstick Constructions, overlooks the World Heritage-listed bay and promises to be one of the great golf courses in Asia.
FLC Group is a publicly-listed company based in Hanoi that expects to build 20 new golf courses in Vietnam by 2020, making the company and the country the new world leaders in golf course construction.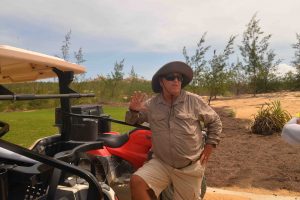 Photo: 'Butch' Abbott, project manager for Flagstick Constructions, at the new FLC Group course near Quy Nhon, Vietnam.
---
The article "FLC Group Builds New Golf Courses in Record Time" was originally published on http://www.asiantravelmedia.com/flc-group-builds-golf-courses-record-time/