FLC Group opens new 18-hole golf course in Quy Nhon
The inauguration ceremony of FLC Group's new 18-hole golf course and a golf course training center were held on the evening of January 14 in Nhon Ly Commune, Quy Nhon City.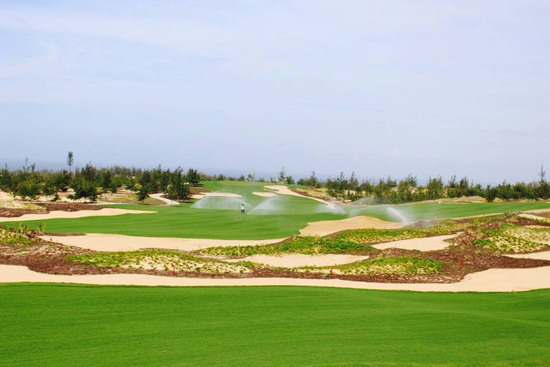 The new 18 hole golf course designed by Schmidt-Curley.
The new golf course is designed by Brian Curley, a talent architect working in American golf architecture firm Schmidt-Curley Design.
Meanwhile, golf course training center is one of expanded items of the FLC Quy Nhon golf course, resort, villas and luxury entertainment complex project which has been invested by FLC Group.

Mr. Brian Curley, who designs the new golf course, shares its idea in building the 18-hole golf course in FLC Quy Nhon.
The new golf course locates on a high hill, in which 16 holes looks towards the sea and covers the whole of FLC Nhon Ly resort complex.
Celebrating this event, FLC Golf Championship 2017, the largest annual golf tournament in Vietnam, will shift to early February instead of annual summer.

FLC Group's leader presents flowers to the first training golf course participants.
Explaining the reason to shift the golf tournament to February, Chief of Organization Board of FLC Golf Championship 2017 Luu Duc Quang said that that time is the spring. The weather is cool and less rain. Golfers will experience a completely different feeling.
During this golf tournament, the Organization Board will raise a subscription and extract 10 percent of the tournament fund to donate flooded residents in Binh Dinh.
FLC Quy Nhon Golf Links includes 2 golf courses with 36 holes and a golf training center
– The first 18 holes were designed by Nicklaus Design
– 18 holes were designed by Schmidt-Curley
– The two courses were constructed by Flagstick GCCM
Nguyen Han
The article "FLC Group opens new 18-hole golf course in Quy Nhon" was originally published on http://www.baobinhdinh.com.vn/en/EnglishViewer.aspx?macm=22&macmp=22&mabb=1017