Part of the ever popular Golf Coast region of Vietnam, this beautiful location inspired golf legend and successful course designer Sir Nick Faldo to create an 18 hole masterpiece called Laguna Lang Co Golf Club.
Around 40 minutes north of Danang International Airport lies a spectacular coastline with the course running parallel with the rugged and isolated coastline which has been recognized and awarded by many as a very special and unique championship course.
Laguna Lang Co has almost everything that the nature can offer. Throw in some green mountains, tropical forests, untouched white sand, crystal clear water, temperate climate and of course a superb climate, and you have all the ingredients for a most memorable round of golf.
Located within the greater Laguna Lang Co resort which includes the Banyan Tree Hotel, this 18-hole, par-71 championship course designed by Sir Nick Faldo, offers a variety of tee options, appealing to players at all levels of the game – 7,000 yards from the black tees and a beginner friendly 5,263 yards from the front tees. Although Sir Nick likes to create a challenge for the pros from the back tees, he has also added a number of different tees, enabling your average player to enjoy a good score. However these 18 holes still provide a good test of golf that requires some serious thought and patience to try and win a round.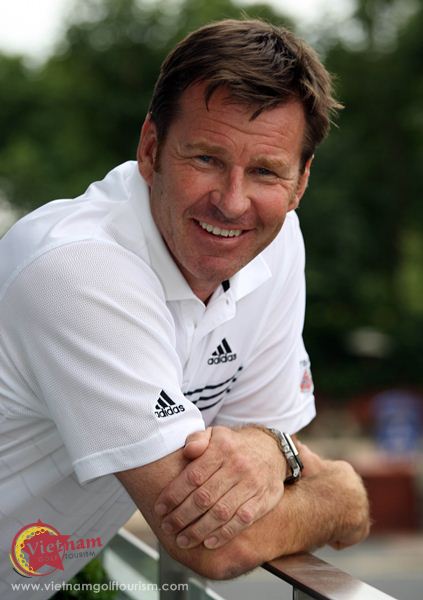 Sir Nick Faldo brings a wealth of his knowledge and playing experience to the Laguna Lang Co Golf course, which is his second design in Vietnam.
Sir Nick is quoted as saying,' Well if you go on You Tube you can see we went through the jungle and they cut me a swath through around 8-10 foot wide and that was how we first looked at the course. A lot of it was all ditches and rivers and we would bend a tree over and literally make an Indiana Jones bridge.
We had a great time, and it was fun. We then brought our crew here including my design team, shapers, director of maintenance and construction. They have all worked in this area before so they experienced and knew what it was like to put a golf course into that sort of terrain. In fact we came in on time and under budget so we got an extra star for that.
The site's natural rugged character has been integrated into the course by preserving the land's natural terrain and enhancing the site's bold and visually strong features. The links-style golf course weaves harmoniously through trees, natural streams, rice paddies and impressive rock.
This course is designed to put a premium on shot-making and course management rather than brute strength. There is a collection of short par 4's in the middle of the round that should be a master class to other designers. The par 3's offer a variety of distances to test all aspects of your game and then there is the last two holes that do ask a few questions of your ability to go long.
Accessible via the resort's internal shuttles, the Laguna Lang Co Golf Clubhouse has everything a golfer would need, including a terrace café that offers a vibrant selection of local and international fare. With everything made readily available, players could also choose to simply enjoy the stunning views of the Nick Faldo-designed course in a relaxing afternoon.
With over 140 activities at Laguna Lang Co Resort, there is something for everyone: Learn a new skill, play a new game, or simply chill out in this fantastic peaceful part of the country.
Plan your golf holiday at Laguna Lang Co Golf Club
To receive a quotation tailored to your exact requirements, please complete the following form. The fields indicated with a 'star' are mandatory. Required *