The distance between Ho Chi Minh City centre and Dai Phuoc Lotus is going to be shortened when Ring Road 3's Tan Van-Nhon Trach section opens for traffic.
The road construction is going to start at the end of this year. As of now, the preparatory stages to linking Ring Road 3 to Nhon Trach Bridge have been taken.
Dai Phuoc Bridge is one kilometre away from Nhon Trach Bridge and Dai Phuoc Lotus is located on Dai Phuoc Island, only half a kilometre away from Dai Phuoc Bridge. When the Tan Van-Nhon Trach section is finished, the drive time from the centre of Ho Chi Minh City to Dai Phuoc Lotus will be cut down to between 20 and 25 minutes.
Dai Phuoc Lotus – Sentosa in Vietnam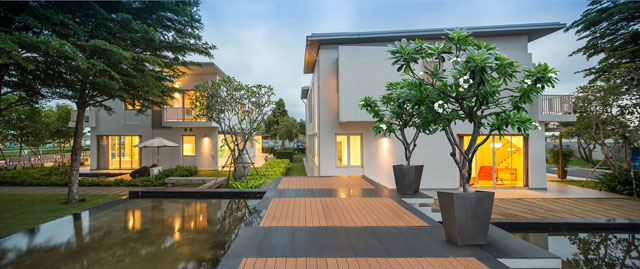 Dai Phuoc Lotus is a landmark resort-style urban development covering 200 hectares on a 464-hectare island in Saigon River. It is the first phase of Dai Phuoc Ecological Tourism Urban Township that includes villas, office buildings, shopping centres, an extended marina, recreational facilities, a hotel, a commercial centre, and various public facilities all in the midst of parks and lakes, as well as the already operational Jeongsan Country Club golf course.
Located only 800 metres from the golf course, Dai Phuoc Lotus features 332 luxury detached and semi-detached villas of two to five bedrooms, with areas up to 378 square metres, constructed on land areas between 300 and 612 square metres.
The villas meet the demands of three-generation households, offering facilities for grandparents, parents, and children alike. Operating facilities include a 375 square metre pool, a picnic and BBQ area, a café and a minimart, two tennis courts, a children's pool, and the 18-hole golf course at Taekwang Jeongsan Country Club.
Currently, the development can be reached by a leisurely cruise of just 30 minutes by boat, or one hour by car from District 1, via the Long Thanh-Dau Giay Highway. Dai Phuoc Lotus is currently the closest eco-resort to Ho Chi Minh City. Residents and guests can access the island by boat and bus for free.
High potential for profit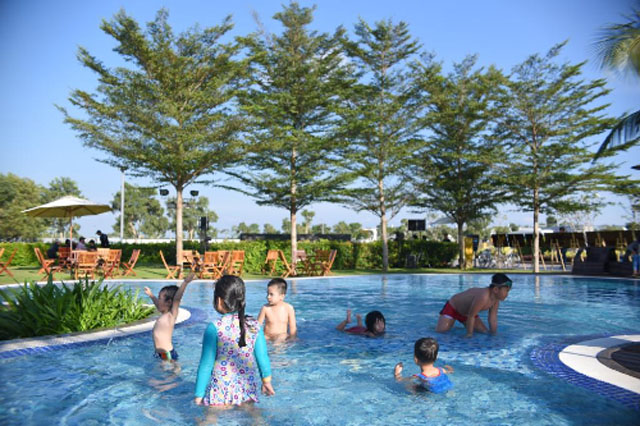 At the moment, there are only a few Home 2 villas remaining at Dai Phuoc Lotus. These villas have an area of 310 square metres each, with 225 square metres of built structure, two floors, and finished façade. Buyers only need to pay half of the price, about VND2.35 billion ($105,000) over 12 months by July 2018 in order to take over a house. By then the price of the villa is likely to have increased because Ring Road 3 is about to be completed.
The developer has committed to a 7 per cent profit rate from renting out the villas, starting from the moment the buyer receives the villa. Buyers will alsoreceive a package of luxury décor by Australian interior design experts, worth VND215 million ($9,700).
Investors expect Dai Phuoc Lotus villas' value to double or even triple in the near future.
By Hong Anh
The article "New road brings Dai Phuoc Lotus closer to Ho Chi Minh City" was originally published on https://www.talkvietnam.com/2016/07/new-road-brings-dai-phuoc-lotus-closer-to-ho-chi-minh-city/