Greg Norman with the three Rising Stars from Vietnam.
Cam Ranh, Vietnam: Greg Norman's drive to develop golf in Vietnam has been strengthened with the launch of a new initiative targeted at the country's most promising young players.
The inaugural 'Vietnam's Rising Stars' Golf Match presented by Greg Norman featured the up-and-coming trio of Nguyen Bao Long, Tran Lam and Nguyen Anh Tuan and was hosted by KN Golf Links, a project of Greg Norman Golf Course Design, a Full Business Member of the Asian Golf Industry Federation.
Norman, who also acts as Vietnam's Sports and Tourism Ambassador, said this was the beginning of what will be an annual series aimed at promoting golf to Vietnamese youngsters and helping to produce a sustainable platform for the growth of the game in the country.
Playing alongside Nguyen Bao Long, Tran Lam and Nguyen Anh Tuan, Norman advised the three boys on all facets of the game, ranging from the swing, course strategy and practice ethics to the difference in playing conditions across the globe.
Norman said: "They are wonderful young golfers, and were extremely composed on the course, showing great maturity for their age. They have obviously worked hard on their game and have developed a strong foundation.
"With proper guidance and encouragement, I could certainly see them advancing their golf careers. It was a great day and I thoroughly enjoyed spending time with them. I wish them all the best for the future."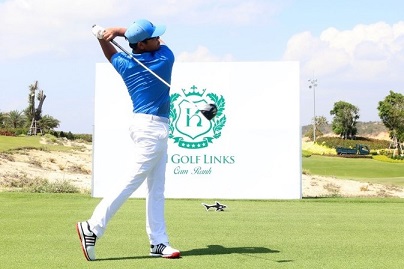 Nguyen Bao Long teeing-off.
Madam Le Nu Thuy Duong, KN Golf Links' General Director, said: "To have such an opportunity to play with one of the greatest golfers that ever lived at such a young age is an incredible opportunity for these talented youngsters. We are glad that we could work with Greg to make it happen. Hopefully it is the start of many initiatives to introduce the game to the youth and stimulate participation within the game."
For Nguyen Bao Long, the day was especially memorable as he carded a one-over-par 73 to claim the trophy. He said: "I really enjoyed the experience and think that I can speak for Lam and Tuan in saying we thank Greg for sharing the many words of encouragement and advice … and to KN Golf Links for inviting us.
"It was certainly something that will stay with me for a long time and has given me extra motivation to work harder on my game."
---
The article "Norman Boost to Vietnam's Rising Stars" was originally published on https://www.agif.asia/2019/03/norman-boost-to-vietnams-rising-stars/