VietnamGolf has an exclusive chat with Sarah Lee, the first foreign female PGA to teach in Vietnam and underscore that golf is a game for everyone.
"We love golf and we try hard. That is the key to success."
•   Chào Sarah, tại sao chị lại đến Việt Nam để dạy golf? / Hello Sarah, why did you choose Vietnam to come and teach golf? 
Tôi thấy môn golf đang phát triển rất mạnh ở Việt Nam và người Việt thật sự rất đam mê golf, vì vậy tôi chọn đất nước các bạn để phát triển sự nghiệp của mình. Lý do chính tôi chọn sân golf Vân Trì để làm việc vì đó là sân golf riêng tư tốt nhất ở phía Bắc Việt Nam. Tôi đã đi nhiều nước và chơi golf ở nhiều sân golf tốt trên thế giới, tôi thấy sân Vân Trì có layout đẹp và được quản lý chăm sóc rất tốt, thiết kế nhìn qua tưởng là dễ nhưng lại rất khó để có thể ghi được điểm tốt, vì vậy nó rất hấp dẫn.
I think golf is growing fast in Vietnam and people are really passionate about golf. So, I selected your country to develop my career. I like Van Tri Golf Club because it is the best private golf course in northern Vietnam. I've been to many countries and played at many golf courses. But, Van Tri caught my eye because of its beautiful layout and maintenance. Its design looks easy, but it's difficult to get a good score – so it's very attractive.
•   Làm thế nào để trở thành một golf thủ chuyên nghiệp? / How do you become a professional golfer? 
Đầu tiên bạn phải thực sự yêu golf. Khi đã yêu rồi thì cần một chút tài năng và chăm chỉ tập luyện. Vậy là bạn sẽ trở thành một tay golf chuyên nghiệp. Khi còn là thiếu niên, tôi thường xem TV các tay golf chuyên nghiệp thi đấu và nuôi dưỡng ước mơ của mình. Tôi đặt ra mục tiêu cho mình là sẽ thi đấu ở các giải lớn như thế. Tôi đã tập luyện rất chăm chỉ và đã trở thành golfer chuyên nghiệp. Tôi đã không nghĩ mình chỉ thi đấu trong nước mà đặt mục tiêu vươn tới các giải ở Mỹ. Đó là động lực để tôi phấn đấu.
First you must really love golf, then a little talent and hard exercise, then you have a shot at becoming professional golfer. As a teenager, I used to watch professional golfers play on TV and nurture my dreams. I set a goal for myself to compete in big tournaments like that. Then, I practised hard and became a professional golfer.
•  Golf nam và golf nữ khác nhau như thế nào? / What is the gender difference between golfers
Không thể nói golf dễ hơn với nữ hay khó hơn với nam hay ngược lại. Tất nhiên có sự chênh lệch về thể lực rất lớn nên tee xuất phát khác nhau. Tuy nhiên, khác với nhiều môn thể thao khác, golf không chỉ có sức mạnh và tốc độ nên phụ nữ cũng có thể chơi golf rất tốt. Đa số người chơi ở Việt Nam cũng giống như Hàn Quốc trước đây không học lý thuyết và kỹ thuật, chỉ thích mua gậy và ra sân chơi luôn. Trong khi chỉ cần họ học hành bài bản một chút là có thể tạo ra swing đẹp, ghi điểm tốt và chơi golf được lâu dài. Chính vì vậy tôi muốn giúp họ và đã trở thành người dạy chơi golf ở đây. Tất nhiên, bản thân tôi cũng rất thích công việc này.
I cannot say golf is easier or harder for women or men. Of course, there are physical differences that require different tees. However unlike many other sports, golf does not only require power and speed – so women can play golf very well. Most people in Vietnam and Korea do not learn theory and techniques, they just like buying clubs and immediately playing on the course. With a little professional training, they can gain a beautiful swing and a good score. That is why I want to help them. I really love this job.
PRO. = LOVE + LITTLE TALENT + HARD EXERCISE
•  Tại sao golf tại phổ biến ở Hàn Quốc như vậy? / Why is golf so popular in Korea?
Đất nước Hàn Quốc có tốc độ phát triển kinh tế nhanh, chúng tôi phải làm việc rất căng thẳng vì vậy golf giúp chúng tôi cân bằng cuộc sống và cảm nhận sự gần gũi với thiên nhiên. Cách đây 20 năm, Hàn Quốc có khoảng 100 sân golf, nay con số này đã là hơn 500. Số lượng golf trẻ cách đây 2 năm đã hơn 10,000 cháu. Quả là một con số rất ấn tượng đúng không? Qua đó chúng ta cũng biết là người Hàn thích chơi golf như thế nào. Hiện nay ở Hàn Quốc chơi golf màn hình rất phát triển nên càng dễ dàng để tiếp cận với golf. Rất nhiều người sau giờ làm việc đi chơi golf màn hình.
Korea economically has quickly developed. Hence to offset stressful work, golf helps people balance life and feel close to nature. Twenty years ago, South Korea had about 100 golf courses, now it is more than 500. The number of juniors in golf is more than 10,000. People can easily access golf and many people play after work.
•  Tại sao nữ golf thủ Hàn lại thành công như vậy? / Why are Korean women golfers so successful?
Chúng tôi rất yêu golf và tập luyện rất chăm chỉ, đó là chìa khóa thành công. Một số yếu tố khác có thể là: phụ nữ có lợi thế ở Hàn Quốc. Nam giới phải đi nghĩa vụ quân sự bắt buộc 2 năm nên ảnh hưởng lớn đến chuyên môn thi đấu. Ngoài ra về thể lực, chiều cao của phụ nữ Hàn không thua kém bất kỳ nước nào, phụ nữ Hàn ngày nay cao hơn 20 năm trước rất nhiều. Trái lại, theo dõi các giải PGA thì thấy các golf thủ nam Hàn Quốc bị hạn chế về chiều cao và đương nhiên là sẽ khác biệt về cự ly phát bóng. Yếu tố thể lực cũng rất quan trọng bởi hàng năm họ phải thi đấu trung bình 25 giải.
We love golf and we try hard. That is the key to success. Some other factors may be that men in Korea must do compulsory military service for two years and that greatly affects the professional game. In addition to physical strength, Korean women's height has grown and is much higher than 20 years ago. In contrast, PGA Korean male golfers are limited in height, of course it causes big differences in distances from the tee. These physical factors are important as they must compete at an average of 25 events per year.
•  Cách tốt nhất để phát triển golf nữ là gì? / What is the best way to promote women's golf?
Tôi chưa thấy nhiều golfer nữ ở Việt Nam. Môn golf không đòi hỏi nhiều sức lực, vì vậy nó cũng phù hợp với phụ nữ khi họ có thể thong thả đi bộ và kết hợp với việc rèn luyện sức khỏe. Để có thể chơi golf tốt tôi lại phải nói về sự đam mê. Golf đòi hỏi sự kiên nhẫn ghê gớm ngay từ đầu. Để có thể tạo ra một cú swing tốt, hàng ngày bạn phải  luyện tập với 1000 trái bóng. Vì vậy, không đam mê, không kiên nhẫn thì không trở thành pro được. Phụ nữ chơi
golf cũng có thể kết hợp các mối quan hệ xã hội và công việc kinh doanh. Bên cạnh đó, các golfer trẻ cũng cần được quan tâm đào tạo để môn golf có thể phát triển chiều sâu.
I have not seen many female golfers in Vietnam. Golf does not require much power, so it is suitable for women when they can leisurely walk and combined it with exercise. To be able to play good golf I have to talk about passion. Golf requires tremendous patience at the beginning. To make a good swing, you have to practice daily with about 1,000 balls. So no passion, no patience you shall not become a pro.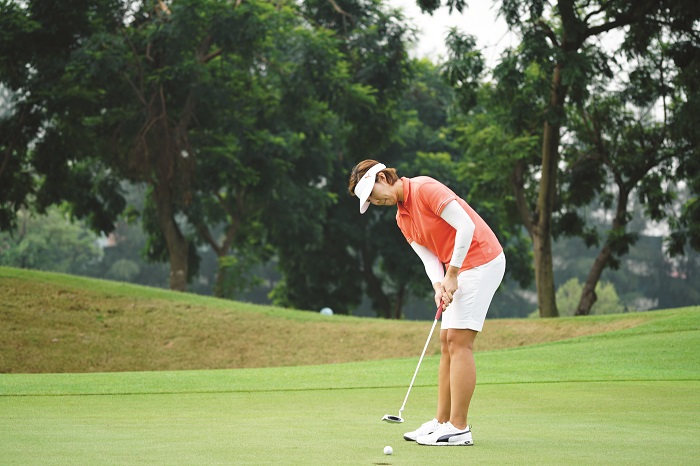 About Sarah Lee
Nationality

Turned pro

Number of years in golf

Golf record

Best score

Korean

1998

17

LPGA: 5 times 2nd place, many times top 10 finish

60 (18 holes) & 28 (9 holes) in LPGA
Golf in Korea
Population

Number of golf courses

Number of golfers

Number of female golfers

Number of young golfers

50,000,000

500

2,000,000

800,000

10,000
Best memory in golf
Khi tôi còn là golf thủ trẻ, tôi thích xem golf trên TV. Một ngày nọ, tôi đã xem Nancy Lopez chơi trên màn hình và tôi tự nhủ: "Mình muốn chơi với cô ấy một ngày nào đó" (Lopez rất nổi tiếng vào thời điểm đó). Vài năm sau, tôi đã trở thành tay golf chuyên nghiệp (LPGA), tôi đã gặp cô ấy và thi đấu cùng cô ấy! Đó là khoảnh khắc rất thú vị đối với tôi!

When I was a junior golfer, I loved to watch golf on TV. One day, I watched Nancy Lopez play and I said to myself "I want to play with her some day" [she was a very famous player at the time]. A few years later I became a professional golfer (LPGA). Now I can meet her and play her. It was very exciting moment for me.
Đăng bởi Le Thuy Chi
The article "PGA helps break down boundaries" was originally published on http://vietnamgolfmagazine.net/en/pga-helps-break-down-boundaries/