Tiger Woods, After an Eagle on 18, Shares the Tour Championship Lead
ATLANTA — The crowd at the Tour Championship's opening round on Thursday was the largest and loudest it had been since 2013, which was the last time Tiger Woods played in the event.
That was no coincidence.
Woods played one of his best rounds of the year in his return to the FedEx Cup playoff finale and caused the biggest cheer of the day by making an eagle putt from just over 25 feet on the par-5 18th for a five-under-par 65 and a share of the lead with Rickie Fowler.
It was the second time in two FedEx Cup playoff events that Woods had tied for the 18-hole lead. He shot an eight-under 62 two weeks ago at Aronimink in the opening round of the BMW Championship on a rain-soaked course that allowed just about everyone to go low.
"This was by far better than the 62 at Aronimink," Woods said of Thursday's round on the dry, tougher East Lake course. "Conditions were soft there. This, it's hard to get the ball closer. If you drive the ball in the rough, you know you can't get the ball close. You just can't control it."
Until this month, Woods had not been in the lead after any round of a tournament since the second day of the 2015 Wyndham Championship, where he finished tied for 10th.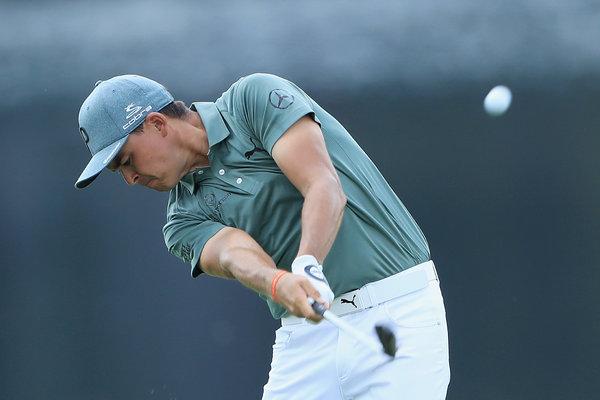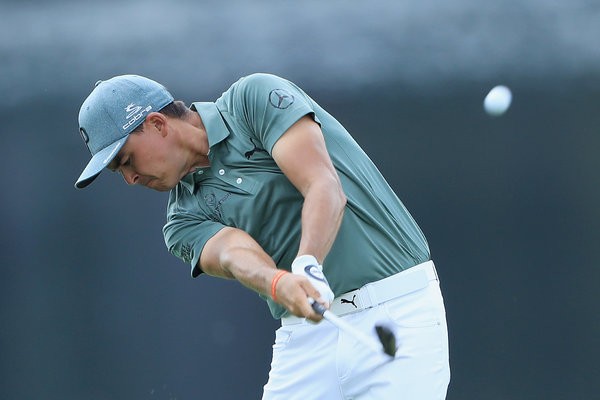 Fowler, who missed two playoff events while recovering from an injury to his right oblique, putted for birdie on all but two holes for his 65 as he tried to avoid ending the season without a victory.
Justin Rose, in his debut as the No. 1 player in the world, got up-and-down from the bunker for a birdie on the 18th for a 66, and he was tied with Gary Woodland. Rory McIlroy, Justin Thomas and Tony Finau, all of whom will be in France next week for the Ryder Cup, were another shot behind.
Woods already considered this a successful year just by virtue of his making it into the 30-man field for the FedEx finale, where everyone has a mathematical shot at capturing the $10 million bonus. He started the season in January after a fourth back operation that had limited him to 19 PGA Tour events in the previous four seasons.
"To be able to play golf again and to earn my way back to this level is something that I was hoping I would do at the beginning of the year, but I didn't know," Woods, 42, said. "And I've done it."
What would winning mean in this comeback?
"It would enhance the year," he said.
Woods still has 54 holes remaining. Two weeks ago, he went from a share of the first-round lead to five shots behind on a course where attacking flags on soft greens was the only option for low scoring.
Thursday was more about precision, and Woods felt in total control. He opened with a three-putt bogey from 25 feet, and he twice ran birdie attempts farther beyond the hole than he would have liked. But after making birdie putts from 25 feet on No. 5 and from 15 feet on No. 6, he figured out the speed of the greens and was on his way.
"I hit so many quality shots all day, whether it was tee-to-green or it was putts," Woods said. "I didn't really mis-hit a single shot today. The only shot I can honestly say that I necked pretty bad was the tee shot at 17. Hit a 3-wood there, and with an iron, I probably would have shanked it. But ended up in the fairway and made par."
Woods will play in the final group Friday with Fowler, who had seen plenty of him at home in Florida in the months before Woods returned to golf. Fowler had finished his round and was doing interviews when he heard the head-turning roar that followed Woods's making eagle.
They will be teammates next week at the Ryder Cup. Fowler has other objectives at East Lake.
"The biggest win for him is just staying healthy and being out here all year consistently," Fowler said. "Definitely happy for him. It's obviously great for our sport. It's great to have him as part of the team next week. We hope he continues to play well. I just want to play a little bit better and beat him."
Sixteen players in the 30-player field broke par on a hot afternoon with only a light breeze, and Thursday was all about staying in the game, especially as that affects the chase for the FedEx Cup.
Bryson DeChambeau, the No. 1 seed after two wins in the three other playoff events, had to birdie two of the final three holes for a 71. For someone like Woods or Fowler to win the FedEx Cup, the top five seeds would have to falter.
Rose at No. 2, Finau at No. 3 and Thomas at No. 5 did not help, playing strong opening rounds. Finau overcame two early bogeys for his 67.
Friday could be crucial for Woods. Only once this year, at the Valspar Championship in March, has he consistently stayed in the thick of competition all tournament. He figures to have plenty of support. Houses along the side streets outside East Lake offered parking, and their yards were packed. It has not been like that here in several years.
"I hadn't played this tournament in five years, and some of the people said they haven't been out here in five years," Woods said. "That's kind of nice that they're coming out and supporting this event and supporting me, as well."
A version of this article appears in print on , on Page B9 of the New York edition with the headline: Closing With Eagle, Woods Shares Tour Championship Lead With Fowler
. Order Reprints | Today's Paper | Subscribe
The article "Tiger Woods, After an Eagle on 18, Shares the Tour Championship Lead" was originally published on https://www.nytimes.com/2018/09/20/sports/tiger-woods-tour-championship-rickie-fowler.html?partner=rss&emc=rss