Tiger Woods Goes to His Car for Help at the BMW Championship
NEWTOWN SQUARE, Pa. — Tiger Woods's comeback season has gone better than he could have dared hope 17 months ago, when he had his fourth operation to repair a debilitated back. There have been brilliant late charges up the leader board, five top-six finishes and a riveting last day of the P.G.A. Championship, when Woods shot his lowest final round ever in a major, sending the galleries into a frenzy as he finished second behind Brooks Koepka.
But victory has eluded him for several reasons: accuracy off the tee, sluggish first rounds and, perhaps most vexing, erratic putting.
So before this week's BMW Championship, Woods found an old friend in the back of his car, the Scotty Cameron putter that he had used for 13 of his 14 major championships.
With the 19-year-old putter in his hands, he turned into the Woods of old on Thursday in the sweltering first round of the BMW, the third of four FedEx Cup playoff events. He made several long putts and covered his first nine holes at Aronimink Golf Club in 29 strokes, his lowest nine-hole total in a PGA Tour event in 11 years. He finished the day tied with Rory McIlroy for the lead at eight-under-par 62, a stroke ahead of Xander Schauffele.
That was Woods's lowest round relative to par this year, surpassing his seven-under 65 in the third round of the Players Championship, and it was the first time he had held a share of the lead after a round since the second day of the 2015 Wyndham Championship, where he finished tied for 10th.
"I'm a little tired," Woods, 42, said. "It will be nice to hop in a little ice bath or some kind of cooling thing."
In the first 45 PGA Tour events this year, players holding at least a share of the first-round lead have gone on to win nine times.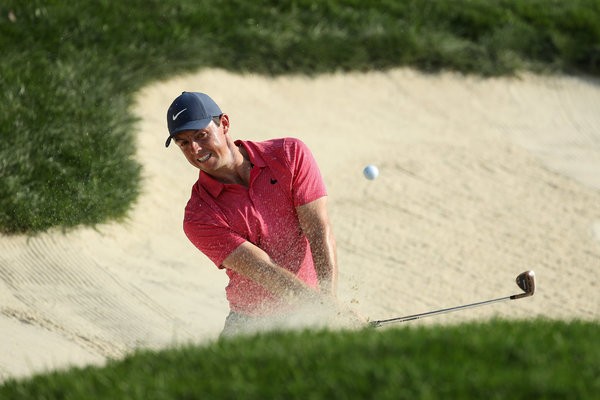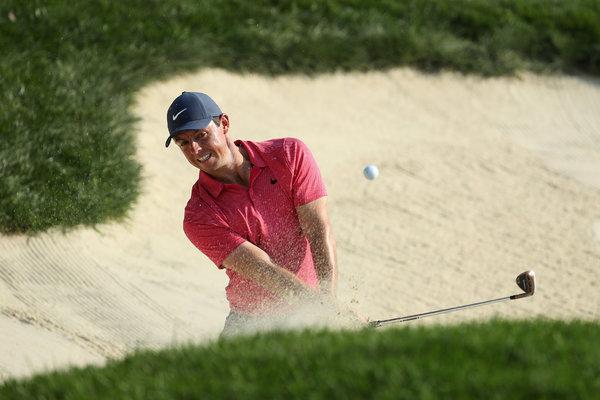 "It's a great start," Woods's caddie, Joe LaCava, said, "but there's a long way to go."
His caution was understandable. Aronimink yielded many low scores on Thursday, and 48 of the 69 players broke par.
Before Thursday, Woods had shot under par just once in his last 11 opening rounds. He was two over after his first four holes at the Dell Technologies Championship last week and three over after two holes at the P.G.A. Championship last month. In Woods's first 16 starts this year, his first-round scoring average of 71.13 was one to three strokes higher than that of his other rounds.
So when he rolled in a 20-foot birdie putt at his first hole, the 10th, "that certainly helped," La Cava said.
After faring poorly on the greens at the first playoff event two weeks ago, Woods switched putters for the second, a move that didn't help much. Out came the Scotty Cameron.
For Woods, returning to the old putter was akin to Linus Van Pelt rediscovering his blanket. "My body remembered the feel of that putter and how it swings, and I was just letting them rip on the greens," he said.
Woods's second and third birdies came on putts of 13 and 10 feet, and he took a total of 27 putts in Thursday's round.
McIlroy, who held off a final-day charge by Woods to win the Arnold Palmer Championship in March, teed off seven groups behind him on Thursday and was well aware that Woods was seven under after 10 holes. "He had it going as well, obviously," said McIlroy, who reeled off six consecutive birdies to reach nine under on his 14th hole.
McIlroy, 29, took up where he had left off in the Wednesday pro-am, where he made seven consecutive birdies on his second nine.
Woods credited his fast start to skipping the pro-am. Instead of enduring a long round with amateur partners in scorching heat, Woods put in time at the gym, received some physical therapy and spent hours off his feet watching United States Open tennis coverage.
"I needed a day off to recover and make sure I was fresh for today," Woods said, adding, "Disappointed I didn't play in the pro-am but, then again, it was the best thing for me."
Woods sweated through four shirts in the muggy conditions, but his swing was crisp. He hit his first 13 greens in regulation, and after he finally missed one, he nearly chipped in on his next shot. He was driving the ball so well that after some of his swings, he did not try to see where it landed. He simply dropped his driver near his bag as if it were a microphone.
"My speed, my rotation, so many different things that have evolved throughout the year and have gotten better," said Woods, who is seeking his first win since August 2013.
Aronimink is a new playoff site, but it is familiar to Woods, who held his tournament here in 2010 and 2011. He played the event in 2010 and finished tied for fourth.
The first round of the BMW on Thursday coincided with, later that night, the first game of the Philadelphia Eagles' defense of their Super Bowl championship, and so the crowds following Woods were smaller than they are expected to be the rest of the tournament. As Woods made the turn, Golf Channel began tracking in earnest his progress toward a possible sub-60 score, and his gallery added two Eagles fans.
Michael Smyth, who had on a replica of the jersey for Eagles defensive tackle Fletcher Cox, and his co-worker Jason Oprishko, who was wearing a replica jersey of quarterback Carson Wentz, followed Woods in before heading to Lincoln Financial Field for the opener against the Atlanta Falcons.
"Best Thursday ever," Oprishko said.
A version of this article appears in print on , on Page B10 of the New York edition with the headline: With Help From Old Friend, Woods Takes Lead at BMW
. Order Reprints | Today's Paper | Subscribe
The article "Tiger Woods Goes to His Car for Help at the BMW Championship" was originally published on https://www.nytimes.com/2018/09/06/sports/golf/tiger-woods-rory-mcilroy-bmw-championship.html?partner=rss&emc=rss