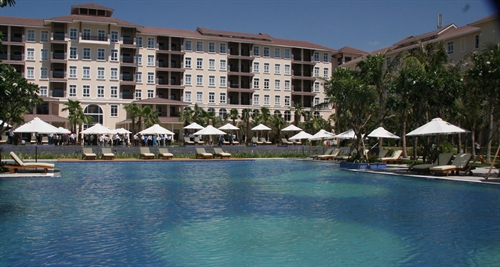 HCM CITY – The tourism property market has been hot this year with many new projects and increasing transaction volumes, insiders said.
A report from the Ministry of Construction's Housing and Real Estate Management Department said many new tourism property projects have been on sale since July.
In the north they include Vinhomes Dragon Bay Hạ Long in Quảng Ninh Province and Sapa Jade Hill in Lào Cai Province.
In Phú Quốc alone, there are the Grand World Phú Quốc, Sonasea Golf Estates and Sonasea Villas and Resort Phú Quốc.
Big investors are developing both resorts to run and condotels and other housing to sell, while many individuals are buying second homes that will double up as holiday homes.
Property transaction floors reveal that buyers have looked for units in projects like EuroVillage in Đà Nẵng and FPT City Đà Nẵng when they opened for sales.
Trần Đức Hiền, marketing director of VNG Land, told Thời Báo Kinh Tế Việt Nam (Vietnam Economic News) newspaper that the tourism property market has become hot, especially in Đà Nẵng, with many high-end condotels, mini hotels and villas being snapped up.
Condotel sales in Đà Nẵng in the first six months matched that of the previous five years combined, he said.
Experts attributed this to promotions offered by major developers and their partner banks to customers including interest subsidies.
Besides, Vietnamese people are increasingly going on holidays, spurring development of the second-home market.
Bright future
Fifteen years ago the tourism property market was virtually non-existent. But things have changed now, with the market booming and many global hospitality management companies making an appearance.
Both domestic and foreign investors are flocking to the market.
Developers expect the market to further grow, especially in coastal provinces and cities.
Marco Van Aggele, founder and CEO of Serenity Holding, said Đà Nẵng, Phú Quốc and Nha Trang are the three locations where the tourism property market would continue to develop.
Among them, Đà Nẵng has the best prospects because not only are its beaches and Hội An big tourist magnets tourism-friendly, but also the city and its surrounds have developed more amusement destinations like Asian Park, Bana hills, golf courses and others to ensure tourists, especially domestic, stay longer.
However, Phú Quốc might be the winner in the long run, he said .
"There is something romantic about small 'islands' that have always fascinated people from around the world. Bali and Phuket are just two regional examples where tourism has developed successfully."
Nha Trang will be the strong third beach destination, according to Aggele.
"The city is rather overbuilt and influenced too much by the Russian and growing Chinese markets, which is unsatisfactory for other target groups.
"The possibility of Cam Ranh as a separate high-end destination in Khánh Hòa [southern province] gives the local government a chance of avoiding the mistakes made in the past 10 years in the downtown area.
"Cam Ranh, with its beautiful beaches and very good master plan, has the chance to be a premier tourism destination in the next five to 10 years."
Speaking to Việt Nam News, he said, "compared to other countries, the promotion of tourism in Việt Nam is poor."
"The Government will need to work hand in hand with investors and operators of hospitality products to fight for a strong place in the competitive market.
"Since culture/heritage is not significant compared to places like Bali, Cambodia and Thailand, the focus should be on services and experiences that Việt Nam can offer: stunning beaches, cuisine, wellness, golf, medical tourism, conference, etc." — VNS
The article "Tourism property market picks up" was originally published on https://www.talkvietnam.com/2016/09/tourism-property-market-picks-up/