Vinpearl Paradise Villas are targeted at second home owners and real estate investors
---
Blessed with a long coastline and numerous islands, Vietnam's beach tourism investment has been growing remarkably over recent years. Many investment projects in infrastructure, transportation, and properties have been carried out in order to meet the rising demand of both domestic and international tourists and investors.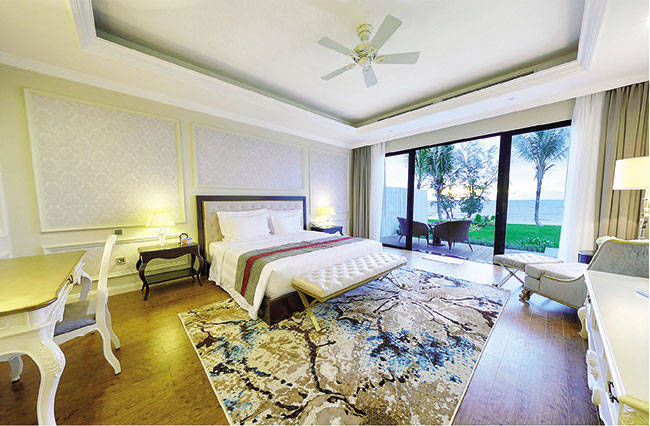 The villas are the latest of Vingroup's many projects on Phu Quoc
According to market analysts, Vietnam's beach properties have many advantages over other countries within the region and indeed globally, in terms of lower pricing, and a higher turnover rate, as well as the unspoilt surrounding landscape.
Some years ago, when the real estate market in major cities such as Hanoi and Ho Chi Minh City showed signs of cooling down, a number of financially strong local property developers picked up the upcoming trend of beach resorts and villas, and took the initiative to invest in the country's most beautiful beaches in Danang, Nha Trang, and Phu Quoc Island.
Vingroup is one of Vietnam's leading property developers, with a stellar track record in this market segment. Its major projects include the Vinpearl Resort & Villas, which offers investors not only luxurious beach villas, but also more affordable varieties, with prices ranging from VND15-20 billion ($850,000-$1 million).
In early December 2015, Vingroup put the Vinpearl Paradise Villas – the fourth phase of the Vinpearl Phu Quoc Resort & Villas complex – up for sale. All of the 332 modern villas, once completed, will have sea views and be equipped with various facilities nearby, such as Vinpearl Land, Vinpearl Golf Club, Vinpearl Safari, and Vinmec International Hospital. These villas, ranging from two to four bedrooms and 220 to 330 square metres, will be a solid investment and will generate stable profits for many years to come. More information can be seen at http://vinpearlvillas.com.
As one of the most reputable property developers in Vietnam, Vingroup has promised its customers 85 per cent of the rental profit, which is equivalent to at least 10 per cent of the villa price (excluding VAT) per year over 10 consecutive years.
Tran Dang Ninh from Hoang Anh Commercial Production Co. Ltd noted that at first he was doubtful of this rental income commitment, but ultimately he decided to buy four villas from Vingroup.
"I learnt that the group actually owns many stakes at various international tourist companies, which in turn will secure a steady number of visitors to their villas on the island," said Ninh.
The group commits to high-standard management and maintenance services to make sure the quality of the beach properties is sustained.
Given its creditability and strengths in the local real estate market, Vingroup has also partnered with Techcombank to provide its customers with home mortgages equal to 65 per cent of the property's value. This financial support will help ensure a stable income and good property value for investors over the long term.
By Tay Lan
The article "Vingroup pips rivals with paradise villas" was originally published on http://www.vir.com.vn/vingroup-pips-rivals-with-paradise-villas.html