Afternoon Rout Gives Europe a 5-3 Lead at the Ryder Cup
ST-QUENTIN-EN-YVELINES, France — Chasing its first Ryder Cup victory on the road in 25 years, the United States took an early 3-1 lead on Friday morning, only to lose it in historic fashion in the afternoon.
Europe unmistakably struck back on the first day of the first Ryder Cup to be staged in France, sweeping all four of the alternate-shot matches by considerable margins to go ahead by 5-3 heading into Saturday.
"Emotions run high in this," said Thomas Bjorn, Europe's grizzled captain. "It was a tough, tough morning for me as a captain, and I'm sure it was a tough afternoon for Jim."
Jim Furyk, the U.S. captain and a longtime Ryder Cup player, has had to deal with plenty of European brilliance and celebration through the years.
But this was the first time since the Ryder Cup began in 1927 that a European team had swept an alternate shot, or foursomes, session.
"We didn't come here to win the foursomes, we came here to win something else," said Francesco Molinari, who teamed with the Ryder Cup rookie Tommy Fleetwood to win two matches for Europe on Friday.
Still, the Europeans can take comfort in precedent. Since 1927, only nine teams have swept a session. All nine went on to win or retain the Ryder Cup, including the Americans in 2016 when they took a 4-0 lead after the opening series of foursomes at Hazeltine National Golf Club in Chaska, Minn.
Playing conditions changed considerably at Le Golf National on Friday afternoon, with the wind kicking up and sending scraps of paper into the air and rattling the flag pins. It was as if the wind was signaling a shift in momentum as well as mood, and the Europeans quickly seized control.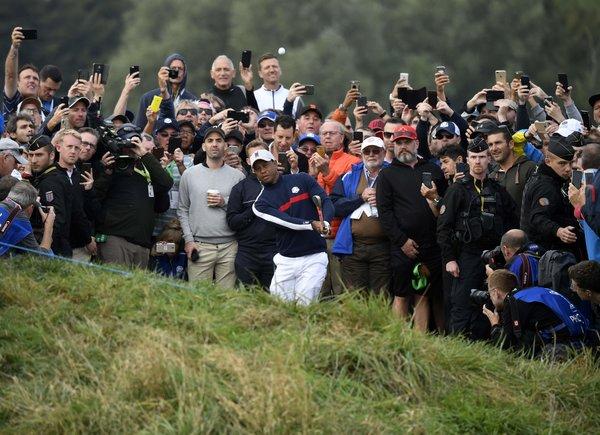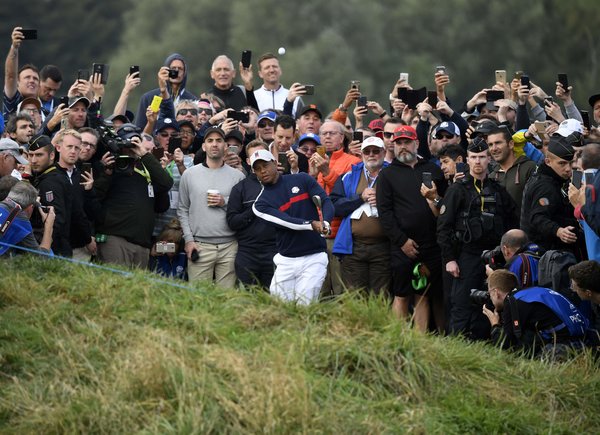 None of the matches went past the 16th hole as the Europeans closed out their four victories in a 20-minute flurry.
Henrick Stenson and Justin Rose went first, defeating Dustin Johnson and Rickie Fowler, 3 and 2. Rory McIlroy and Ian Poulter went next, closing out a comeback with a 4-and-2 victory over Bubba Watson and Webb Simpson.
Sergio Garcia and Alex Noren then defeated Phil Mickelson and Bryson DeChambeau, 5 and 4, on the 14th hole, and finally Molinari and Fleetwood finished off Justin Thomas and Jordan Spieth, 5 and 4, on the same hole.
"Even if we had played really well, it would have been tough to hang with them," Mickelson said. "But we've just got to regroup and come out sharp. There's a lot of golf left, a lot of matches and we've just got to come out and bring our best stuff."
Mickelson, 48, has struggled to do that of late. He has not had a top-10 finish on tour since May and finished last in the 30-player field at last week's Tour Championship in Atlanta. With a world ranking of No. 25, the lowest on the American team, he needed, for the first time, to be a captain's pick to make the squad.
He was not selected for the morning four-ball session on Friday and instead was there at the first tee shortly after sunrise to watch Tiger Woods, his generational measuring stick, return to Ryder Cup action for the first time since 2012.
It turned out to be a tough day for both the American veterans, as Woods and Patrick Reed were the only American pairing to lose in the morning, falling by 3 and 1 to Fleetwood and Molinari.
Fleetwood, a hirsute Englishman, took control of the match for good by making birdie putts at Nos. 15 and 16 to win both holes. Molinari, the reigning British Open champion, closed out the victory with another birdie at 17.
Woods, 42, arrived in France after winning the Tour Championship on Sunday — his first PGA Tour victory in five years. Reed has been a fiery on-course leader for the Americans since his Ryder Cup debut in 2014 and earned the nickname "Captain America" after his demonstrative, effective performance at Hazeltine in 2016.
But he and Woods could ultimately not keep pace, and Furyk chose not to use Woods or Reed in the foursomes. (They will face Molinari and Fleetwood again in the Saturday morning fourball session.)
It was a morning full of surprises, chip-ins and splashdowns on the watery Albatros Course. But the United States was able to grab the early lead with two of their victories secured on the 18th hole.
Brooks Koepka and Tony Finau rallied to defeat Rose and Jon Rahm, 1-up.
Finau, a Ryder Cup rookie who has become a force in 2018, hit a tee shot on the par-3 16th that looked to be headed for the water, only to bounce high off a wooden bulkhead and end up five feet from the hole. He made that birdie putt to win the hole and even the match with two holes to play.
"I said, 'Get lucky somehow,'" Finau said. "That's what I was thinking in my head. Fortunately I did. That was a huge break for us."
Johnson and Fowler took command on the back nine to defeat McIlroy and Thorbjorn Olesen, 4 and 2. And in the wildest ride of the morning, Spieth and Thomas took an early 3-up lead against Paul Casey and Tyrrell Hatton on the strength of Spieth's brilliant putting, but lost the lead before recovering for a 1-up victory.
All eight teams in the morning were first-time pairings in the Ryder Cup. But that does not mean the players were unfamiliar with their partners' games. Johnson, the world's No. 1 player, and Fowler are friends and frequent practice partners, and they combined to score the first point of the event.
McIlroy, a four-time major champion and one of Europe's longtime leaders, failed to make a single birdie in a better-ball format that encourages players to be bold. Olesen, a Ryder Cup rookie from Denmark who was the last player to qualify for the European team, was obliged to carry more of the load. Though he produced some sparkling shots, he and McIlroy could not hold off Johnson and Fowler on the back nine.
"An embarrassing morning for him," said Nick Faldo, the former English star and European Ryder Cup captain, of McIlroy.
But the afternoon proved quite the tonic for McIlroy. He got plenty of inspiration from Poulter, the 42-year-old Englishman who has routinely risen to the occasion at the Ryder Cup, eyes bulging and fists clenching as he drained putts under pressure.
Suffering from foot problems, he did not make the 2016 Ryder Cup team, serving in the shadows as a vice-captain. But he was back in the sunshine and in his more familiar role on Friday.
"I love it and embrace it," Poulter said.
The article "Afternoon Rout Gives Europe a 5-3 Lead at the Ryder Cup" was originally published on https://www.nytimes.com/2018/09/28/sports/ryder-cup-tiger-woods.html?partner=rss&emc=rss