At the Hai Phong Investment Promotion Conference 2016 hosted by Hai Phong City, Vietnam Business Forum's reporter has an interview with Madame Nguyen Thi Nga, Chairwoman of BRG Group, which is carrying out two immense projects in Hai Phong City – a 5-star hotel, trade centre and luxury apartment complex at the heart of Hai Phong City, and BRG Coastal City vacation property project in Do Son. Ngo San reports.
Could you please share why BRG Group invested in two big projects in Hai Phong City? How do you see the quality and effectiveness of these projects?
Hai Phong is one of the most dynamically developing cities in Vietnam. With its favourable geographical position and relatively complete transportation infrastructure, especially with Lach Huyen International Port, Hai Phong attracted many investment projects from big foreign and domestic companies. Foreign investors invested US$1.84 billion in Hai Phong the first seven months of 2016. But, the city still lacks high class facilities to meet the needs of large businesses, especially foreign experts and visitors coming to the city for conferences or vacation.
Aiming to support the overall development, and with the affection and attachment for Hai Phong City, BRG Group decided to develop a 5-star Hilton Hotel, Shopping Mall and Apartment Complex.
We have dedicated huge time and effort in this project, evidenced by the introduction of a brand of Hilton Worldwide, a world leading hotel management group to Hai Phong City. This will be the first 5-star hotel without a rival in Hai Phong City. The complex will exert a strong pull on the community and be a new landmark for the city, featured by its modern and high class appearance.
With world-class meeting and conference facilities, and with a large number of hotel rooms, the complex will surely attract big MICE events to Hai Phong City. It will also serve investors who come to do surveys for new projects in the city, which was previously unavailable here. In addition, with Hilton Worldwide's brand and global reservation network, Hai Phong will be more popular as a destination.
Do Son, famous by its name of "Nine Dragons Vie for Pearl", is a half-mountain half-plain area. Its mountains and waters create a dreamlike fairyland enchanted by the purity of wind, the salinity of sea water and the charm of landscape. This was a captivating leisure place in the old time. It is not groundless when Do Son was chosen to be a retreat for kings in the old times. These are the reasons why BRG invested in BRG Coastal City complex with more than 900 villas to create a high-class resort in Do Son and Hai Phong City.
This luxury resort surrounds an 18-hole golf course of the world class voted as a Top 10 golf course in Vietnam in 2015 by Asia golf Monthly. This sea-facing villa complex is like a small size beach city where livelihoods and entertaining amenities are at the world class. The development also comprise of a hotel managed by the world-renowned Hilton Worldwide, DoubleTree by Hilton and a Four Seasons Theme Park specially designed for kids. A 15,000-square metre modern business centre and a 6,000-square metre shopping street will serve shopping demands of visitors around the year in BRG Coastal City.
As an investor of many big projects across the country, what do you think about the investment climate in Hai Phong City? What should the city do to be more attractive to investors?
In the past years, Hai Phong City is one of a few localities very active in reforming administrative procedures and supporting businesses and investors. Yet, to be more attractive to investors, the city should reduce the time and cost required for fulfilling tax and customs administrative procedures, social insurance, land access, construction permission, investment procedures, energy saving, technology innovation, product quality and standard registration product. The municipal government will need to hold regular meetings with local businesses and investors to give guidelines and answer questions about policies and laws to enterprises. The city will also need to further encourage the cooperation among businesses by providing supports for local business associations; and encourage overseas visits to learn successful economic development models in the world.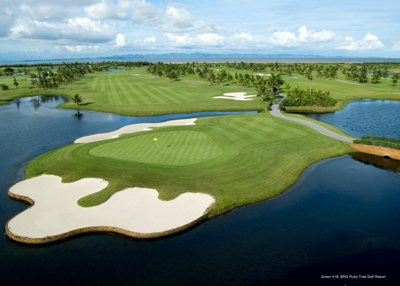 What opportunities and challenges will the trans-Pacific Partnership (TPP) pose to the business community in general and BRG Group in particular?
This pact will have both upside and downside effects on domestic investors but the bright side will outshine. For example, more foreign investors will come to Hai Phong City and BRG projects will be ready to welcome, serve and provide first-rate services of world-renowned brands.
Service providers in Vietnam in general and in Hai Phong in particular will have easier access to TPP member countries although this impact is not strong because of weak competitiveness of Vietnamese companies in foreign markets. Nevertheless, some Vietnamese companies will have better conditions to reach out TPP countries like Viettel Group and Vietnam Oil and Gas Group (PetroVietnam) in Peru where they can approach regional markets, particularly the Central America (with Mexico being the largest) and South America (Peru and Chile).
The free trade agreements (FTAs) with the united States, the European union (EU) and the Eurasian Economic Union (EEU) will provide Vietnam with opportunities to restructure its export markets to balance its trading (with current heavy reliance on East Asian markets such as China, South Korea and ASEAN countries). This is a key factor for Vietnam to improve its economic independence and autonomy. Besides, Vietnamese companies will have better conditions to join public procurement markets in the United States, Japan, Canada and other nations, while Vietnamese rivals cannot join because they do not have FTAs with the United States.
The article "BRG GROUP Bringing European Lifestyle to the City of Red Flamboyant" was originally published on https://www.talkvietnam.com/2016/09/brg-group-bringing-european-lifestyle-to-the-city-of-red-flamboyant/