Cobra Golf®, a leader in golf club innovation, today introduced the 2019 KING F9 SPEEDBACK™ Drivers & Fairways. For the first time in the metal woods category, the SPEEDBACK™ family of metal woods achieves true optimization of aerodynamics and a low center-of-gravity (CG), delivering the longest and fastest COBRA driver and fairways.
The KING F9 driver, features breakthrough SPEEDBACKTM Technology, which, for the first time in golf, successfully combines a highly aerodynamic clubhead shape with low CG. SPEEDBACK is a game-changing advancement in the way a driver is engineered. The combination of an efficient aerodynamic shape and an engineered weight structure on the sole, improves club speed while maintaining a low, deep CG to create the most efficient transfer of energy to the ball. Utilizing a CNC Precision Milled Face, created using industry-leading face manufacturing technology, allows for a thinner and hotter face design that has shown ball speed increases up to 1.5 mph when tested against a traditional, hand-polished face. These technologies fuse to deliver the ultimate formula for speed and extreme distance.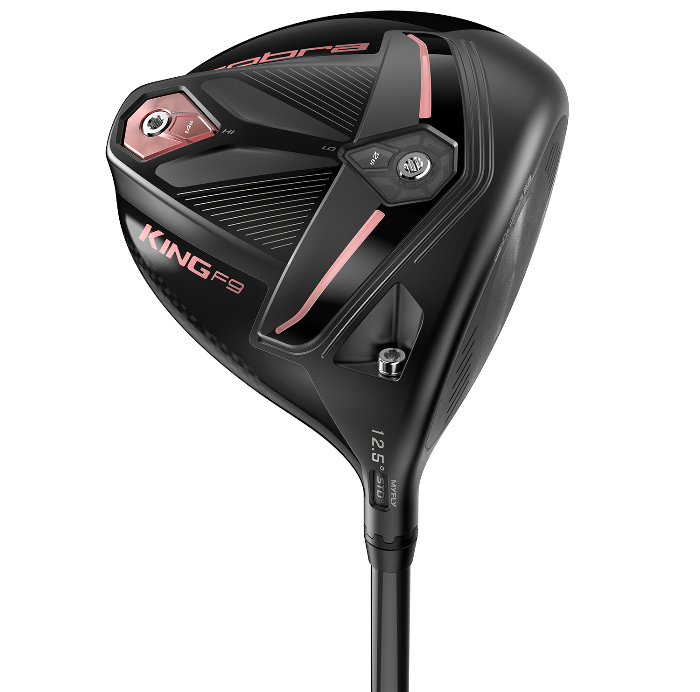 KING F9 SPEEDBACK™ driver
To create this more aerodynamic SPEEDBACKTM Shape, COBRA® engineers raised the perimeter skirt, aft (tail) and crown, and rounded the leading edges to reduce drag and improve speed and stability. These performance technologies and design innovations delivers a truly "AEROFICIENT" driver.
"This year, COBRA engineers have taken aerodynamic performance to the next level. We believe we've found the ultimate formula for speed as true aerodynamic innovation and low CG has never been combined this successfully," said Tom Olsavsky, Vice President of R&D, COBRA Golf. "Our SPEEDBACK Technology blends a more efficient aerodynamic shape with a lower, deeper CG, and our thinnest, hottest CNC Milled Face design to deliver unparalleled speed, distance and precision in our F9 Metalwoods."
KING F9 SPEEDBACK™ driver
Continually pushing the boundaries of innovation, COBRA® engineers have developed golf's first ultralight carbon wrap crown design that wraps around the body, delivering a 12% larger carbon fiber area, saving 10 grams of weight compared to a titanium crown driver. 360 Aero™ Technology utilizes lightweight polymer crown trips and titanium sole trips positioned relative to the direction of airflow around the clubhead, further helping to reduce drag. Strategically placed PWR Ridges™ are designed to enhance aerodynamics and add rigidity to the carbon crown structure creating more energy return and more power to the ball to maximize speed and distance.
COBRA® continues to utilize its proprietary, CNC Precision Milled driver face, which utilizes a precise CNC milling process, to deliver its thinnest, hottest face repeatedly on every driver manufactured. CNC precision milling allows COBRA® engineers to achieve more precise face thickness and tighter tolerances compared to the manual hand polishing method used on traditional drivers, resulting in improved bulge-and-roll curvatures and a face that is 3% thinner and 10% lighter. For the first time, with the precision of CNC milling, all new E9 Speed Tuned Technology™ optimizes the bottom roll curvatures on the face of each driver to tune launch & spin for different swing speeds and attack angles.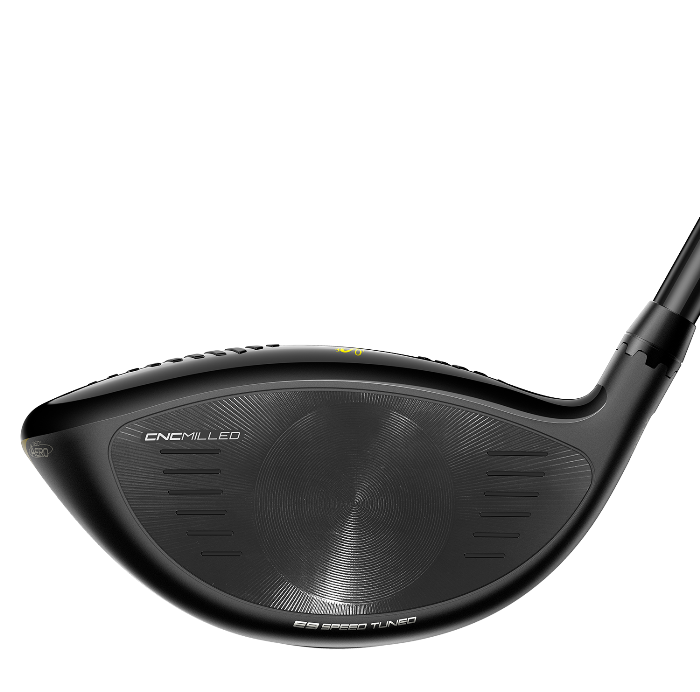 CNC Precision Milled Face
The KING F9 SPEEDBACK™ driver is constructed using a lightweight 8-1-1 Titanium body and face that spares weight, allowing engineers to position the CG low and deep. COBRA's patented E9™ Technology features a variable thickness face designed with an elliptical pattern Sweet Zone™, creating more hot spots farther away from the center to maximize distance on miss-hits. Dual Roll Technology™ optimizes top and bottom face curvatures, which are CNC precision milled to exact specs on every driver, to minimize gear effect that negatively impacts launch and spin on misses. Additionally, three horizontal bulge curvatures are designed to optimize the face angle on the toe and heel to minimize slicing and hooking of the ball due to off-center impacts. Combining weight saving technologies into the design allows for an adjustable weight system (with interchangeable 14g & 2g weights for the Global spec and 10g & 2g for the Asian spec) that can be used to move the CG in the front or back position to help golfers customize launch and spin characteristics to improve their distance. MyFly8® with Smart Pad® technology affords golfers the choice of 8 loft settings (and 3 draw) to fine-tune trajectory and launch conditions while Smart Pad® ensures a square clubhead at address.
Below are the KING F9 SPEEDBACK™ Driver Specifications:
| | | |
| --- | --- | --- |
| Model | Launch/Spin | MyFly8® Loft Settings |
| 12 o Driver | High Launch/Mid Spin | 10.5, 11.0, 11.0D, 12.0, 12.0D, 12.0, 13.0D, 13.5 |
| 10.5° Driver ** | Mid Launch/Mid Spin | 9.0, 9.5, 9.5D, 10.5, 10.5D, 11.5, 11.5D, 12.0 |
| 9 o Driver | Low Launch/Low Spin | 7.5, 8.0, 8.0D, 9.0, 9.0D, 10, 10.0D, 10.5 |
| 12.5° Women's | High Launch/Mid Spin | 11.0, 11.5, 11.5D, 12.5, 12.5D, 13.5, 13.5D, 14 |
**The 10.5° driver is available in a Tour Length offering, featuring a shorter shaft length (44.50") and two 14g weights in the front and back to dial in swing weight. Inspired by Rickie Fowler's 43.50" driver, the Tour Length model is designed to deliver maximum accuracy and precision without sacrificing distance.
Each driver (Global spec) comes equipped with a new Lamkin Crossline (58+) Connect – Black grip and premium aftermarket shaft options: a high-launch/mid-spin Helium 50 (5F3 – in Reg or 4F2 – Lite); a mid-launch/mid spin Fujikura Atmos Tour Spec Blue 6 (Stiff, Regular); a mid-launch/low spin Project X HZRDUS Smoke 60 (6.5 – X-Stiff; 6.0 – Stiff); or the Fujikura Atmos Tour Spec Black 7 (X-Stiff, Stiff).
A mid launch/mid-spin Fujikura Cobra Speeder Evolution 4 (Stiff, Stiff-Regular, Regular), is also available in the Asian spec.
The 2019 KING F9 SPEEDBACK™ Drivers & Fairways (along with the full KING F9 family of products including irons & hybrids) will continue to employ COBRA CONNECT™ Powered by Arccos, the award-winning connected golf system that helps players of all skill levels make smarter, data-driven decisions. Electronically embedded sensors in the grip automatically record the distance and accuracy of every shot so golfers can track their improvements round-to-round.
The KING F9 SPEEDBACK™ Fairway is the first of its kind to feature a CNC Precision Milled Face, which, according to test results, delivers up to 2.5mph in increased ball speed, compared to traditional hand polished fairway faces.
KING F9 SPEEDBACK™ Fairway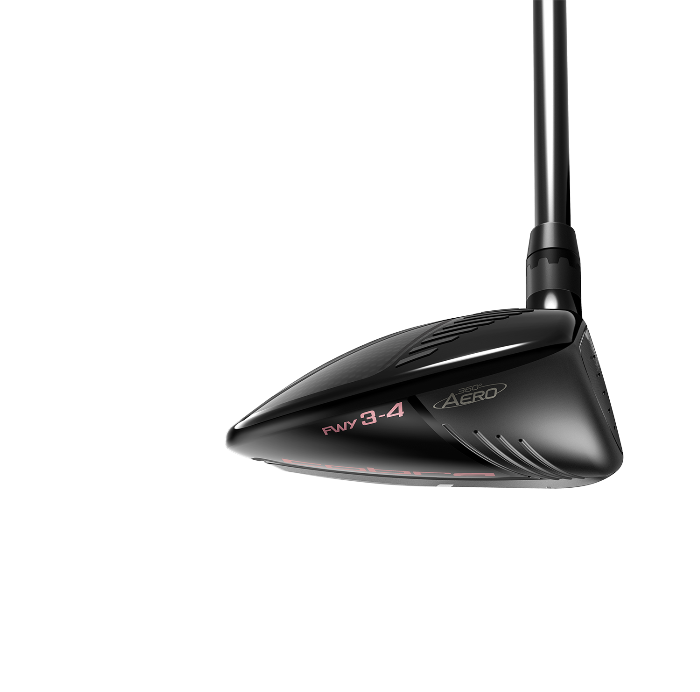 KING F9 SPEEDBACK™ Fairway
SPEEDBACK™ Technology in the fairway utilizes a low, back tungsten weight and re-engineered Baffler® rails that move the CG low and deep, and improve turf interaction, to deliver more club and ball speed at impact. A fixed, 15g tungsten weight positioned low and back, promotes high, towering ball flights and maximum forgiveness. Progressive Baffler® Rail Heights are designed shallower in the lower lofted fairways and steeper in the higher lofted fairways to account for varying attack angles. 360 Aero™ polymer crown and titanium sole trips positioned relative to the direction of airflow around the clubhead, further help to reduce drag and increase club speed. An ultralight carbon fiber crown saves discretionary weight up high, to move the CG lower and deeper for higher launch with increased forgiveness. PWR Ridge™ crown designs add rigidity to the lightweight carbon crown structure to promote more energy return to the ball to maximize ball speed.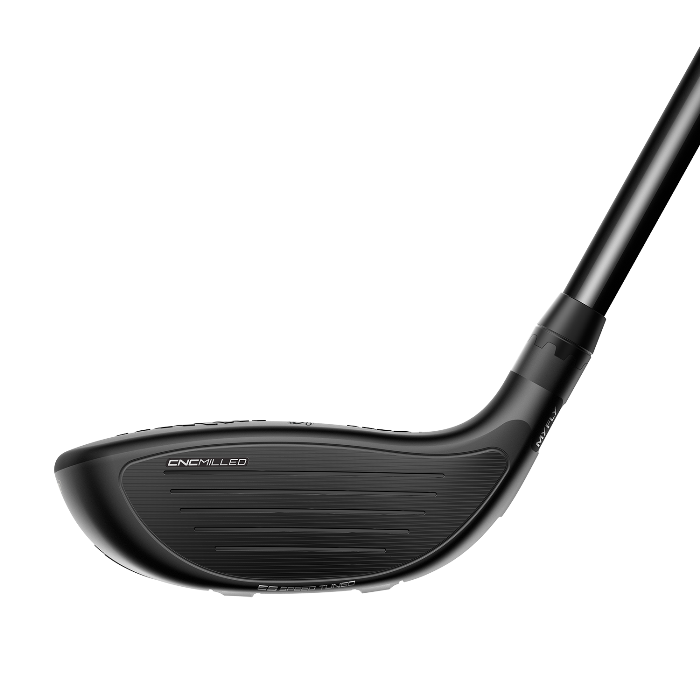 CNC Precision Milled Face
Rounding out the high-performance design, MyFly8® with SmartRail™ technology affords golfers their choice of 8 loft settings (and 3 draw) to help manage trajectory and customize launch conditions while Smart Rail™ keeps the face square regardless of the loft setting.
Men's KING F9 SPEEDBACK™ Fairway:
| | |
| --- | --- |
| 3-4 Fwy | 13 o, 13.5 o, 13.5 o Draw, 14.5 o, 14.5 o Draw, 15.5 o, 15.5 o Draw, 16 o |
| 5-6 Fwy | 17 o, 17.5 o, 17.5 o Draw, 18.5 o, 18.5 o Draw, 19.5 o, 19.5 o Draw, 20 o |
Colors: Black/Yellow or Satin Black/Avalanche
Grip: Lamkin Crossline (58+) Connect – Black
Shaft Options: Mid launch/mid spin Fujikura Cobra Speeder Evolution 4 (Stiff, Stiff-Regula, Regular) or mid launch/mid spin Fujikura ATMOS Blue 7 (Stiff & Regular)
Available in RH (LH available in custom)
Women's KING F9 SPEEDBACK™ Fairway:
| | |
| --- | --- |
| 3-4 Fwy | 17 o, 17.5 o, 17.5 o Draw, 18.5 o, 18.5 o Draw, 19.5 o, 19.5 o Draw, 20 o |
| 5-6 Fwy | 21 o, 21.5 o, 21.5 o Draw, 22.5 o, 22.5 o Draw, 23.5 o, 23.5 o Draw, 24 o |
Color: Black/Rose Gold
Grip: Lamkin Crossline Connect – Black
Shaft: Fujikura ATMOS 55 (Women)
Đăng bởi Hà Phan
The article "COBRA GOLF'S KING F9 SPEEDBACKTM METALWOODS UNCOVER THE ULTIMATE FORMULA FOR SPEED – A REVOLUTIONARY ADVANCEMENT IN AERODYNAMICS & LOW CG" was originally published on http://vietnamgolfmagazine.net/en/cobra-golfs-king-f9-speedbacktm-metalwoods-uncover-the-ultimate-formula-for-speed-a-revolutionary-advancement-in-aerodynamics-low-cg/