On the official Grand Opening of Royal Greens Golf and Country Club, world golf's newest championship venue, four-time Major winner and President's Cup Captain, Ernie Els has shared his interesting view about this spectacular European Golf Design.
Q: How are you enjoying your first time in Saudi Arabia?
Ernie: Yeah, my first time to Saudi Arabia. I was really excited to get the call to come here. I've heard of King Abdulla Economic City through the years now, and I was keen to come and see what they have done. This is obviously the inaugural golf course opening here, at Royal Greens. I wouldn't say I'm surprised but I'm really glad I came because I really think they got it right. The golf course is really good, they have a great facility here at Royal Greens. It's a wonderful spot. I'm glad I came.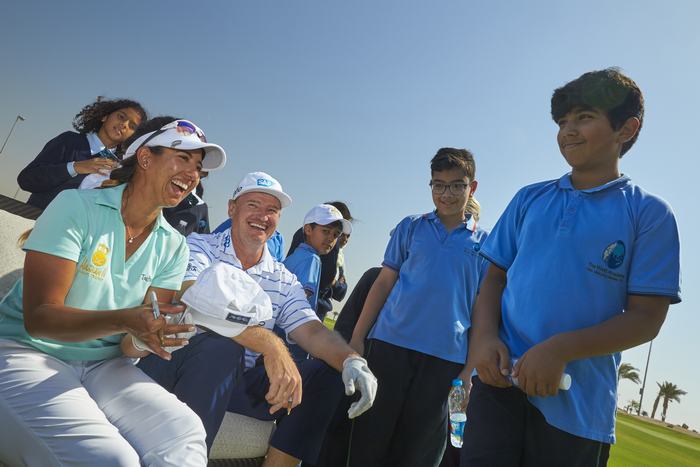 Q: Tell us a little bit about what you think of some of the holes, the 15th and 16th a couple of the signature holes
Ernie: You start out here at the clubhouse and you play a bit of desert golf, so to speak, with quite a few water hazards. They have a great balance through the course – right to lefts and left to rights – but the real treat is when you get out to 16. The wonderful 16th hole on the Red Sea. You think you're on some island somewhere in the Caribbean with the water colour and the contrast. It's wonderful, and it's a pretty difficult hole. So the back nine is really picturesque but so is the whole of golf course. You don't see too many holes where you actually go out to the ocean, so I thought that [the 16th] was a great addition to the course.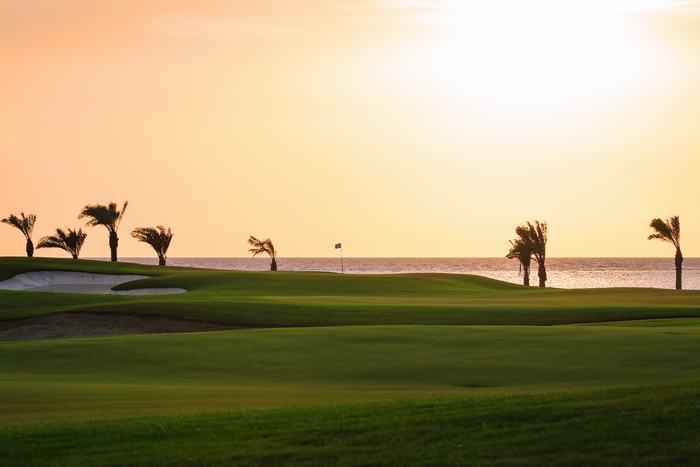 Q: You have obviously experienced a lot of excellent championship golf courses around the world, how do you feel this will stack up against other European Tour venues next year?
Ernie: Well, I think this one will be one of the best in the Middle East. I've played most of the courses in the Middle East from Dubai to Qatar to Abu Dhabi. I haven't played Oman but this golf course here will be one of the players' favourites. The greens can be quite tricky, as you can see here, the wind picks up in the afternoon which will make the scoring quite tough. But it is a fun golf course, if you play properly I think you can make some birdies and there's enough elements out there that will keep the guys honest. Your wind play will have to be there and your course management has to be there. Wonderful golf course, I'm looking forward to playing it.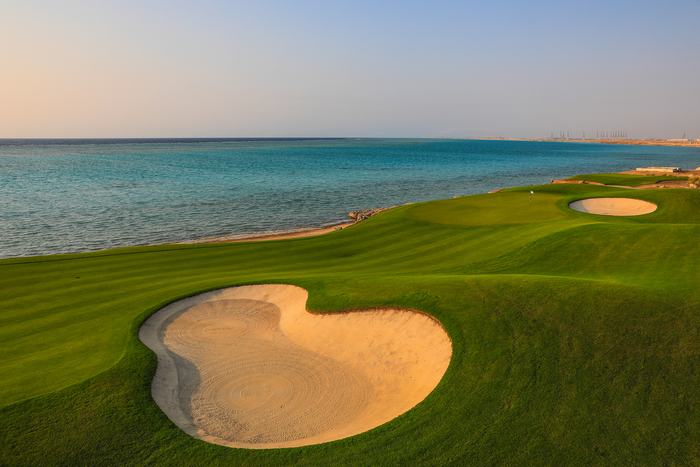 Q: How do you think that will effect the luck of the draw, given that the wind often picks up here in the afternoon?
Ernie: All of the Middle East is like this. I think Qatar is the only one where you can really get different conditions. But Dubai, Abu Dhabi and it seems like here in Saudi, the wind picks up in the afternoon. It's a nice sea breeze. In the mornings is your scoring opportunity and the afternoon you have to hang on there but it's pretty consistent, which we like.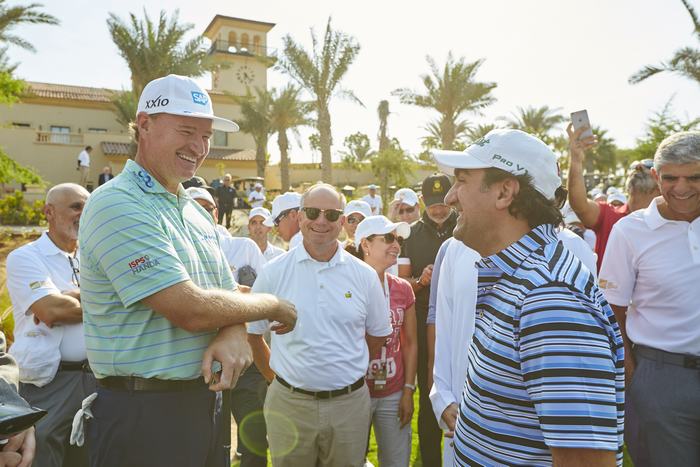 Q: How important is it for the game of golf for new regions, like Saudi Arabia, to embrace the sport and help it to grow?
Ernie: This event is not only going to be great for the European Tour but it will great for world golf. We need places where we can grow the game, where we can start from grass root levels and introduce the game to new markets and this is an absolutely untouched market through the history of Saudi Arabia. This will be the inaugural event and to bring world class players here, to Royal Greens in Saudi Arabia, is just going to be a game-changer. This facility is wonderful but they are going to be building schools here, they're going to be building housing facilities, hotels – it's going to be an absolute unbelievable city and to have golf as your main sport here, for the kids to grow up around the game, is going to be so important and I won't be surprised when we see some world class players in the near-future.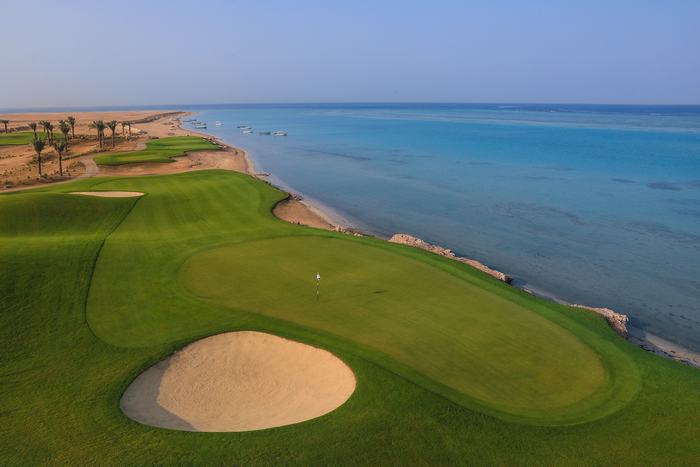 Q: You touched on the city there and it's development. How does what you see here today compare to what you might have seen back in 1993 when you played your first event back out in the desert?
Ernie: Yeah, there are many similarities. My first event in the Middle East was in 1993. I had a wonderful time in Dubai. If you told me in 1993 what I would be looking at now in 2018 in Dubai, I would say you're crazy. So I have seen what people can do here in the Middle East. They really can make changes very quickly and I can see the same here. The infrastructure is in, the roads and the power in this place is ready to explode. Hang on to your boots. In only a few years' time you are going to see a very different environment and they've done their homework, so I really feel very positive for the region.
Q: Your performance academy is an important part of your brand. The national team will have access to these facilities as part of the agreement between Royal Greens and the Saudi Golf Federation. How important is it for that young talent coming through to give them access to the a facility like this.
Ernie: I've always said, we're a small country in South Africa but we have produced really good golfers for a very long time. When you have facilities and you have weather, you are already ahead of the game in a lot of areas. You just have to look at Europe; you can only play in some places there for only 4, 5, 6 months of the year. So here you have year round weather, you have an unbelievable facility here at Royal Greens, at this academy, and if you have more of these facilities go up around this area, with the schooling in place here – before golf or after golf the kids can come and play and practice golf – it is just the perfect environment to produce world-class golfers.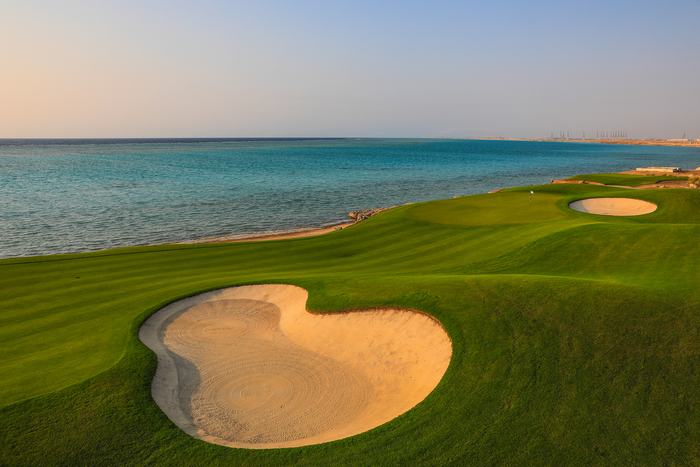 Q: You're a three-time winner of the Dubai Desert Classic, and holding the course record there, so you know quite a bit about what it takes to play in this region. Is there a specialty to playing golf here in the Middle East?
Ernie: It's just a great place to come, normally we play the middle eastern swing in January, February, or March and where else in the world are you going to get weather like this? So just your mindset going into the Middle East, you know you are going to play on good condition golf courses and the weather is going to be wonderful. I just always felt comfortable playing in this region, and obviously the golf courses suited me and I just had a great time. I can't see this place changing my view at all, I loved playing here and I would love to come back – I'm getting a little older now, I'll be 49 this year but it's just a great place to play golf.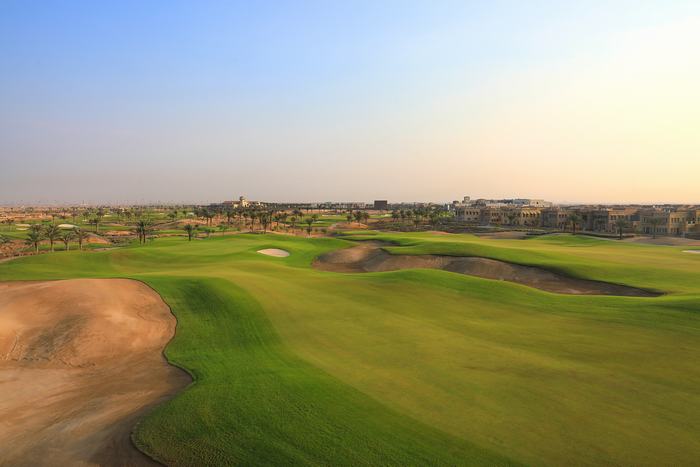 Q: Turning to what is happening in golf elsewhere this year, we have got some interesting Major venues on the horizon with Carnoustie and Shinnecock Hills for the US and The Open. What do you think it is going to take to win around those two course in particular?
Ernie: Let's take Shinnecock, the US open in June – it can be blustery like here, conditions can change quite rapidly out there on the island. I think long island goes out there about 80 miles from the city, so you're basically in the ocean with a great golf course. A linksy style of golf will be required there. Then obviously with the USGA, the way they set up golf courses, they set them up the hardest of any of the Majors, so you have to bring your all round game: your mental game, your physical game and then you have to have a little bit of luck here and there. It's a great venue, it's a real traditional type of Major, you could play a British Open there or a US Open there, you can play any type of event out there in Shinnecock, it is one of the great classic courses so it will deliver a great champion.
Q: And then Carnoustie? Obviously just as difficult?
Ernie: Yeah, Carnoustie is the toughest course on the Open rota. I can't think any other tougher links I have ever played. If the weather gets tough, you saw what happened in 1999, over par wins very easily around Carnoustie. The bunkering is incredible the course was built whenever it was and those bunkers are still in play. It has got everything you need from a Major Championship venue – length, strategic bunkering, weather, a great history, and a list of great champions. Two great venues.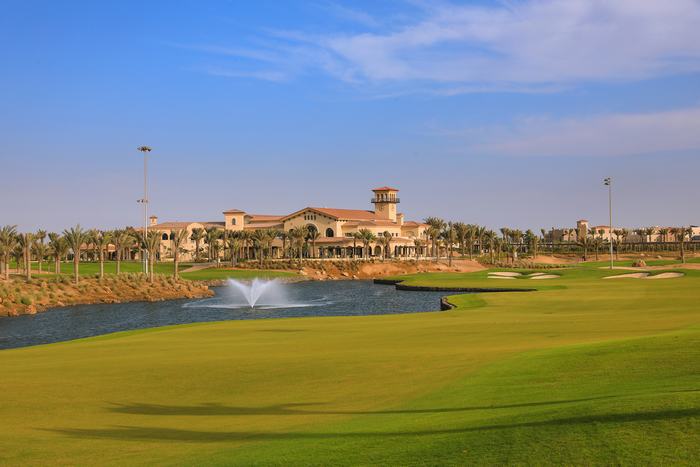 Q: The US open, we're bound to hear the criticism we hear every year about the golf course being too hard but this year those comments come alongside arguments that equipment is making golf too easy. Do you think the US open is a good example that golf can be reigned in a little bit depending on courses rather than what manufacturers are doing?
Ernie: The golf ball, the clubs and the athletes we see these days are all just getting better. I don't see any reason to change, you'll see when we get to a tough condition golf course when the course is playing firm, the rough is up, and we have a bit of wind, I don't care if you have supersonic equipment, the game of golf is a pretty tough game. I think the distance in the game is largely because of the condition of these athletes. They are swinging the club a lot faster than we did in our day and I think that is just a generational change that is happening. I think to move a tee back here and there for us, the pros, I don't think that is the biggest thing in the world. I think we can do that, we don't have to change courses completely. We will see when we have tough conditions at the US open and Open championship, hopefully we don't have to keep talking about how far the golf ball is going. If you're playing in perfect condition in the US, yes, there is a huge benefit you get from hitting the ball longer than anyone else but you still have to put the golf ball in play so the game of golf is in good hands.
Q: Turning again to the US open, do you think it is the most difficult to predict the winner of because one hole, being such a tough golf course, can really determine how someone does?
Ernie: Normally, in the US open, The Open, or any Major – at the end of 4 days you are going to get the player that has played the best golf. I don't think you can fluke yourself into winning a Major anywhere, especially the US Open. A US Open is set up the hardest of all the Majors, and at the end of 4 days of a test if you haven't shown any weakness, you deserve to win. You are going to get young winners who haven't won a lot but normally after winning the US Open you set yourself up for a very good career. Guys who have won that tournament have ended up with very good careers. You don't fluke one of these tournaments.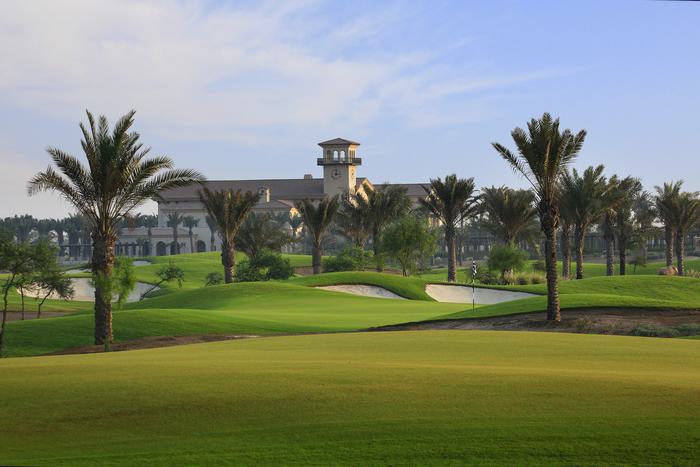 Q: The Open, if you think back to growing up as a kid in South Africa, is The Open the one you were on the practice green as a kid thinking 'this putt is for the Claret Jug'?
Ernie: The Open has always been my favourite, largely because of the time change from Great Britain down to South Africa. There is virtually no time change, so you could actually sit on your couch and watch the golf live during the day. So I always watched the Open championship. I remember the days when Tom Watson was dominating, Seve's win in '88, that wonderful win in Lytham and so many wonderful champions. And for some reason, I always felt comfortable on links land. I grew up in Johannesburg which is very Parklandish and you have to put the ball in the air and obviously links is totally different but for some reason I was very comfortable and always just loved playing on links land.
In 2012, we were working hard on the swing that year but it's incredible the journey that it takes you through. It's a 4-day event, the preparation that goes in and then you have to get lucky and get breaks going your way. My good friend, Scotty, obviously had a terrible finish and basically handed me the trophy but then as the golfing gods will be, he won the Masters the very next year, which was really wonderful. I think I celebrated more for that one than he did himself.
Q: We are looking at a shift happening, over the past 2 or 3 years, with a lot of young players coming through and doing very well, whereas, for a time, we'd been struggling to find young talent. Do you think the game is in good hands with the amount of excellent young players coming through?
Ernie: Absolutely, I think that the generation has just flipped over. It seems like our generation has been around a long time, for 20 odd years. There was a middle generation with Sergio Garcia and Adam Scott and some of those guys but they had to contend in the Tiger era and Tiger was such a dominating player. So for 20 years there wasn't really a change over. And I feel now there are 10 young guys that are really going to dominate the game going forward and they're going to have a lot of fun doing that. They seem like they're good friends, which I don't always agree with. I feel like you have got to be very competitive, which they are, but it's very friendly at the moment. Beside that, they are a talented group of players and they are winning Major Championships and they are separating themselves from the rest. That group is going to take the game forward and I think they're a wonderful group of guys to be watching.
Q: Is there anyone in particular that you want to pick out?
Ernie: Obviously, Justin Thomas. The year he had last year was a career year right there. Winning the FedEx Cup, shooting 59, winning a Major, winning some other tournament, I think 4 or 5 times. Then obviously Jordan Spieth, winning his 3rd or 4th Major now, becoming number 1 in the world already and he's only 24 years old. You have Rickie Fowler, Jon Rahm, and you have Rory McIlroy whose the elder stateman at 28, my goodness. So there are just so many of them, and Patrick Reed winning at the other day at the Masters. Wonderful, wonderful group of players.
Q: You mentioned Tiger just then, how impressed have you been of what you have seen of Tiger?
Ernie: I'm happy, I'm happy with what I'm seeing. I can see the joy in his eyes again. He went through a very tough time there for a long time, on and off the course. To see him happy and to see him swing the club how he wants to after all these injuries and I am really happy for him. And I believe he has a Major in him, no doubt in my mind he is capable of it. He has the talent, he just has to find the right venue and he can do it, there's no doubt. A lot of exciting golf ahead. He's 42. I think that's the magic number in your 40's to start winning Majors again – Ben Hogan, Mark O'Meara, Phil Mickelson myself, Darren Clarke, I think Ray Floyd was 42, Payne Stewart was 41, so if we can do it, he can do it. I'm looking forward to some good golf.
Q: We're looking forward to a marquee, a landmark, Presidents Cup with yourself and Tiger as captains. Do you think that will bring an added element, given both of your profiles, to the Presidents Cup?
Ernie: I don't know. I have always enjoyed the Presidents Cup, competing in it. I feel I want to make some changes from the run up into the cup. Already I can get four picks going into the week. We've made some changes already and I want to try and have a blueprint going forward for the next guys, really change things up and put things in place where the next captain can keep following the blueprint. It's a very important time for myself and the team to change things up, to be really competitive and win this Presidents Cup in Australia, which is a great venue for us. But Tiger's got an unbelievable team and he's been an unbelievable player and I think the two of us, we've had a bit of history in the Presidents Cup. I think we will bring an extra element to the matches and hopefully make it really exciting.
Q: Going back to you wanting to switch things up, do you think you have a formula for success or a strategy?
Ernie: Yeah I have something in my mind, and I want the guys to buy into it and luckily we have a lot of time before the end of next year when the Presidents Cup being played in Melbourne. So I'm working with the guys, and getting them to hopefully buy into a lot of the stuff that I want to implement, and we will see how it goes. But I feel like there will be some big changes and hopefully it will work and win the President's Cup.
Q: if it's not giving anything away, how will your captaincy style that you want to bring the team contrast against what you think Tiger will bring?
Ernie: I think it'll be very similar. I knew how to play match play, I won the world match play 7 times and my record in the Presidents Cup is not terrible. So I have a way of playing match play but I want to bring other things. We have a very diverse team with nationalities all over the world. I want to make sure all my guys are comfortable, the way they want to be comfortable and not the way I want them to be comfortable. I want them to feel comfortable during the week – it has got to be a great experience for them. And then the strategy we need to implement to try and win the tournament; I've got a lot of experience around the golf course we are going to compete on. But there is a lot input I can give the guys, I want to do that and hopefully I can take it in.
Q: Finally, I'm sure you are very busy with the Presidents Cup and the business there but what else have you got coming up on and off the course?
Ernie: I'm travelling quite a bit, I was in Japan a couple of weeks ago, I'm in Saudi Arabia now but I still want to play, I'm starting to play a little better myself, I feel physically a lot better than I have in the last 18 months or so. I still want to try and be competitive and then I got an invite to the US Open, which is great I am looking forward to that. Obviously the Open championship and we will see where it goes. I want try and feel like I'm competitive and take my game into the Champions tour!
The post Ernie Els talks about Royal Greens Golf and Country Club appeared first on VGM Viet Nam Golf Magazine.
The article "Ernie Els talks about Royal Greens Golf and Country Club" was originally published on http://vietnamgolfmagazine.net/en/ernie-els-talks-about/