Europe Widens Lead Over U.S. at the Ryder Cup
ST.-QUENTIN-EN-YVELINES, France — There were no more sweeps in the September sunshine and Phil Mickelson did not get to play any golf at all.
But the most significant trend remained unchanged at the Ryder Cup on Saturday, as Europe continued to build its lead over the United States with Francesco Molinari and Tommy Fleetwood leading the construction project.
Ahead by two points after Friday's matches, Europe now leads by 10-6 heading into the decisive singles matches on Sunday as it attempts to win back the Cup, golf's premier team trophy.
After sweeping the final session on Friday, Europe dominated the morning four-ball session on Saturday, winning three of the four matches with the only American victory coming from their most successful team of Jordan Spieth and Justin Thomas in the final match.
The Americans and Europeans then split the four alternate-shot matches in the afternoon, which left the four-point gap between the teams unchanged heading into Sunday's 12 singles matches.
"When you look at those 12 American names, it's a strong lineup," the European captain Thomas Bjorn said. "It can go either way, but we're really, really, really happy with how it's gone these first two days."
For now, Bjorn, while looking like a man in need of a good night's rest, has done a fine job of keeping his players fresh and focused on the present. He also has succeeded at setting up the rolling Albatros course (and its thick rough) to suit Europe's strengths and at choosing his pairings and his 12-man lineup wisely.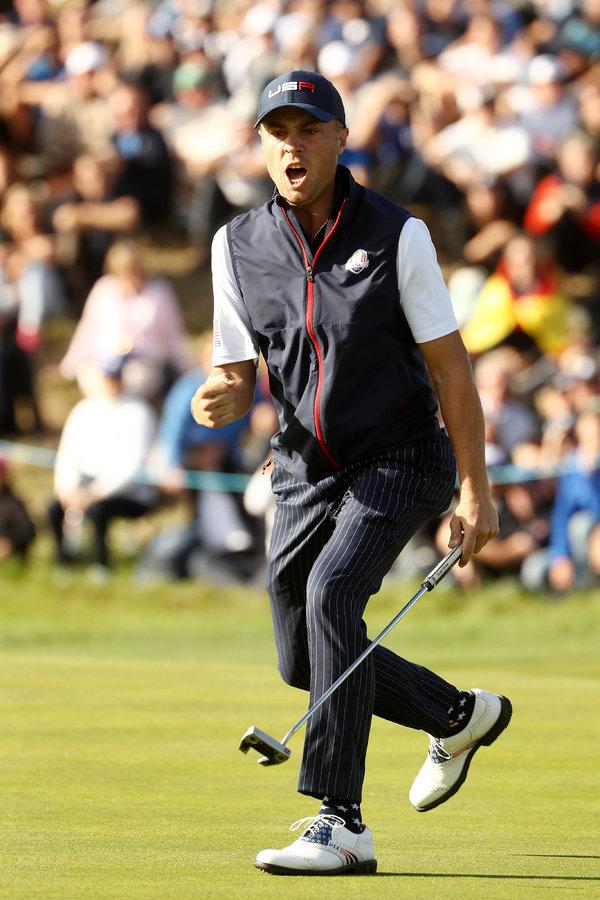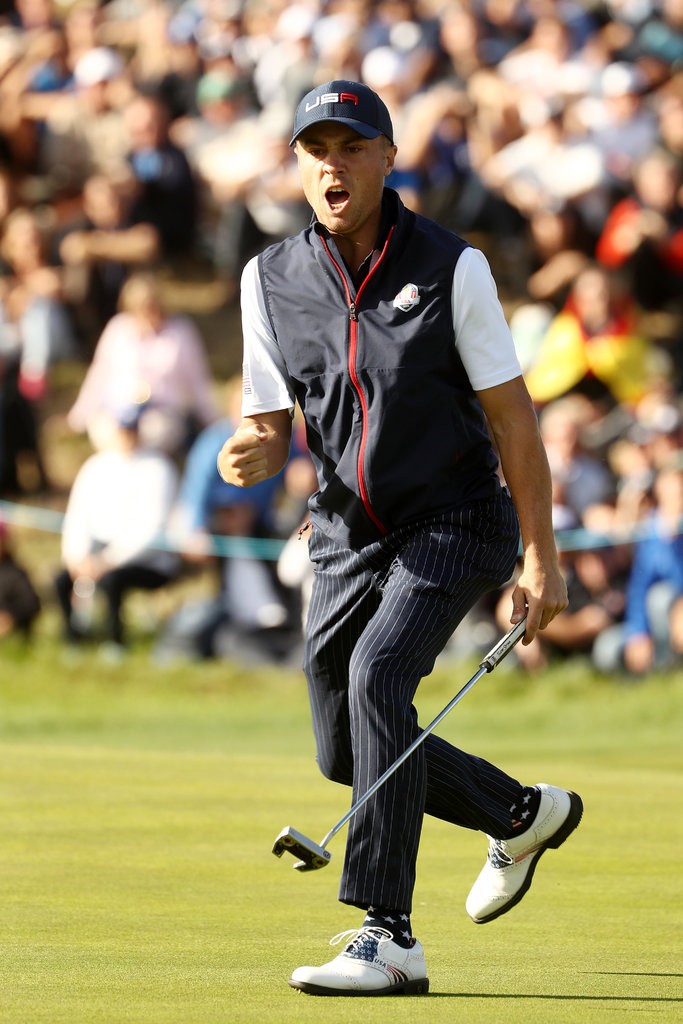 After two days, Bjorn's four captain's picks have combined for six victories. The four picks of the United States captain, Jim Furyk, have only one.
But while Bjorn can be delighted with the results so far against a powerhouse American team that has the best combined world ranking of any American team in history, he also knows that a 10-6 lead is not impregnable.
In 1999, the Europeans lost the Cup after holding at 10-6 edge heading into the final day at the Country Club in Brookline, Mass. In 2012, the Americans blew a 10-6 lead at home at Medinah Country Club near Chicago.
"History will show me and everybody on the team that this is not over," Bjorn said. "You go full-bore tomorrow."
Furyk, unlike Bjorn, played in both 1999 and 2012, losing one of the critical singles matches to Sergio García at Medinah.
"It sure sucked being on the other side, I will say that," Furyk said of 2012. "That was one of the worst days of my career."
Generating early momentum on the final day was the key to both of those comebacks, which ended with 14½-to-13½ victories. The Americans, who won the last Ryder Cup in 2016, only need 14 total points this time to retain the trophy, and with a quick start in mind Furyk has attempted to front load his singles lineup with his in-form players.
"We're trying to make some magic tomorrow," said Furyk, who has made a point of speaking with Ben Crenshaw, the emotive captain of the U.S. team in 1999. Crenshaw famously predicted on the eve of the comeback that he had "a feeling" his team would rally.
Justin Thomas, a Ryder Cup rookie who has not played like one in winning three matches this week with Spieth, will go out first on Sunday and face Rory McIlroy.
Brooks Koepka, the Floridian who won two majors this year, will go second against Paul Casey. Then Webb Simpson will face Justin Rose, one of the European leaders, followed by Tiger Woods against the Spaniard Jon Rahm.
"I think if we can go out and get two, three points out of the first two, three matches, it starts to be a pretty quiet, uneasy feeling around here," Spieth said. "And that will obviously be the goal."
It has been anything but quiet on the rolling Albatros Course at Le Golf National. Though there were questions about the level of home support Europe's team could expect with France hosting a Ryder Cup for the first time, the fans, many of them British, have turned up in force and in full voice. It has been a more hostile European crowd than in the past, with the spectators regularly booing American miscues and missed putts.
But then this is a new Ryder Cup market in a country where golf is not a mainstream spectator sport. Though the French have no players of their own taking part, the French spectators have been able to repurpose their national soccer team chant: "Allez Les Bleus!" (Go Blues). The European team's color is blue as well, and there has been plenty of blue on the scoreboards here.
Molinari and Fleetwood have been the most irresistible force, becoming the first European pairing to win all four of its matches in a Ryder Cup.
"That pairing came out of long conversations with the two of them and a relationship they built with each other over a long time," Bjorn said. "They wanted to do this and when they kind of both said that they were really keen on that pairing, I started looking at facts and figures and everything that was built around them. Speaking to the stats guys and the vice captains, there was never any red flags with the two of them, so I thought, O.K., we'll give it a go."
Neither Molinari nor Fleetwood had won a match in the Cup before this year. Fleetwood is a rookie, and Molinari was 0-4-2 in two previous appearances. But he has taken his precision game to a new level in 2018, winning his first major at the British Open at Carnoustie while playing in the same final-round pairing with Woods.
Molinari has continued to torment Woods at Le Golf National, beating him three times in two days with plenty of help from the more demonstrative Fleetwood.
Woods arrived in France on a high after winning his first tour title in five years, but he has spent much of his time on the course wincing, grimacing and trying to make the best of difficult lies and long putts. There has been speculation by former Ryder Cup captains like Nick Faldo that Woods is suffering from back pain or some other ailment, noting changes in his swing. Furyk said he was not aware of any such issue, but he has not ruled out physical or psychological fatigue.
"I think he might be emotionally a little bit tired," Furyk said. "You find a way in a Ryder Cup to gain some energy and some adrenaline, and you work hard. I know he's going to be fit and ready to go tomorrow."
Molinari and Fleetwood defeated Woods and Patrick Reed, 4 and 3, on Saturday morning as Reed, one of the mainstays of the last two American Ryder Cup teams, continued to struggle from tee to green. Furyk chose to rest Reed in the afternoon on Saturday and to not use the 48-year-old Mickelson in either session on Saturday.
But Woods, at age 42, was back out there with the Ryder Cup rookie Bryson DeChambeau for the foursomes. This time, Molinari and Fleetwood prevailed again, 5 and 4, combining to make four birdies and not one bogey in the 14 holes they had to play.
"It won't be easy tomorrow to be separated," Molinari said of Fleetwood.
Woods, whose overall Ryder Cup record is now 13-20-3, won't have to deal with either of them on Sunday. Fleetwood will face Tony Finau in singles; Molinari will face Mickelson.
But the wind, which has been blowing all week at Le Golf National, is still at Europe's back.
A version of this article appears in print on , on Page SP3 of the New York edition with the headline: Europeans Pad Their Lead, but as History Shows, the Door Is Still Ajar
. Order Reprints | Today's Paper | Subscribe
The article "Europe Widens Lead Over U.S. at the Ryder Cup" was originally published on https://www.nytimes.com/2018/09/29/sports/golf/ryder-cup-golf.html?partner=rss&emc=rss