Flagstick, the world's leader in golf course construction management, is marking its 20th anniversary by seeing the fruits of its Vietnamese labours come to fruition.
The scenic 12th hole at FLC Halong Bay Golf Club & Resort is regarded as one of golf's great short par-threes.
"These continue to be exciting times for golf's development in Vietnam … and Flagstick is delighted and honoured to be so prominently involved," said Martin Moore, President of Flagstick, which is celebrating its milestone birthday this month.
Since the unveiling of its Flagstick Asia Hanoi Vietnam representative office in 2016, the company's role in the development of new golf courses in Vietnam has flourished.
The Fall of 2017 saw the opening of the 18-hole Schmidt-Curley Design FLC Halong Bay Golf Club & Resort, while the first nine holes of the Nicklaus Design 18-hole course at BRG Danang Golf Club celebrated its grand opening in April, 2018.
Just 20 minutes from Ha Long City and three hours from Hanoi, the FLC Halong Bay layout boasts stunning scenic ocean views over the famous UNESCO world heritage site.
Together with Schmidt-Curley Design, Flagstick succeeded in turning a difficult, rocky and hilly site into one of the most visually stunning courses in Asia.
A million cubic metres of cut-and-fill transformed the site that sits above the old town of Ha Long Bay and overlooks the spectacular limestone karst-riddled bay into what Curley describes as 'a world-class destination resort in the heart of the city, providing a very unique golfing experience'.
Of the construction, Curley said: "It's rare to have to infill so much and to play along ridges. But I'm excited about the way the course has shaped up."
Meanwhile, the Nicklaus Course at BRG Danang Golf Resort is another unique offering with wooden walls framing many of the holes and separating the greens from the surrounding lakes. Inspired by the Florida-style courses that used genuine wooden bulkheads, the course also offers enticing beachfront scenery and complements the club's original 18-hole Greg Norman Golf Course Design.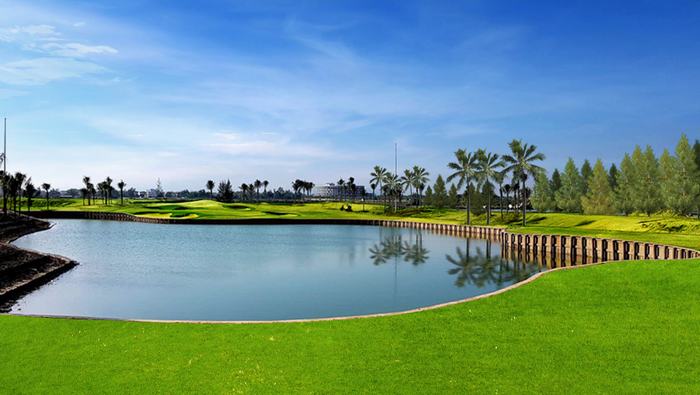 The fifth hole at BRG Danang Golf Resort's Nicklaus Course.
Flagstick also played an integral role in the opening of a trio of new courses in Vietnam in 2015 – BRG Legend Hill Golf Resort and FLC SamSon Golf Links as well as FLC Quy Nhon Golf Links. All were collaborations with Nicklaus Design.
From start to finish the original course at Quy Nhon, located in Vietnam's central province of Binh Dinh, was constructed within a five-month period. Sitting to the south of the first 18 on a large sand dune with panoramic ocean views, construction on the Schmidt-Curley Design second 18 holes was completed in a record time of four months.
Moore said: "It was a remarkable effort. To achieve this new record, we mobilised a team of six shapers and other experienced construction specialists to conquer the challenge. All irrigation materials, including the pump station, were air-freighted from the United States."
The latest example of Flagstick's reputation for the speed and quality of its work is evident at FLC Quang Binh, a 36-hole project that is on course for completion in just nine months.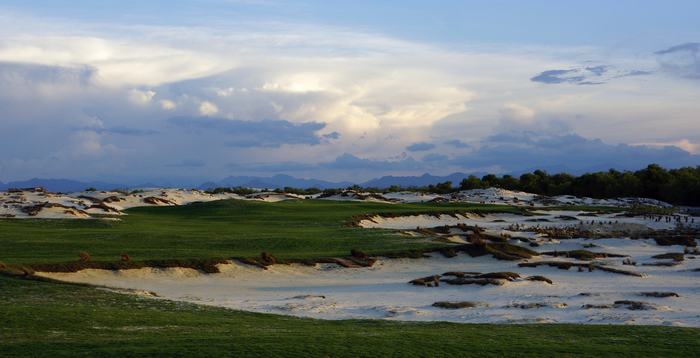 Grassing on the first of the two courses at FLC Quang Binh was completed in June.
Grassing on the first of the two Curley-sculpted courses was completed in June with the layout scheduled to open in August.
Meanwhile, the second 18-hole course is currently under full construction with the unveiling due in September.
Moore, whose company has more than 100 golf developments in 16 different countries to its credit, said: "Given the volume of work we have been conducting in Vietnam, it made perfect sense for us to open a Flagstick Asia Hanoi Vietnam representative office. The office has enabled us to serve our growing Vietnam clientele more effectively and more efficiently.
"Flagstick is proud to have achieved this milestone of 20 years in business. During these past two decades we have worked in more than a dozen countries in collaboration with many of the game's most distinguished golf course architects.
"As a company, Flagstick's commitment to the golf industry remains undiminished and we very much look forward to a continued involvement in Vietnam and Asia for many years to come."
Since its formation in 1998, Flagstick has been involved in the construction and renovation of dozens of high-profile golf courses in Asia, and around the world.
Between 2008 and 2010, Flagstick managed the expedited the construction process of all 10 golf courses at Mission Hills in Hainan, in a total of 28 months.
In addition to its on-going work in Vietnam, Flagstick remains busy in China. It recently completed construction of the 18-hole Gary Player Signature Course at Tianzhu Golf Club in Beijing and is currently working on Sanya Grand Dragon in Hainan, an 18-hole Nicklaus Design project.
In Thailand, renovation improvements at Amata Spring Country Club were completed last year, while extensive renovation of Laem Chabang International Country Club is on-going. Work on the Mountain Course has been completed this month with renovation of the Lake Course and Valley Course to be undertaken in 2019 and 2020.
Flagstick is also currently involved with the construction of the Gulf National Golf Club, north of Bangkok. A Kyle Phillips Golf Course Design, construction on the 18-hole layout is due to be completed in April, 2019.
About Flagstick
Flagstick is the world leader in golf course construction management with offices in the United States, China, Hong Kong and Vietnam.
Since its inauguration in 1998, Flagstick has managed over 100 golf developments in 15 countries, in collaboration with many of the game's most distinguished golf course architects.
In recent years, Flagstick has managed the construction of six of Asia's top-10 resorts with a host of Flagstick projects winning accolades around the globe.
A member of the Golf Course Builders Association of America (GCBAA), Flagstick's commitment to quality and unparalleled customer service is well-known and reflected in the company's work.
For further information and hi-res images, please visit www.flagstickgccm.com or email info@flagstickgccm.com
Đăng bởi Hà Phan
The article "Flagstick at Forefront of Vietnam's Golfing Development  " was originally published on http://vietnamgolfmagazine.net/en/flagstick-at-forefront-of-vietnams-golfing-development/