The ground breaking ceremony of Nhon Ly Golf Links.
---
The FLC Group started construction of Nhon Ly golf course complex, resort, villas and a high-end entertainment complex in the southern Binh Dinh province's Quy Nhon City on May 23.
The VND 3.5 trillion project will include an 18-hole golf links, seven-star villas, hotels, five-star restaurants, as well as an international convention centre and a high-class entertainment area on around 300ha of Eo Gio (Wind's Waist) where is considered the most beautiful sunsets view in Vietnam.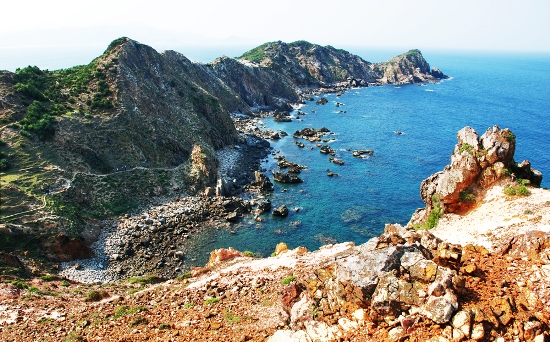 Eo Gio (Wind's Waist)
When putting into operation, the project will not only contribute to changing the province's tourism situation, but also the local State budget, thus promoting socio-economic development. It will also create a foundation for attracting foreign investment to the province.
Trinh Van Quyet, Chairman of FLC, pledged to focus all resources to complete the project and put into operation in the first quarter of 2016.
Speaking at the groundbreaking ceremony, Mr. Ho Quoc Dung, chairman of the provincial People's Committee, expressed welcome the group to invest in the province. He urged local agencies to support and create favourable conditions for the investors.
By Nguyen Vu
The article "FLC begins construction Nhon Ly Golf Links" was originally published on http://www.baobinhdinh.com.vn/en/EnglishViewer.aspx?macm=22&macmp=22&mabb=628