BINH DINH (Biz Hub) — The FLC Quy Nhon resort complex was inaugurated by the FLC Group in Nhon Ly Commune in the central Binh Dinh Province over the weekend.
Speaking at the opening ceremony, Chairman of the provincial people's committee Ho Quoc Dung said the opening of the complex would greatly boost the local tourism industry and provide jobs to thousands of local residents, contributing to the socio-economic development of the province in the coming years.
FLC Quy Nhon's golf course, or Golf Links, is regarded as one of the three most beautiful golf courses in Asia.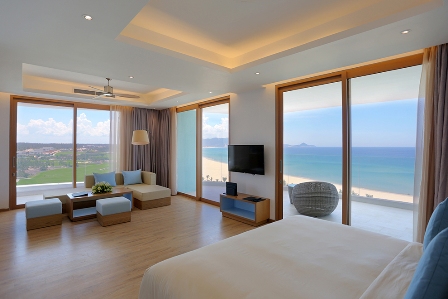 The FLC Group is also constructing a 1.7ha hotel complex, FLC Sea Tower Quy Nhon, in An Duong Vuong Street, downtown Quy Nhon City, at a total cost of VND2.3 trillion (US$102.2 million), raising its combined investment in Binh Dinh Province to more than VND7 trillion
The twin tower includes a 25-storey building with a seven-star hotel, a shopping mall and an entertainment area. — VNS
The article "FLC Quy Nhon complex to boost local tourism" was originally published on https://www.talkvietnam.com/2016/08/flc-quy-nhon-complex-to-boost-local-tourism/