If you try to define each generation, I'd have to say today's generation is defined by equipment, the search of the perfect swing and a power game, while the older generation was defined by feel and shot-making.
I'm never quite sure if they are taking a dig at my age, or not, whenever the editors want me to write about the "old days" of golf, or if they are just giving me a subject that I enjoy writing about.
The concept of the "Vintage years of golf" means different things to different people. Some consider the days of Ben Hogan or Jack Nicklaus and Arnold Palmer to be the "vintage years", while others consider the ancient days of Old Tom Morris to be the "vintage years."
Yes, those are the types of people sitting in overstuffed leather chairs while drinking port, smoking cigars, harrumphing up a storm and complaining about their gout.
At 60 years old, to me, the "vintage years" were 1968-1970 when I used to sneak under the fence at Charles River Country Club in the late afternoons to practice my short game. Being an exquisitely manicured and ultra private (aka "restricted") club, there was always the danger of them calling the police on me.
No, I was not a thrill seeker or a scoff-law. I just wanted to improve my game and that was the nearest course to my house. For the record, the Head Professional did eventually catch me, but instead of booting me out or calling the cops, he offered me a chance to practice there– provided my homework was done beforehand.
Yes, he was kind-hearted, but I think my ability to hit 150-yard 9-irons with Hogan Apex blades and balata balls had something to do with it. You don't find too many 13-year olds shooting scratch golf off the back tees.
My family were founding members of two prestigious golf clubs in the state, but not within bicycle distance of my house, hence my need to fence hop when necessary.
Saturday and Sunday mornings were for playing golf, and the afternoons were spent either at the club, or at my cousin's house watching the final rounds of whatever tournament was on TV.
Back then, all golfers dressed for the game. We wouldn't even think of wearing something inappropriate.
At one point, Arnie, Jack, Gary wore cardigan sweaters on the course; until Seve Ballesteros made the V-neck pullover the next fashion rage and if you don't know who Arnie, Jack, Gary or Seve were, you need to sell your clubs and jump in front of a speeding bus…Do it now.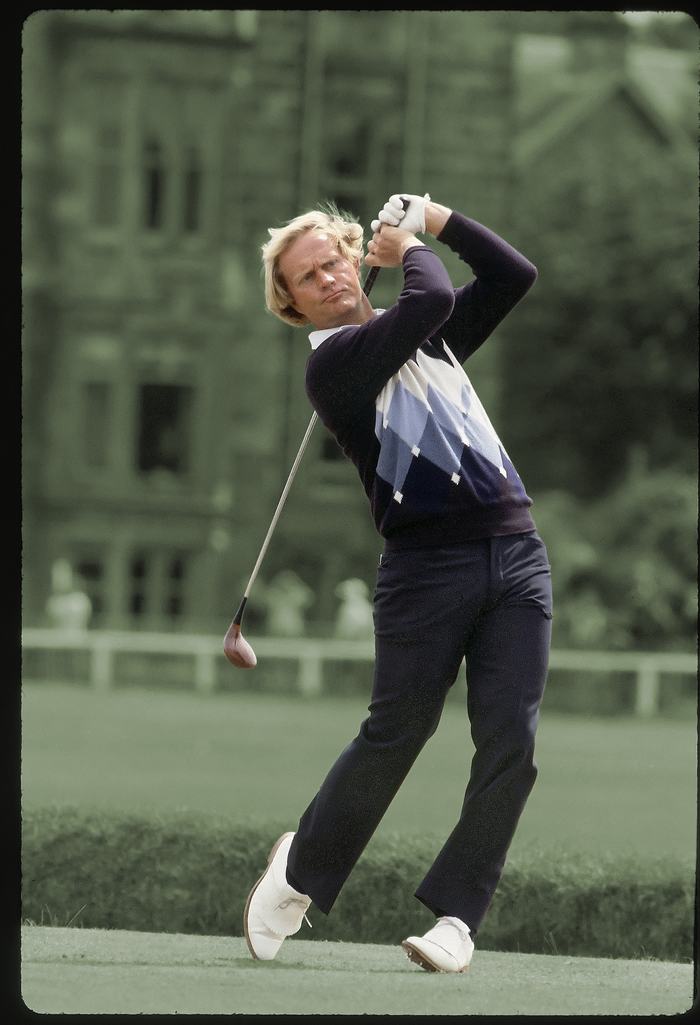 Needless to say, I, and everyone I knew, had a closet full of V-neck sweaters and Sansabelt polyester slacks in colors that would make a peacock envious and don't even get me started about the wonderful sound made by metal spikes on concrete walkways. Such a satisfying "crunch" that the players of today will never experience. Sad.
If you try to define each generation, I'd have to say today's generation is defined by equipment, the search of the perfect swing and a power game, while the older generation was defined by feel and shot-making.
The old" vintage" guys could dream up shots that very few players today could pull off. Granted, the equipment today doesn't allow many of those types of shots. Everything wants to go straight.
But, if you tried to liken a few of today's players to the stars of the "vintage" years, Phil Mickelson might be the true heir to Seve Ballesteros in terms of play and his ability to get up and down from almost anywhere. He'll lose a shot big time, then hit a miraculous recovery.
Yet, Seve himself was the heir to Arnold Palmer for his swashbuckling style of play. Back in the Northeast, we referred to making par without ever touching a fairway as an "Arnie" and I was an expert at doing that. Seve used to save par from the parking lot.
Tiger Woods is touted as the heir apparent of Jack Nicklaus as he sparked people's imagination and got more people to take up the game. He also revolutionized the game in the same way Jack did in his day. But there is a major difference in terms of character. Tiger did things in his personal life that Nicklaus would have never even considered, and for that reason I have my reservations.
However, Tiger does seem to be maturing and smiles more on the course, so perhaps he is becoming a worthy successor to Jack. Maybe not in terms of majors won, but as an elder statesman for the game.
The more things change, the more things, especially important things, remain the same.
That's golf.
The post Golf the generation game appeared first on VGM Viet Nam Golf Magazine.
The article "Golf the generation game" was originally published on http://vietnamgolfmagazine.net/en/golf-the-generation-game/