BRG Da Nang.
Danang, Vietnam: Golfasian has joined the push to promote Central Vietnam as one of the region's foremost places for play.
Among Asia's most prominent golf tour companies, the Thailand and Vietnam-based operator has signed a strategic partnership with Vietnam Golf Coast, a destination marketing organisation that links six of the area's best signature golf courses, including Laguna Golf Lang Co.
Inaugurated in early 2019, the Destination Management Organisation – which also numbers Ba Na Hills, BRG Da Nang, Montgomerie Links, Vinpearl Golf Nam Hoi An and the soon-to-open Hoiana Shores among its members – was founded to capture the attention of avid golfers worldwide.
A Full Business Member of the Asian Golf Industry Federation, Golfasian's track record in arranging bucket-list vacations in Southeast Asia for groups and individuals makes it uniquely equipped to help deliver the message that Central Vietnam is going places as a golf destination.
Established in Bangkok in 1997, Golfasian recognition as Asia's leading dedicated golf tour operator is well-known. A membership base numbering over 160,000 is a testament to the operator's reach while high numbers of repeat customers and referrals reflect strong levels of client satisfaction.
"It's a real boost for us to have an operator as able as Golfasian on board," said Adam Calver, Director of Golf at Laguna Golf Lang Co. "It has been the leader in golf tourism throughout Southeast Asia for the past two decades – including being awarded the Best Tour Operator in Vietnam several years running. Therefore, we are delighted to announce this strategic partnership as we aim to grow the game in Central Vietnam."
With high-quality layouts designed by some of the biggest names in golf architecture along with vibrant cities, incredible beaches and hotels as well as an enviable infrastructure, Central Vietnam already has a reputation as one of Asia's most complete golf destinations. It is hoped that a co-ordinated push to bring golf visitors to the area will serve to build on the area's glittering appeal.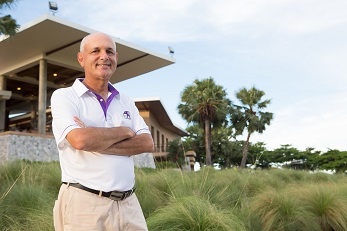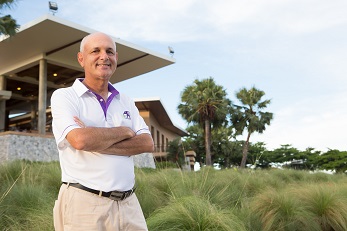 Mark Siegel
"Central Vietnam is certainly one of the best golf destinations in the region," said Mark Siegel, Managing Director of Golfasian. "There's everything from traditional links-style golf to tropical garden-style layouts. Together we can showcase all these great courses as well as the compelling tourism activities available in this part of Vietnam."
Indeed, the operator's expertise in tying golf to other draws such as cuisine, heritage, and shopping will be key in its involvement with Vietnam Golf Coast.
"Each member of the group is committed to delivering exceptional golf experiences," added Calver. "But partnering with Golfasian will ensure that the entire package is perfect. Working with Mark gives us confidence that guests will really get the best out of the courses and the whole area."
Greg Norman Golf Course Design and Faldo Design are among the architects to have stamped their mark on the area. Both are of Members of the Asian Golf Industry Federation as are BRG Da Nang and Hoiana Shores.
---
The article "Golfasian in Sync with Vietnam Golf Coast" was originally published on https://www.agif.asia/2019/05/golfasian-on-board-with-vietnam-golf-coast/