Huge success for Local Celebrations Golf Event.

The best golf was brought by a challenging golf course and thought of some great prizes out of all concerned during the Haiphong Foreign Affairs (HPFA) and Haiphong Golf Association (HPGA) Golf Event held at the award winning Do Son Seaside Golf Resort on May 10th 2014.
The golf course was immaculately presented and alongside the excellent arrangements of the Haiphong Foreign Affairs (HPFA) and Haiphong Golf Association this one of the best events this season in the Region.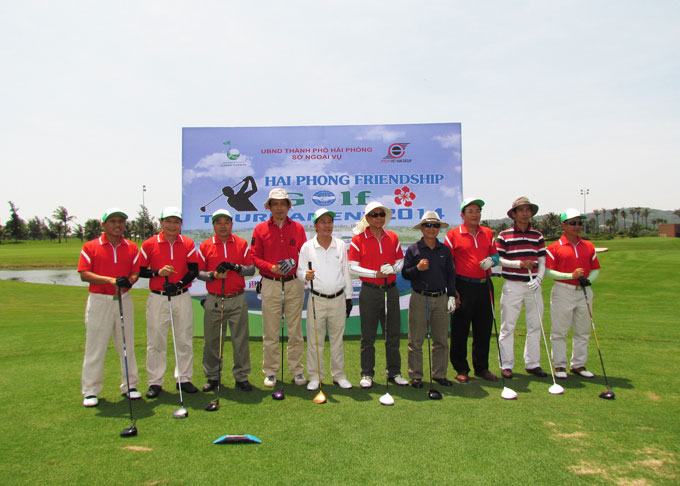 Champion golfer from the Guest Division was Nguyễn Hữu Thành mainly due to a run of several pars on the back nine eventually scoring well under par net to take the win in that division. First Runner up just a shot back was Nguyễn Sơn Hà and 2nd Runner Up Nguyễn Thành Phương a further shot in arrears. Things might have been different for Nguyễn Sơn Hà had it not been for a triple bogey 7 on the tricky 11th hole. A brave birdie on the last hole, the most difficult par 5 in Vietnam, almost saw the player get level with the overall champion. Similar could have been said for 3rd spot Nguyễn Thành Phương who was level with the Champion and Runner Up on the front nine scores only to see it slip with a triple bogey 7 on the 13th. A brief fight back with a brave birdie 2 on the 16th was not quite enough.
In the Ladies Division Nguyễn Thị Loan was champion from First Runner Up Hà Thị Phương Loan and 2nd Runner Up Lại Thị Phương Lan. A steady run and a smattering of pars saw the Champion victorious with the two other prize winners very close behind only split by 2 strokes nett
In the 24 to 36 Division C the Champion golfer was Tạ Xuân Phượng with some steady golf across the 18 holes. Both the Second Runner Up and First Runner Up Trần Duy Minh and Lương Văn Thành respectively pushed the champion close to the end. Both second and third spots had bad starts with a triple and a double whilst the champion opened with 2 steady pars. Despite another triple bogey on the 9th hole Trần Duy Minh was still only a stroke adrift of the second position. The Champion Tạ Xuân Phượng made it interesting up the last with a double bogey 7 however still held on to win.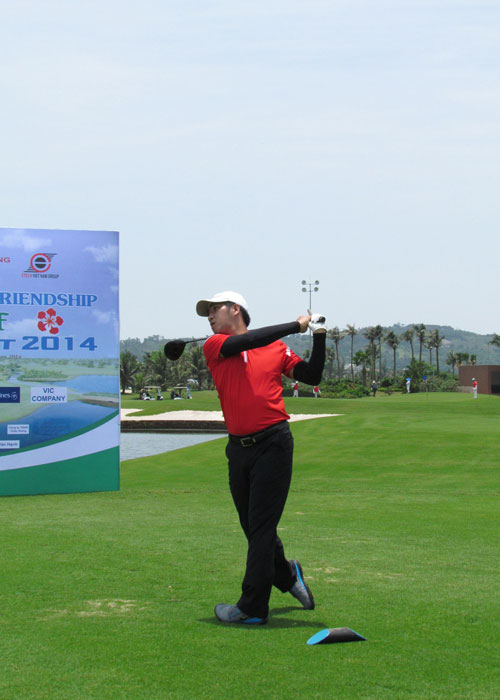 Division B 13 – 19 category saw Champion Nguyễn Đức Đáng stroll to victory starting with two bogeys and a stunning birdie 3 on the 3rd whole which set the tone for the day for him. He was machine like steady scores on the back nine with only bogeys and pars. First Runner Up Vũ Minh Hiền will rue a poor first nine start, two doubles and two triple bogeys only to scorched the back nine of just 3 over including 2 twos on the 12th and 16th holes. Second Runner Up Trần Quốc Chính who was level after 4 holes, one bogey one birdie only to slowly lose pace with a run of bogeys on the tricky run through Mahoney's Mile from the 13th to the 18th including a double at the last hole.
In the A Division Handicaps up to 12 steady golf from Nguyễn Văn Tám and Trương Đức Hùng was not enough to get close the Champion Nguyễn Văn Bạch. Runner Up Nguyễn Văn Tám started with all guns blazing opening up with a birdie and being level after four holes only to get on the "bogey" train until the turn and despite a solid back nine was a few shots a drift of the top spot. Second Runner Up Trương Đức Hùng had a balanced look to his card with 8 pars and equal number of bogeys only ruined by two doubles which saw him slip down to third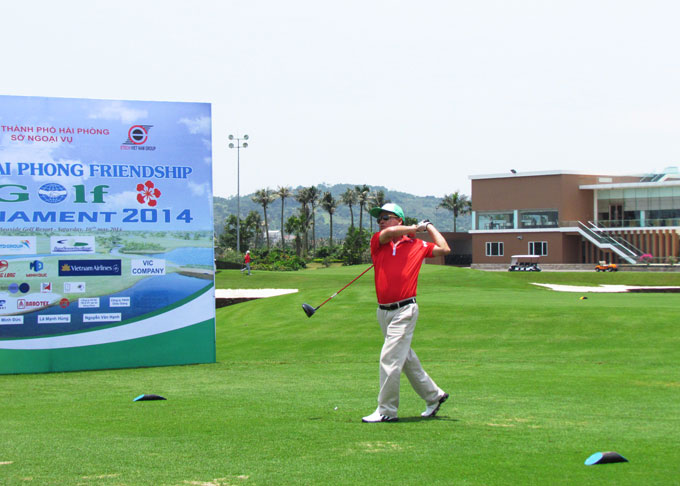 The golf course was playing almost its full length despite this the winning gross scorer and Champion of the Gross Division Đàm Thành Vinh had ten pars and one birdie on the way to a 5 over 78.
"We're are very happy and proud to have hosted this event, and we know all the golfers have enjoyed the day – some with good golf others with not so good golf but an enjoyable day which goes back the golf course standard, excellent management from Evans Mahoney the Resort's Golf Director and his team and the organisation of the Haiphong Foreign Affairs and Haiphong Golf Association. We look forward to hosting this prestigious event again next year and to supporting local and national commerce and relationship building events whenever we are able" commented Mr Ta Minh Duc Deputy Director of the Award winning Golf Resort
Do Son Seaside Resort is a member of the International Association of Golf Tour Operators and promotes commerce and tourism locally, nationally and internationally.
Do Son Seaside Golf Resort recently hosted the First round of the BRG GROUP HANOI JUNIOR GOLF TOUR 2104 and the Doson's SPRING CHAMPIONSHIPS and holds the Award for the Best Par Five in Vietnam received from Vietnam Golf Magazine and is part of BRG Group which includes Hanoi's most established golf course Kings' Island Golf Resort and also the first Nicklaus Design property in Vietnam Legend Hill Golf Resort close to Hanoi.
Contact Details
Name Ta Minh Duc (Mr)
Deputy Director Doson Seaside Golf Resort
Km 8, Road 353, Ngoc Xuyen Ward
Doson District
Haiphong
Vietnam
Tel (+84-31) 3 864 898
Fax (+84-31) 3 867 307
Mobile (+84 0) 903 277 440

Some of the statements in this press release may be forward-looking statements or statements of future expectations based on currently available information. Such statements are naturally subject to risks and uncertainties. Factors such as the development of general economic conditions, future market conditions, unusual catastrophic loss events, changes in the capital markets and other circumstances may cause the actual events or results to be materially different from those anticipated by such statements. BRG GOLF Group does not make any representation or warranty, express or implied, as to the accuracy, completeness or updated status of such statements. Therefore, in no case whatsoever will BRG GOLF Group and its affiliate companies be liable to anyone for any decision made or action taken in conjunction with the information and/or statements in this press release or for any related damages.
Use of our images supplied herein are supplied with copyright and all rights reserved© 2014 – 2017 and may or may not have trademarks ™ Some images of individuals or groups may have restrictions – all permissions must be obtained in advance of any use, if required, by the publisher. BRG GOLF Group hereby indemnifies itself and its agents against this consent for this permission.
Please down load our PR File here!
Scored Board Results
Guests Flight (System 36)

GIẢI NHẤT / Champion

NGUYỄN HỮU THANH

GIẢI NHÌ / 1st Runner Up

NGUYỄN SƠN HÀ

GIẢI BA / 2nd Runner Up

NGUYỄN THÀNH PHƯƠNG

Ladies Flight (System 36)

GIẢI NHẤT / Champion

NGUYỄN THỊ LOAN

GIẢI NHÌ / 1st Runner Up

HÀ THỊ PHƯƠNG LOAN

GIẢI BA / 2nd Runner Up

LẠI THỊ PHƯƠNG LAN

C Flight, HDCP 20 – 36 cut 4

GIẢI NHẤT / Champion

TẠ XUÂN PHƯỢNG

GIẢI NHÌ / 1st Runner Up

LƯƠNG VĂN THÀNH

GIẢI BA / 2nd Runner Up

TRẦN DUY MINH

B Flight, HDCP 13 – 19 cut 3

GIẢI NHẤT / Champion

NGUYỄN ĐỨC ĐÁNG

GIẢI NHÌ / 1st Runner Up

VŨ MINH HIỀN

GIẢI BA / 2nd Runner Up

TRẦN QUỐC CHÍNH

A Flight, HDCP 0 – 12 cut 2

GIẢI NHẤT / Champion

NGUYỄN VĂN BẠCH

GIẢI NHÌ / 1st Runner Up

NGUYỄN VĂN TÁM

GIẢI BA / 2nd Runner Up

TRƯƠNG ĐỨC HÙNG

BEST GROSS

VÔ ĐỊCH GIẢI / Best Gross

ĐÀM THÀNH VINH

CÁC GIẢI KỸ THUẬT / Skill Contest

GẦN CỜ NHẤT HỐ 2 / Hole 2 nearest to the pin

BÙI MẠNH TÂN

GẦN CỜ NHẤT HỐ 6 / Hole 6 nearest to the pin

TRẦN VĂN PHÚC

GẦN CỜ NHẤT HỐ 12 / Hole 12 nearest to the pin

PHÙNG VĂN QUANG

GẦN CỜ NHẤT HỐ 16 / Hole 16 nearest to the pin

NGUYỄN HỒNG NGÂN

CÚ ĐÁNH XA NHẤT HỐ 5 / Hole 5 longest drive

TRẦN VIẾT PHƯƠNG

GẦN TÂM NHẤT HỐ 3 / Hole 3 nearest to the line

NGUYỄN VĂN HẠNH
dosonseasidegolf.com
The article "Haiphong Foreign Affairs (HPFA) and Haiphong Golf Association (HPGA) Golf Event" was originally published on http://brggroup.vn/2/223-ct/Golf-News/Haiphong-Foreign-Affairs-HPFA-and-Haiphong-Golf-Association-HPGA-Golf-Event.aspx