It's been a big year for Ba Na Hills Golf Club. Since its much-anticipated opening in March, the Luke Donald-designed course on the outskirts of Danang has launched the most advanced golf academy in Vietnam, hosted the prestigious IMG Trophy golf tournament, and won a slew of awards, including 'World's Best New Golf Course' at the annual World Golf Awards in November.
We recently sat down with the man who has led so much of the charge — the course's ambitious, 28-year-old general manager, Jack Hedges — and asked him what the year was like from his perspective, what his goals are for Year 2, and more …
Jack Hedges, 28-year-old general manager of Ba Na Hills Golf Club
You've been at Ba Na Hills for a year now. How has it actually compared to how you envisioned it?
It's my second course in a row now where I've done the final stages of pre-opening. So I was prepared in that regard. Coming from China, and being in Cambodia and Thailand before that, I was really excited to be back in Southeast Asia. As soon as I came to Danang, I became comfortable with the people being so friendly and the city being so developed — moreso than I expected.
As for the golf course, I knew from the photos I saw and the people I talked to that it was going to be good. But it really surpassed all expectations when I got here. When I walked out the back door and saw the Ba Na Hills looming, it was mindblowing. It's world-class in terms of setting and design. That gives you a lot of confidence, in that if you do things right it should be straightforward as far as selling the course.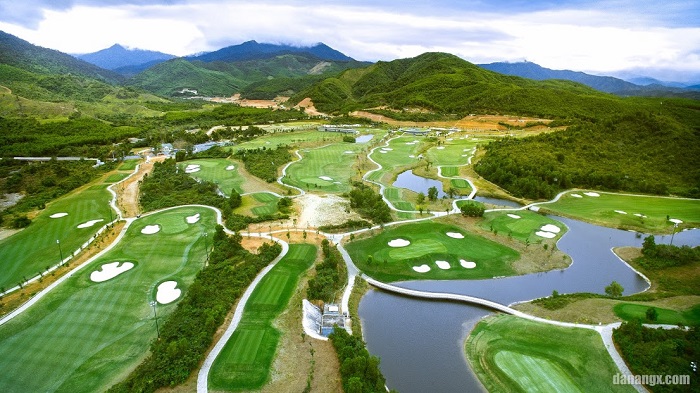 Overview of Ba Na Hills GC
I must say also that it's been a pleasure working with the locals. They've been very supportive, and I managed to get a good team of managers around me which makes big difference. We've got more than 280 staff who are very happy, positive personalities, which makes the job a whole lot easier especially from a service point of view.
I tried to go into the job with low expectations, just because I didn't want to get my hopes up, just to be on the safe side. But as soon as I got here, and started working with the owning company, which I soon learned has bold ambitions and is driven to be the best also, I felt very comfortable. Their approach and philosophies gel with my personality, and that's been a real bonus and confidence booster.
How did this job come about, and how did working in China prepare you for this role?
I was at a course called Pine Rock Golf Club, just outside Beijing. It's fairly new as well, and like Ba Na Hills, is fully managed by IMG. I spent a few years there, working closely with IMG, getting to really know and understand their philosophy and management style.
But after about three years, I was interested to see what other opportunities were out there, and Vietnam was a place where golf development was growing at a rapid rate. IMG had a few projects in the pipeline, and Ba Na Hills was one of them. They presented me with the opportunity of potentially going over and asked if I'd be interested. After getting all the info and talking with the owners, it was clear it was the best move for me.
As one of the younger GMs in the region, maybe even the youngest, it was important for me to tick some boxes to continue my career development. This is the busiest club that I've been a part of. There's more of a focus on golf tourism and corporate golf — a lot more commercial than Pine Rock.
It all came through from IMG, and that was a big confidence booster. Ba Na Hills is now their flagship course for Asia. To get that role, to know the other people who applied for it, it was really nice to get that feeling that they chose me. It's the first IMG course designed by Luke Donald, and the first turn-key service IMG has provided in its history in Asia. So it's a big one, and an important one for them. It adds pressure, but that's part of the job and makes it that much more exciting.
You're only 28 years old. How has youth served you?
Ever since I moved to Asia about eight years ago, I've been sort of classified as the young guy. Whether it's meeting with a guest, potential client, travel agent or whoever, I've always had that label.
In the beginning, what that resulted in was … I don't think they had high expectations. "He doesn't have that much experience," was kind of the feeling I think people had toward me. But that mindset actually played into my hands. It enabled me to surpass expectations in many different ways. I think that's the biggest thing I've noticed.
As you get older though, that slowly disappears. And as I've built up my own reputation, I think people have gotten to know me for who I am as a person and also what I'm capable of on a professional level. Age truly is just a number. Ultimately, it all comes down to one's ability. I've grabbed hold of the opportunity and haven't let go.
What's the course's best feature (if you had to pick just one)?
Well, the setting is world class. There's some great features in terms of layout and design. But at the end of the day, you need to have a couple things before that including the natural setting. The Ba Na Hills itself is an amazing feature to look at. So to have it so close to the course, and to see the cable car going up and down the side of the mountain, the sunlight that breaks through the clouds, it's very distracting. It really does set the scene, and puts people in that frame of mind. And we haven't had a single guest say something negative about the scenery around the course.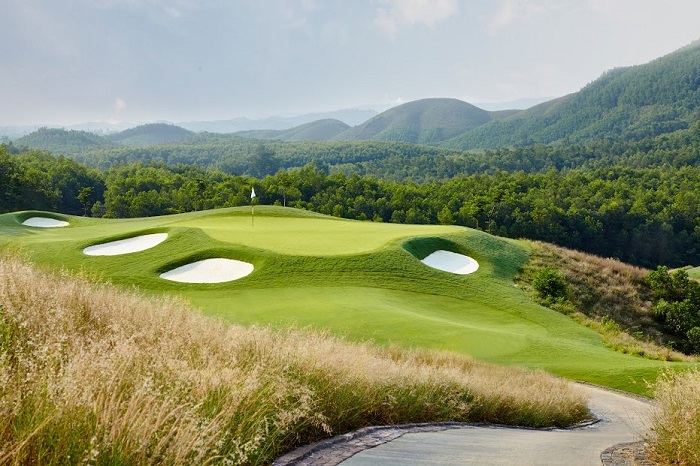 Hole No. 12 of Ba Na Hills GC
It's so peaceful too. It reminds me of a couple courses from back home in the UK. Having the ability to play a round and feel like you're in a completely different world is very unique. There's one road that leads from downtown Danang to the course, and once you go into the club from there, there's no traffic, there are no horns — it's just you and the course and your friends and the caddies and the abundance of wildlife. You can hear those small details. And you can focus on enjoying your game.
What advice would you give someone playing Ba Na Hills for the first time?
What I've noticed the more I've played with guests and observed the way they manage their way around it is that course management is extremely important. With the elevation changes we have, and with the way some of the bunkers are placed, it's crucial.
Of course, we're all after the lowest score possible. But if you can play strategically, it's far more beneficial than playing driver every time and trying to bomb as far out there as you can. On the back 9, you have lots of elevation changes, so getting club selection right takes a bit of doing.
You also really need to understand how each hole is laid out. There are a lot of second shots into greens where it's much more beneficial to be on the correct side of the fairway. So playing strategically, and managing your way around the course, is the biggest piece of advice I'd give.
Ba Na Hills does not have a membership program. Why?
It's very simple really. Golf in Danang has been growing very well for the past 4-5 years. The area has gone from 10,000 rounds per year — when Montgomerie Links first opened — to about 150,000 rounds per year. That's amazing. And to be honest, it's just the beginning. There are still several key international markets that really haven't locked onto Danang as a go-to destination. The US and the UK, for example.
With the way it's going, and with the growing domestic market as well, we had a firm belief that there was enough demand to make it a sustainable business without a membership program. Next May, Danang will host the biggest golf trade show in Asia. It will bring in all of the top golf tour operators and media from around the world, who are all selling/promoting tours in Asia. So the spotlight will well and truly be on Danang. Considering how well the destination is doing already, this is really going to take it to a premier level.
Also, we wanted to be the only course in Danang without a membership program. It gives us great availability and flexibility. We can do some things that other courses can't, which allows us to generate more business from those sectors.
What's the most common piece of feedback you get from golfers at Ba Na Hills, especially first-timers?
I think it goes back to the scenery. We're always getting comments about the conditions being great and the overall facility being fantastic. But everyone comments on the setting.
For those people, whether they've been to Danang before or are incoming tourists from overseas and are used to the other, more links-style courses in the area, it's a breath of fresh air for them to have something completely at the opposite end of spectrum, with a mountain setting.
What are some of your goals for Year 2?
The first year was all about finishing construction and setting up the facility. Now, of course, we really want to get the word out. As a new course, that obviously takes time, but we'll continue our efforts to market it to its maximum potential and grow the business financially as well.
Of course, we're always striving to improve service levels too. We don't want to be just a club that offers traditional services. We want to be more than that. We want to be a place you can come to for your birthday party, or for a romantic dinner with views of the mountain from the rooftop.
So a lot of things we've been focused on we'll continue to focus on; we'll just ramp them up. We've already seen an increase in bookings for every quarter next year. So the hard work is paying off already. We want to be recognized as one of the best courses in the region and I think we have the potential to do that. There's a list of criteria to meet that, and I think with the continued maturing of the course, and team, and the overall business, we're well on our way to achieving that.
Đăng bởi Vu Ngoc Mai
The article "Jack Hedges: "The special thing of Ba Na Hills GC is its great availability and flexibility"" was originally published on http://vietnamgolfmagazine.net/en/jack-hedges/