Killing of Champion Golfer in 'Senseless, Random Act' Stuns Iowa State
Celia Barquín Arozamena had played some of the best golf courses in the world, but her promising life ended on a humble public course down the road from her college, Iowa State University.
Ms. Barquín Arozamena, a top amateur golfer from Spain, was finishing up the first nine holes by herself on Monday morning at Coldwater Golf Links in Ames, Iowa, when a man attacked her, the police said. She was stabbed in the torso and neck, her body dumped in a pond next to the No. 9 tee box.
The killing of Ms. Barquín Arozamena, who won the Big 12 women's championship in April, has stunned the quiet college town of Ames and led her hometown in Spain to declare three days of mourning.
Iowa State has said it will go ahead with a previously planned ceremony during halftime at the university's football game on Saturday to honor Ms. Barquín Arozamena, 22, as the 2018 female athlete of the year. The university will also award her a posthumous diploma, granting her a bachelor's degree in civil engineering.
"Losing one of our student-athletes is like losing a child," Jamie Pollard, the athletic director at Iowa State, said on Tuesday, fighting back tears. "Celia was the victim of a senseless, random act by a stranger in the middle of broad daylight playing something she loved."
The Ames Police Department arrested Collin Daniel Richards, 22, who was living in a homeless camp in a wooded area near the course, and charged him with first-degree murder. The police said that Mr. Richards, who has a lengthy criminal history in Iowa and who was released from state prison in June, had cuts and scratches on his body consistent with a recent altercation.
Officers identified Mr. Richards early in the investigation after they received a tip from another man who had stayed at the same homeless camp. He told officers that Mr. Richards had recently talked about having "an urge to rape and kill a woman," the police said.
Investigators found a knife and a bag of bloody clothes belonging to Mr. Richards near the camp, said Geoff Huff, the department's investigations commander. Mr. Richards was being held in jail on Wednesday with bail set at $5 million.
"It's troubling that something would happen in broad daylight in a community as safe as Ames," Commander Huff said. "It's an awful thing that happened."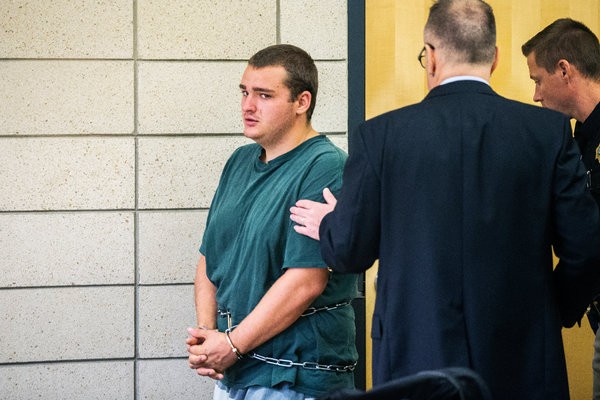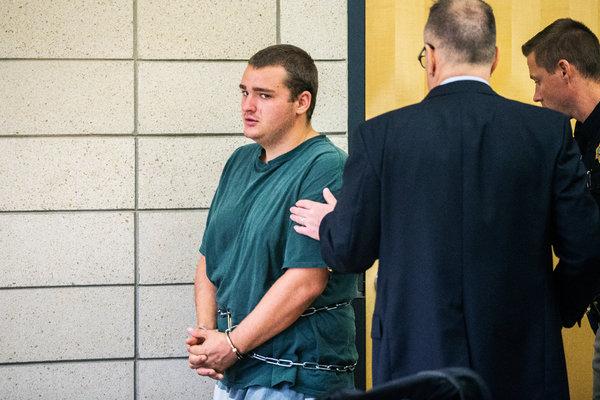 About 30 miles north of Des Moines, Ames is entwined with Iowa State University, whose campus is in the middle of town and whose 35,000 students make up half its population. Ames is considered among the safest towns in the state, with one recorded homicide in each of the past two years.
Ms. Barquín Arozamena's death came about a month after the body of another college student, Mollie Tibbetts, 20, was found in a field east of Des Moines.
Iowa State students spoke on Wednesday about their feelings of fear and a sense of a changed community.
"I feel so close to it and scared because she's from Europe, like me," said Laura Micheli, 30, an Italian student pursuing a doctorate in civil engineering. "It really hit me deeply, this tragedy — maybe because it's Iowa. Here, it's like a safe zone."
Larkin Chapman, 20, a runner on Iowa State's track and field team, said she had gone for a run around 9 a.m. on Monday near the golf course where Ms. Barquín Arozamena was attacked. Her roommate joined her at the last moment.
"I really wonder what would have happened if I was on the trail alone at that time, because I know he was just looking for somebody to kill," Ms. Chapman said. "Me and my friend that I ran with that morning feel that we had a very close call."
Born in Reocín, a town of 3,000 people near Spain's northern coast, Ms. Barquín Arozamena graduated from high school as one of the top junior golfers in the country. She decided to play collegiate golf in the United States and enrolled at Iowa State University in 2014, majoring in civil engineering.
She dominated on the golf course immediately, earning three top-10 finishes in tournaments and being selected for the all-Big 12 first team. She wrapped up her college eligibility last spring in dramatic fashion, winning the Big 12 Championship and then qualifying to play in the 2018 United States Women's Open on the L.P.G.A. Tour.
"Celia had so much pride in competing for Iowa State," Christie Martens, the women's golf coach there, told reporters on Tuesday. "Winning the Big 12 championship for our team meant so much to her because of doing it for Iowa State."
The Ames Police Department said that it did not know what time Ms. Barquín Arozamena was attacked on Monday, but that golfers playing behind her spotted her abandoned bag on a fairway around 10:20 a.m. With the bag's owner nowhere to be found, the golfers reported the episode to the police.
About an hour later, officers found her body in the pond and then tracked her scent with a dog to a wooded area off the course, where they encountered the man who knew Mr. Richards from the camp.
It was not clear whether Mr. Richards, who had previous convictions in Iowa for theft, burglary and harassment, had hired a lawyer or whether he had been appointed one. Before being sentenced to prison in late 2017, he lived with his grandparents in Coon Rapids, a small town about 70 miles west of Ames.
His grandparents could not be reached for comment on Wednesday. But in an interview with The Daily Times Herald in Iowa, his grandmother, Diane Richards, said, "We're just so devastated."
In Reocín, town officials held a minute's silence for Ms. Barquín Arozamena on Tuesday, and declared three days of official mourning.
Spain's sports minister, José Guirao, lamented her death, writing on Twitter that she had "a great future as a sportswoman."
The mayor of Reocín, Pablo Diestro, told local reporters that her killing was an unexplainable "bombshell" for her family and other local residents. Mr. Diestro was also her schoolteacher when she was young.
"She was one of these pupils who don't require a lot of work from you, who are always aiming for 10 out of 10 and overachieving," Mr. Diestro said.
"When she was here, you could see her doing sports, studying, always very focused on her things," Mr. Diestro added. "She got on with things and never looked to provoke anybody."
Ms. Barquín Arozamena grew up idolizing the Spanish golfers Seve Ballesteros, who was born in her home region of Cantabria, and Sergio García. Local news reports included photos of Ms. Barquín Arozamena meeting both golfers as a young girl.
"Heartbroken over what happened to #CeliaBarquinArozamena," Mr. García wrote on Twitter on Tuesday. "I had the pleasure of meeting her and I know she was a special person."
Raphael Minder contributed reporting from Spain, and Alex Connor from Ames, Iowa.
A version of this article appears in print on , on Page A13 of the New York edition with the headline: Shock on Iowa Campus After 'Senseless, Random Act'
. Order Reprints | Today's Paper | Subscribe
The article "Killing of Champion Golfer in 'Senseless, Random Act' Stuns Iowa State" was originally published on https://www.nytimes.com/2018/09/19/us/golfer-killed-celia-barquin-arozamena.html?partner=rss&emc=rss