Mission Hills Group in China led the way at the 2017 Asian Golf Awards in Danang, Vietnam, collecting a host of awards including Best Golf Resort in Asia Pacific for Mission Hills Haikou, a title the facility has held since 2012.
Brothers Ken and Tenniel Chu – Chairman and Vice-Chairman of Mission Hills Group – were recognized for topping the Most Powerful People in Asian Golf list for the sixth successive year. Tenniel Chu also received the inaugural Asia Pacific Leadership Award for his contributions to junior golf development.
Tenniel Chu, Vice Chairman of Mission Hills Group, gives the keynote address at the Asia Pacific Golf Summit 2017
Mission Hills Haikou – which with ten public golf courses is the world's largest public golf facility – has been in the headlines again in 2017 following ground-breaking announcements with FC Barcelona and the NBA. Strategic partnerships have been established between Mission Hills and two of sport's most famous brands which will further establish the Haikou resort as a centre of excellence not just for golf but also football and basketball.
The 22-square-kilometre Mission Hills Haikou resort on the international tourism island of Hainan also received Best Clubhouse in Asia Pacific and Best Pro Shop in Asia Pacific while its flagship Blackstone Course was first runner up in the categories of Best Championship Course in Asia Pacific and Best Course in China.
Ken and Tenniel Chu continue to dominate the category of Most Powerful People in Asian Golf, having topped the list since it was first published in 2012. Tenniel Chu's Leadership Award for junior golf development came in a year which has seen more than 25,000 junior golfers enter through the doors of its two properties: Mission Hills Shenzhen and Dongguan in southern China – which with 12 golf courses is the largest golf club in the world – and Mission Hills Haikou in Hainan.
Mission Hills Group is the owner and operator of Mission Hills resorts in the heart of the Pearl River Delta and on the tropical island of Hainan.
Founded in 1992, Mission Hills is recognized as one of the world's leading golf brands and a pioneer in China's hospitality, sports and leisure industry. The world-class integrated leisure and wellness resort destinations have hosted more than 100 international tournaments, dating back to the World Cup of Golf in 1995, the first international golf tournament in China. Mission Hills has also been accredited by the Guinness World Records as the "World's Largest Golf Club" and the "World's Largest Mineral Springs and Spa Resort".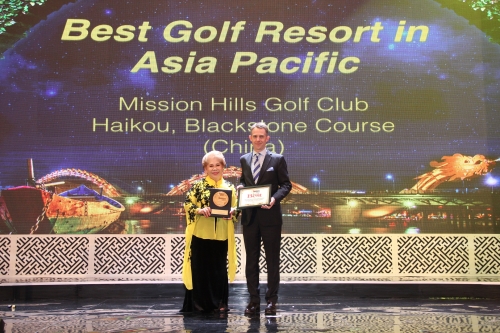 Tom Phillips of Mission Hills Group collects the award for Best Golf Resort in Asia Pacific at the Asian Golf Awards 2017
Mission Hills' properties sprawl over 40km2. They include 22 championship courses designed by renowned players and architects from five continents, five-star resorts, award-winning spas and volcanic mineral springs, international convention centres, state-of-the-art golf academies, a 20-pitch football training base, Asia's largest basketball school and Asia's biggest tennis facility. Mission Hills is also the official training headquarters for China's Tennis, Football and Golf Associations.
The Group's 'golf and more' leisure philosophy has catalysed its tourism-related business expansion into a leisure hub for multi-generational families. Mission Hills Centreville in Shenzhen and Haikou provides integrated shopping, recreational, business, education, entertainment, leisure and cultural experiences, including Bromsgrove School Mission Hills in Shenzhen in collaboration with the historic British boarding school. Mission Hills has also extended its foray into the hospitality industry by partnering with world-renowned hotel brands such as Hard Rock, Renaissance and Ritz-Carlton. These collaborations have seen the opening of Ritz-Carlton's first golf resort hotel in China and China's first Hard Rock Hotel in Shenzhen.
Other significant projects include Movie Town in Haikou in partnership with China's largest film production company, Huayi Brothers Media Corporation and award-winning director, Feng Xiaogang and China's first Wet'n'Wild water park in collaboration with Australia's leading entertainment group and largest theme park operator, Village Roadshow Limited.
Mission Hills has also announced ground-breaking partnerships with FC Barcelona and the NBA to bring the world's most famous football club and the world's largest professional basketball league to its Haikou resort, making Hainan island a leading hub for football and basketball development in China.
For more information and latest updates, visit www.missionhillschina.com
The article "Mission Hills Haikou Voted Best Golf Resort in Asia Pacific" was originally published on https://golfbusinessnews.com/news/courses/mission-hills-haikou-voted-best-golf-resort-in-asia-pacific/