More than a dozen educational events across the region have highlighted another productive year for the Asian Golf Industry Federation (AGIF).
Richard Walne
"We have seen progress with the programmes presented as we continue to strive to be one of the leading golf organisations within the region," said AGIF President Richard Walne, delivering the Board report at the Federation's annual meeting.
New Board Appointments
Also at the meeting golf industry stalwart Rudy Anderson, President of Pacific Links International, assumed the role of Vice President of the Asian Golf Industry Federation (AGIF).
Richard Walne said: "As a Board member for the past two years, Rudy has made an outstanding contribution. We look forward to receiving the benefit of his experience and continued input in the years ahead."
A graduate of Siena College, Anderson has held senior positions within the international private club, golf and resort business with ClubCorp in the United States, China, Southeast Asia, Europe and South Africa.
Over the span of his career he has developed and managed world-class private golf and recreational clubs and has transacted more than US$675 million in golf course assets.
Anderson takes over as Vice President from Paul Burley, Global Head – IMG Golf Course Services. However, Burley will remain on the Board of Directors, taking over as Treasurer.
Meanwhile, Syngenta's Mick McLaughlin has been elected to the post as Secretary.
Walne said: "As an organisation, the AGIF is fortunate to be able to call upon a large number of respected and knowledgeable individuals from within the golf industry.
"With so many new developments and a continued drive to implement more educational programmes for club managers and golf course superintendents, these are exciting times for the AGIF.
"The new Board is very much looking forward to getting down to business. We have a bullish outlook for the future of golf in Asia"
AGIF Education
As well as running Turfgrass Management Seminars and Field Days in Malaysia, the Philippines, Thailand and Vietnam, there were three BMI modules for club managers and five Mini Summits.
"The success of our education programmes continues to improve each year, as the AGIF increases its focus on education," added Walne, addressing representatives from member companies at the TPC Kuala Lumpur.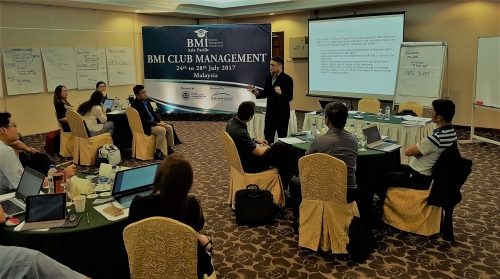 "In particular, the strengthening of our relationship with the Club Managers Association of America (CMAA) has been significant. We have now completed the second year of our landmark agreement with the CMAA to utilise their acclaimed BMI curriculum, which delivers classroom learning to club managers across the Asian region.
"In line with our license agreement, we are permitted to run these programmes throughout Asia, excluding China. To date we have brought in 35 managers from clubs in Malaysia, Singapore, China, Indonesia and Thailand to our programme."
Emphasising the Federation's growing influence and ambitious plans, Walne, Managing Director Asia Pacific & Australia with The Toro Company, revealed exciting developments for the year ahead.
These include the proposed launch of a greenkeeping certification programme and new formats for turfgrass education and club management education.
Discussions are also under way to initiate a major conference and exhibition for the turfgrass and club management community in Asia.
Walne concluded that the diversity of the AGIF membership was underlined with the addition of new member companies from a variety of areas of the golf industry.
Among their number are Air2G2, Albatrozz, Aspen Software, Capillary Concrete, Global Turf Consulting, Green Dynasty, Indigrow, Jonas Club Software, Kyi Hla Han Golf Design, Lagardère Sports, PGA of America, SPH Pacom and WIPA Tec.
Asian Golf Industry Federation www.agif.asia
The article "Productive Year for Asian Golf Industry Federation" was originally published on https://golfbusinessnews.com/news/productive-year-for-asian-golf-industry-federation/