Record holes-in-one at Vietnam tournament
Paul Myers
March 31st, 2017
Thanh Hoa, Vietnam, March 31: Statistically, a hole-in-one is made every 13,000 rounds by an amateur golfer and every 2500 rounds by a professional – or about four times a year on a course hosting 50,000 amateur rounds annually and once every two weeks on the world's professional tours.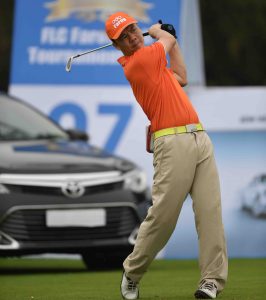 So it is more than unusual when three holes-in-one are record at an amateur tournament during a single weekend.
This is what occurred at the 2017 FLC Faros Golf Tournament at FLC Samson Golf Links near Thanh Hoa, Vietnam this month.
A total of 1200 golfers each played one of seven competition rounds in the tournament.
The three holes in one – recorded on the third and 11th holes of the Nicklaus Design course – occurred a multiple of 30 times more than average. It is believed to be a record for the number of holes-in-one at an amateur golf tournament in Asia.
The lucky players, who all used Titleist 5-irons for their shots, not only went home with bragging rights about their holes-in-one, but also with prizes valued at more than 15 billion Dong (USD660,000), including USD60,000 in cash and six luxury cars. Not bad for a weekend's golf excursion!
The triple holes-in-one in the Faros tournament, including one by a Korean participant, follow another hole-in-one at the FLC Golf Championship held last month at FLC Quy Nhon Golf Links in central Vietnam. On that occasion, one player scored a hole-in-one on the 16th hole, winning three luxury cars, a condotel at an FLC project in Quy Nhon city and USD10,000 in cash.
The Faros tournament also recorded two eagles in the first two days. Duong Quoc Tuynh, the gross score winner, received the champion's cup and a 35-year membership card at FLC Samson Golf Links.
Hanoi-based FLC Group, which organised and hosted the tournament, raised money for its Charity Fund during the event.
FLC Samson Golf Links, host course of the tournament, is the first 18-hole links-style course in Vietnam by Nicklaus Design. The unique layout set in a coastal location has a classic aesthetic and presents a unique challenge for golfers who play one of the few genuine links courses in Asia.
Kris Tamulis and Marina Alex, two LPGA professionals who played FLC Samson Golf Links last October, said they believed the layout was ideally suited to host an international professional tournament.
For more information about FLC Samson Golf Links, visit www.flcgolf.vn

Photos
Top – Korean golfer Park Jea Seok receives his hole-in-one prize from Mr Do Nhu Tran, the CEO of Faros Construction Joint Stock Company; another winner, Trinh Hgoc Thach, shows his style on the tee.
The article "Record holes-in-one at Vietnam tournament" was originally published on http://www.asiantravelmedia.com/record-holes-in-one-vietnam-tournament/