Stunning New Mountain Course at Quy Nhon, Vietnam
Paul Myers
April 4th, 2017
"Out like a lamb, in like a lion," observes Brian Curley as he completes his round on the newly-opened Mountain Course at FLC Quy Nhon Golf Links in Central Vietnam.
Curley – a low handicap golfer who originally hailed from Pebble Beach, California (pictured below with Biscom chairman Luu Duc Quang) – designed the course perched high above the imposing FLC Luxury Resort facing the East Sea. He is referring to a relatively friendly opening four holes on the 7000-plus yards layout compared with the same number of challenging final holes.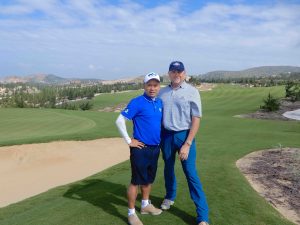 In between the "lamb and the lion" are ten delightful upwind/downwind, uphill/downhill holes, all with generously wide fairways, abundant sandy waste areas, open green approaches and plenty of cross slope to keep everyone on their game.
Curley, who with his business partner Lee Schmidt has designed more than 150 courses in 25 countries including about 60 in Asia, is especially pleased with the outcome at Quy Nhon, his fourth course design for Hanoi-based FLC Group, now the world's leading developer of new golf courses and resorts.
The easy-going resident of Scottsdale, Arizona – which has its own share of seriously good golf courses – is not only pleased because the Mountain Cousre was open a record four months after the bulldozers first made inroads on the sandy pine scrub hillside 20 kilometres from Quy Nhon; and not because the set-up is, deliberately, strikingly different to the adjacent Nicklaus Design layout that opened in a lower tree-lined/seaside setting a year ago.
Brian Curley especially likes this effort because of its striking elevation changes, exceptional ocean views on 16 of 18 holes, the challenge it presents long hitters to reach greens in regulation in often windy conditions, width that allows mid and high handicappers to keep their ball in play off the tee, cross slopes on fairways, links-style green contours, and expansive mini-fairway tees on the all-Platinum paspalum layout.
This latter feature allows tee markers to be moved forward or back much more than on courses with defined teeing grounds.
Brian Curley says that in summer, the wind from the south-west will help on ocean-facing holes, prompting tees to be placed further back. But when the wind blows hard from the ocean, as it does in winter and spring, otherwise reachable holes become a real challenge.
"The width may make the course look easy," Curley concedes. "But there's enough tightening in key places to keep good golfers on their toes, especially because of the wind."
Even so, the swales, depressions, backstops and fall-away lobes on most greens create their own on-the-ground challenges, promoting links-style bump and run golf that necessitates careful judgement of slope.
Brian Curley likens the Mountain Course to the famous Plantation layout at Kapalua, Hawaii, which also has steep elevation changes, dramatic ocean views and ever-present strong winds.
"There are big wide fairways there too, because of the wind, and big elevation differences. It's not often you find land for a golf course where wind is a design consideration, especially in Asia, but it certainly is here."
Curley says he attempted to eliminate forced carries, although this is a dramatic feature on holes five and six.
Although it is one of only two holes without ocean views, the uphill par-4 sixth will undoubtedly be the talking point for all comers. Playing alongside a massive dunescape, it features a pop-up mini-dune that dictates the line off the tee. Long hitters can play left and attempt a 220-yard carry to the fairway, drive over it or, for the more timid, play to a plateau on the right. The green has a strong backstop kickslope on the right side that feeds good shots towards the pin.
Other notable holes include the spectacular par-3 14th with line-of-sight views over the resort and East Sea, and the par-4 second and 17th, both of which provide unparalleled vistas of the ocean, coastline and mountains in the distance.
Mr Luu Duc Quang, the chairman of Biscom, the FLC company that manages its golf properties, says the absence of large shade trees and water and a limited number of bunkers could give the first impression its spaciousness makes it less challenging than with the lower elevation Ocean Course.
"But as they begin playing it becomes difficult because of the strength and unpredictability of prevailing winds, the irregular landscape and because greens and pins are sometimes not seen from the fairway or tee," he says.
"Distances are difficult to estimate and there is considerable movement in the greens."
Despite its elevation, the course provides close green-to-tee connections, making it walkable, as evidenced by numerous players who took the option to play during the 2017 FLC Golf Championships in mid-February.
Brian Curley says he feels honored to be involved with FLC's projects in Vietnam, including a course he designed at World Heritage-listed Ha Long Bay that will open later in 2017.
"These courses will soon be at the forefront of the traveling golfer's list of must-play destinations," he adds.
The Mountain Course at FLC Quy Nhon Golf Links is undoubtedly one of them.
For more information, visit www.flc.vn or www.flcresortquynhon.com
The article "Stunning New Mountain Course at Quy Nhon, Vietnam" was originally published on http://www.asiantravelmedia.com/stunning-mountain-quy-nhon-vietnam/