Singapore doesn't sell Singapore as a golf tour destination. Food? The food is all time. Shopping? The malls have malls. And the nightlife? Oh, baby, abso-freakin'-lutely – six of the world's top-50 bars are in Singapore, there's a casino that looks like a three-pronged Star Wars super-base, and you can gad about long into the night. Singapore Tourism sells Singapore as a foodie, fun and funky town.
But as a golf tour destination? Not at all. They don't even try. Because compared to the quality, wow factor and access to golf in Thailand, Vietnam, China (and, you know, Australia, New Zealand, Hawaii, Norfolk Island, and most everywhere else) the value of golf in Singapore is, to coin a phrase from punting parlance, "big overs". Overs? It's Winx at 10-1.
And yet Singapore the city, as a tour destination is first class. Easy to get around. Safe. Friendly. We've mentioned the food. And they could sell the city as a golf tour destination, for sure. But they cannot. Because golf in Singapore is like Singapore itself – enigmatic. It's golf but not as we know it.
Stay with us.
Golf in the interesting, exotic, clean, safe and boring-in-a-good-way island nation state of Singapore is largely for the wealthy. There are country clubs that don't want you in them. Those that will have you can be expensive and bureaucratic.
Sentosa's Tanjong Course. PHOTO: Supplied.
And if you think land developers in Australia are waging "war on golf", consider Raffles Country Club (est.1988), which the Singapore government recently "acquired" so they can flatten it for a high-speed rail line to Kuala Lumpur.
As I said – enigmatic: the best time of the day is the night; some of Singapore's best golf is in Indonesia. Put it this way: you wouldn't go there to play golf. But you'd play golf while you are there.
Let us count the ways.
THE JEWEL
Like most courses in the hour or so just after dawn and just before dusk – what renowned photographers like our Gary Lisbon call "the golden hour" – the Serapong course at Sentosa Golf Club photographs a treat. All the swales and contours and rolling bouncy bits come into stark relief. It's a beautiful thing.
There are bubbling brooks and waterfalls, tropical conifers and flashes of frangipani. There's a mangrove patch in the middle. There are peacocks and macaques and endangered herons. The port city's cranes loom across Keppel Harbour like mighty sentinels. It's tropical golf in the city.
Trees abound yet are sparse enough, their purpose mostly to look pretty rather than hinder the progress of your golf ball (unless you've been quite bad). Keep it on the carpet and you'll enjoy rolling mounds and basins, and fine lies. Hazards include mighty lakes, pretty streams and the warm waters of the South China Sea.
"Singapore the city, as a tour destination is first class. Easy to get around. Safe. Friendly. We've mentioned the food. And they could sell the city as a golf tour destination for sure."
Legions of staff, effectively stylists, manicure the greens with scissors. They don't so much bikini-wax greens as exfoliate them. The greens are pure, and surrounded by amoeba-like bunker complexes filled with purest white sugar. Any green-keeper will tell you: it's no small feat 1.5 degrees north of the Equator.
Sentosa GC is not short of money. Indeed they have pots of it. It's a subsidiary of Sentosa Development Corporation, which is a subsidiary of the Singapore government. The locker room has more mahogany than Old Parliament House. Membership is $40,000 for locals and $180 a month.
Green fees for visitors are $400. During the week. On weekends they're $580. There are forms to fill in. You'll need to provide passport details, your handicap and a letter from your golf club's general manager.
Generally the breeze wafts off the sea but the day our group played Serapong it was so hot you drove about in the cart to create a breeze. If you found a big shady tree you'd do laps around the trunk. And yet so super-fine is the golf course we had tremendous fun. It's just a quality, championship course. It's hosted the Singapore Open. It's designed by Ronald Fream and team.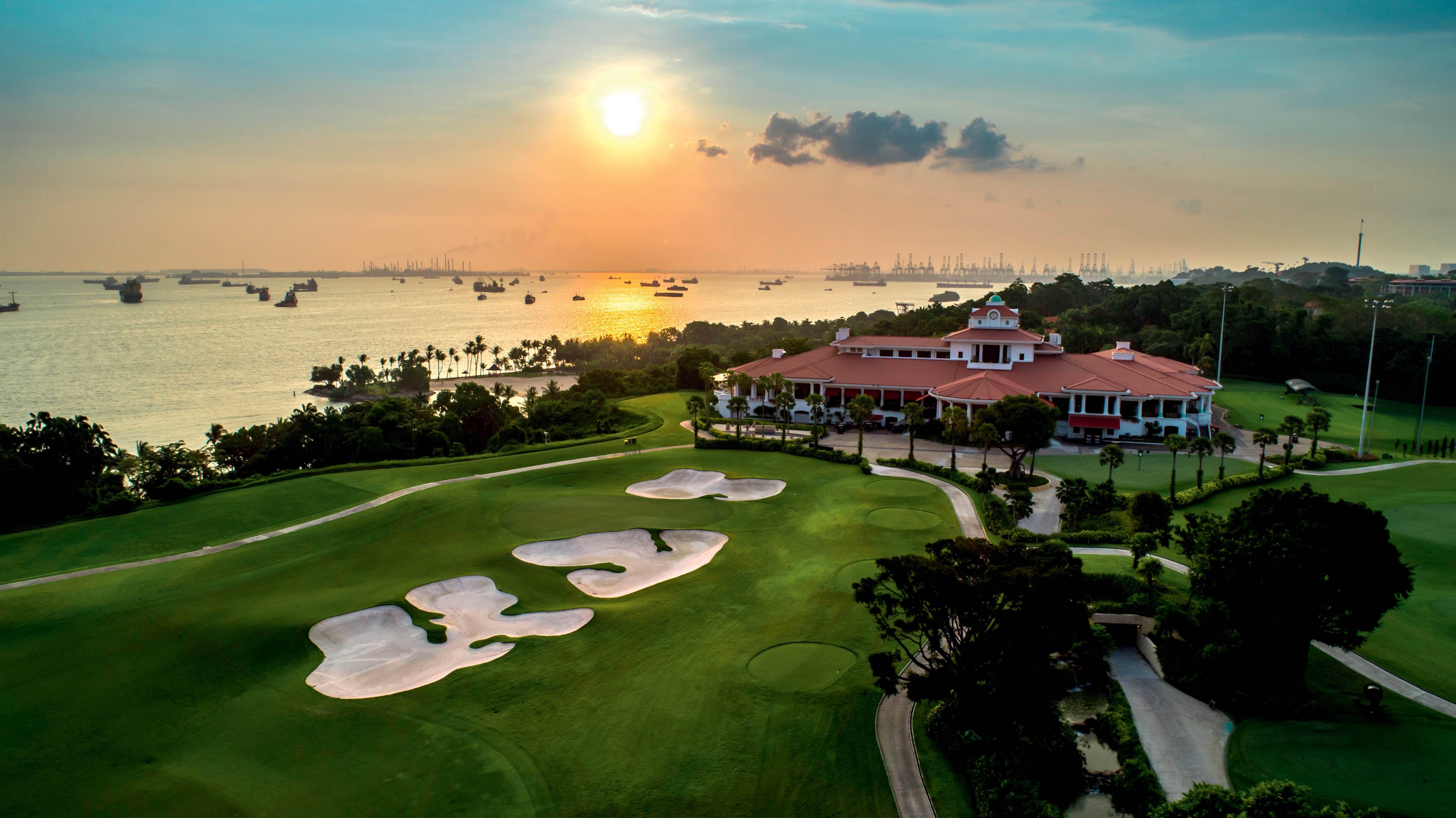 Sentosa's Tanjong Course. PHOTO: Supplied.
The stretch of holes from 3-7 routes around a lake and Keppel Harbour. Lots of water, but mostly decorative unless you're bad. The beast is the par-4 3rd which requires a brave drive between thick jungle to the apex of a dogleg left that feeds steeply down to a green near-ringed by sand and water views. Big hitters can hug the tree-line and get a sling-shot off the slope down to the green. As he emasculates the 13th at Augusta, Bubba Watson would cut the ears off it and be damned.
The par-5 4th features a risk-reward water carry tee-shot to a spit of land, dotted with palm trees, that juts into the lake like the nub of a tongue. You could play right and turn the hole into a three- or four-shot par-5 – or bomb across the water and give yourself a shot at the green in two via another long water carry. You know what Bubba would do.
There's a mighty big boulder stuck in a huge greenside bunker on six. I landed behind it. Chopping out sideways and rolling in a bomb for the sand-save par was – along with the chilli crab at Red House seafood restaurant – among my tour highlights.
THE OTHER JEWEL
The New Tanjong course is more of the same: beautiful hazards, silky white sand, whole lot of fun. It runs through upmarket housing and up to the highest point on the course, the tee-box for the fine, downhill par-3 4th.
The first hole shares "McKenzie-inspired" bunkers with the 10th hole. There are fine, short par-4s. The 6th is an uphill par-4 to a raised green backed by a much-photographed, 20-metre waterfall.
And with a gentle breeze off the water and overcast skies, it was so pleasant one of our party – an 8-marker – fired one-under off the stick on the front nine before being run down by another 8-marker who had two-over and 42 points job lot. And the banter flowed like the beer.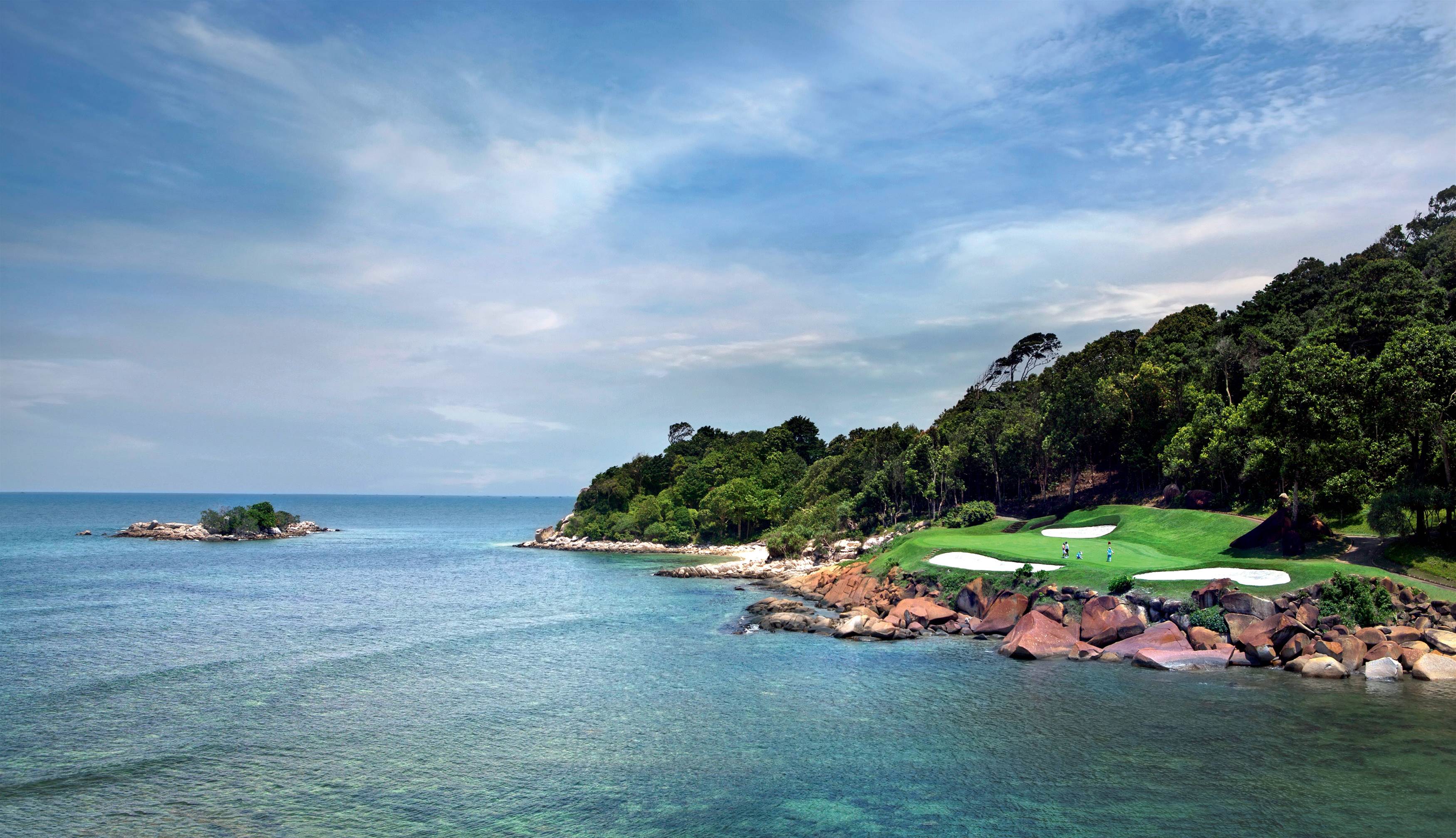 Ria Bintan. PHOTO: Supplied.
FANTASY ISLAND
An hour on a ferry from Singapore is the Indonesian island of Bintan where sits the much-photographed and very excellent Ria Bintan Golf Club. And if you're in Singapore with a day to kill, you absolutely must kill it playing golf on Bintan. Better still, stay a few days and play Ria Bintan, and the courses in the next stanza.
After negotiating customs and a thong blow-out we met our bus and talked golf with folks from Scotland, Ireland and Singapore. We drank an exotic, cool juice on arrival and draped our faces in delicious, cold towels. We ate chilli noodle surprise for brunch.
"If you're in Singapore with a day to kill, you absolutely must kill it playing golf on Bintan. Better still, stay a few days."
And then we got into it. Our caddies were, as usual in Asia, young women dressed in pink overalls. They rolled their eyes at us and mildly flirted, and read our putts 97 percent perfectly.
The course? Orange dirt, green surrounds, jungle bliss. There are monkeys and snakes and many flying things. For a tropical equatorial golf course the greens are grainy and good.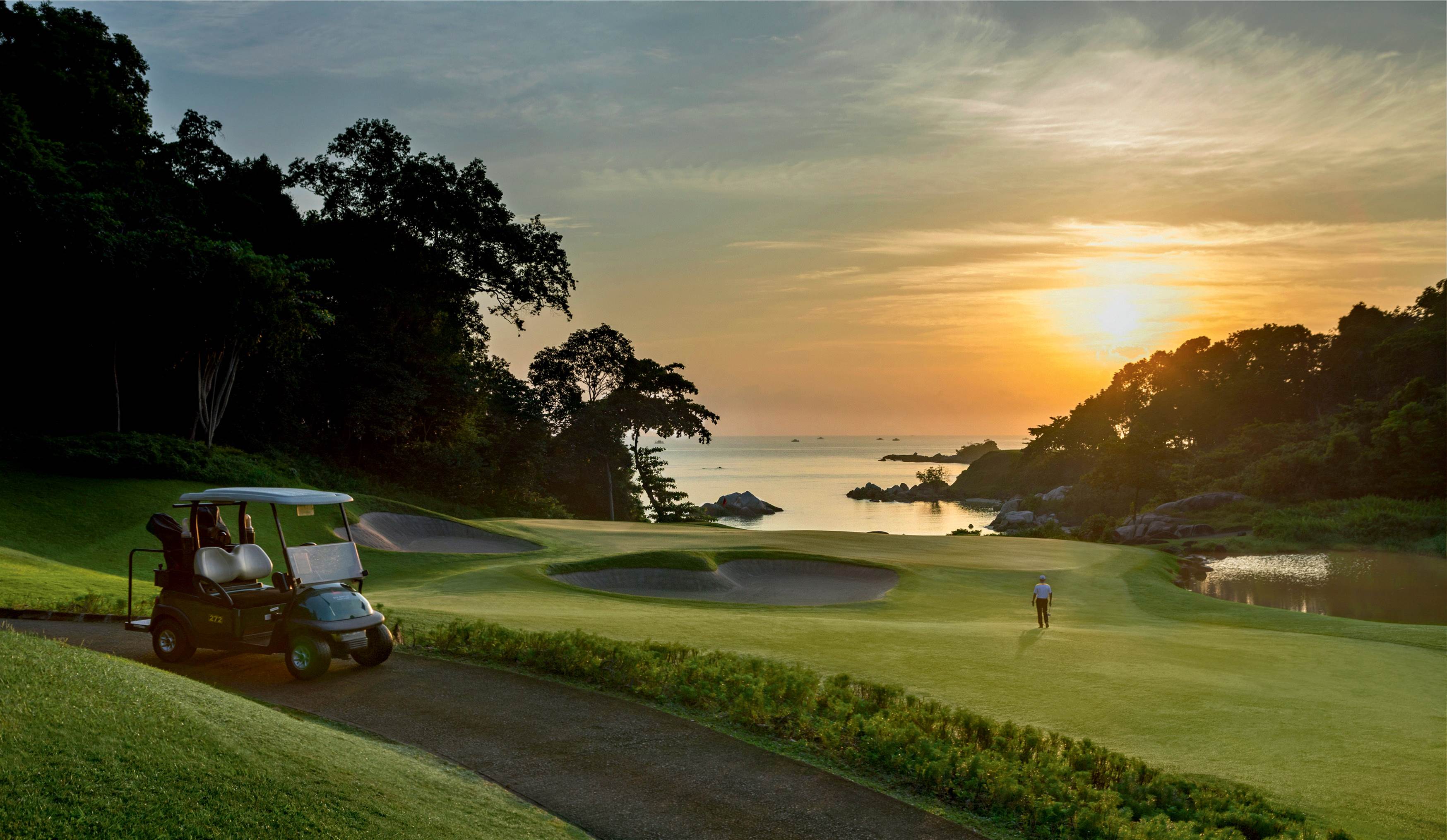 Ria Bintan. PHOTO: Supplied.
You would probably have seen the signature hole (if not Google "Ria Bintan signature hole"), a stunning short par-3 over a bay. Bunker the length of the left will catch little draws. Anything hooked or pulled is in bouncing around the boulders in the South China Sea. It could be the most photographed golf hole in all Asia.
The hole before it is like the 'Beast of Serapong' – a right-to-left dogleg par 4 that crazy-brave types can cut a corner off and feed their ball way downtown, roller-coasting down a steep fairway. The green is huge, and multi-tiered, and seems to float on the water. Gee it's a great golf hole.
The rest are different enough to be interesting, equal part water views and jungle green, with flashes of pink and orange and mauve frangipani.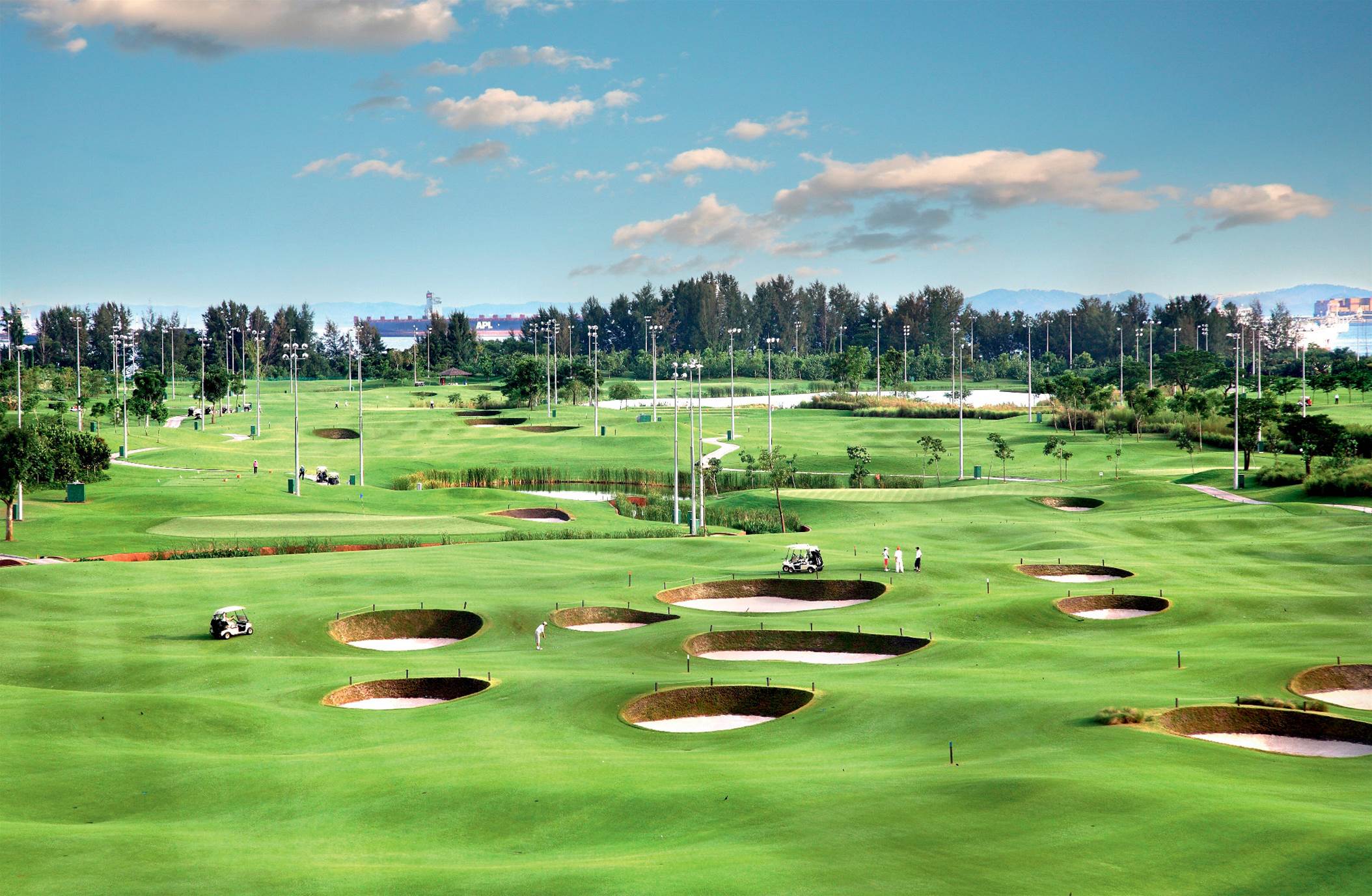 Marina Bay. PHOTO: Supplied.
JACK, SHARK AND SPARRA
Laguna Bintan Golf Course is a Greg Norman design with groves of coconut trees and water views and the dense jungle of your Vietnam War movie. Stunning rock formations poke through the bush and edge onto the sea. Elsewhere you could play the Ian Baker-Finch Woodlands Course and the Jack Nicklaus Seaview Course at the Bintan Lagoon Resort. Afterwards choose from the Resort's 12 dining options (I can recommend "Chop Chop" if you're "Feeling Crabby") and then lie on a Bintan beach with a Bintang beer.
THE PEOPLE'S COURSE
Singapore's only public course is the surprisingly fine Marina Bay Golf Course, in the shadows of the mighty Marina Bay Casino. Its bunkers are its feature. They're rivet-faced, circular pots like at Carnoustie and St Andrews. There are 85 of them. It's an incongruously "Scottish" design feature in humidity that can ruin a man. But it has lights so you can play at night, which is really the only sensible time to do anything in Singapore, which at certain times of the year is like walking around in a hot tub of gelatinous mushroom soup.
The golf? They say it's one of the few "links-styled golf courses in Asia" and that's probably right. The 4th hole is a 651-metre par-6. One member of our group made a birdie five. He also made a near-ace on the short 13th with the island green. It's a well worth a round, without being on a bucket list. Singapore in microcosm.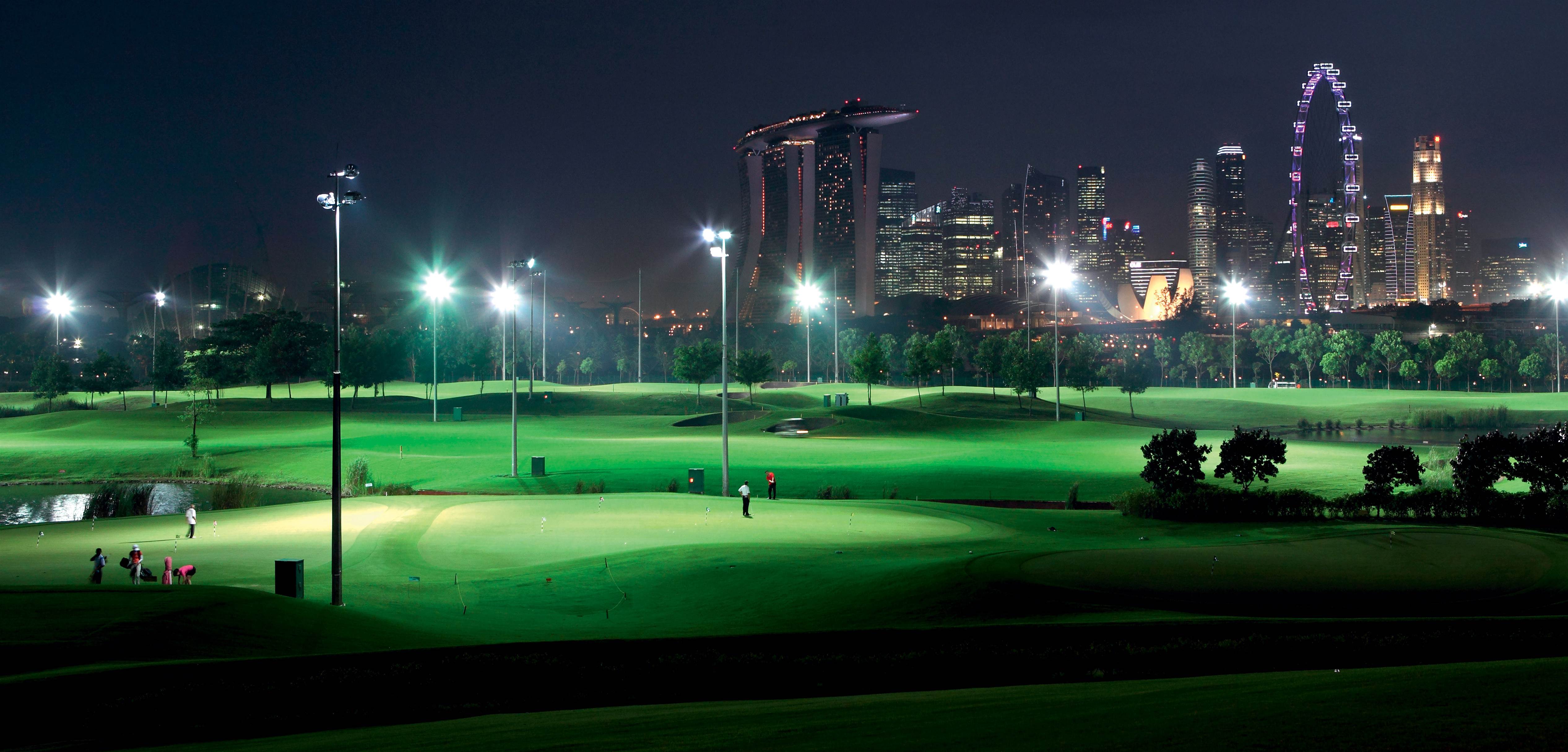 Marina Bay at night. PHOTO: Supplied.
DO: HEAD INTO THE NIGHT
We stayed in the Swissotel Merchant Court on Clarke Quay where they brought us beer as we lazed in the pool. And I'm not talking about a paper cup I'm talking a glass of beer. Head to Singapore, you want to stay somewhere like it. Clarke Quay, Robertson Quay, Boat Quay equals Fun City.
We dined on Malay, Chinese and Indian cuisine close to water. Head into any restaurant on the river, ask for the seafood banquet and boom, out comes half-dozen courses of seafood surprise. Incredible food. Great with beer or cold white, or even red wine. We loved our night at Our Village, an Indian place with views of the skyline. Sparkling views, great food, long table, all your mates – super evening.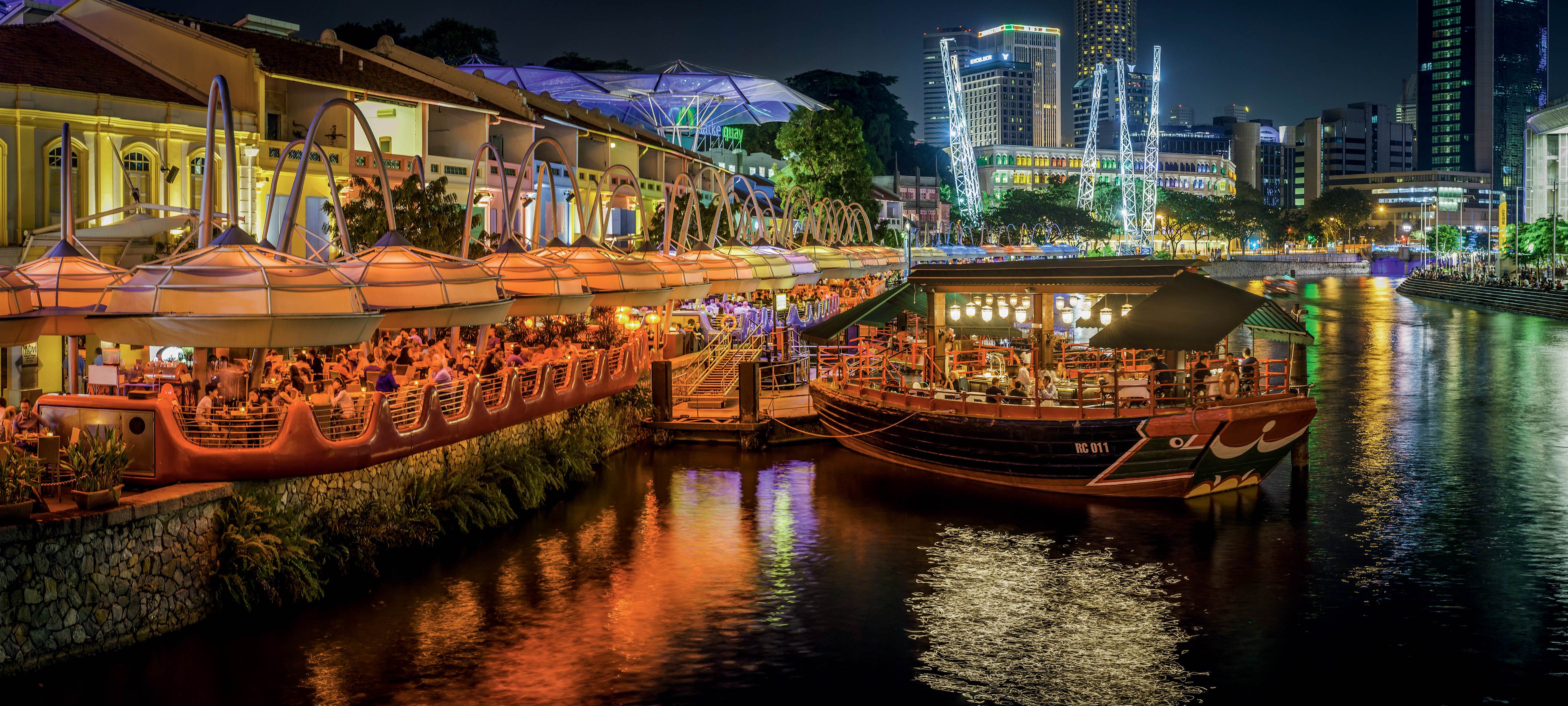 Singapore has six of the world's top-50 bars. One of these bars, Atlas, stocks over 1,000 varieties of gin. There's a bar and restaurant attached to Sentosa Golf Club, Pan Americana, that sells "adult Fanta" they pour into your mouth, and "Rock and Rye", which is whiskey poured over a chunk of ice like a cricket ball. The food just keeps on coming. We enjoyed this afternoon very much also.
But perhaps our most fun après-golf was a night at Kranji Racecourse. For about $50 a head we enjoyed a five-course meal and "free flow" beer, which continued to come served by beautiful young women. Race meetings are held on Friday nights and Sunday afternoons, and the odd Tuesday.
Sports? We watched Wallabies-Ireland in a pub called Molly Malone's. The Singapore Sevens (late April) has plenty of what makes Hong Kong great. The Formula One Grand Prix (mid September) runs though the city. At night. You can play golf at night. Singapore is sultry at night. It's a night city. The best time of the day is the night.
DON'T: WORRY
Singapore is super easy to get around. Cabs are clean and cheap and convenient. Thirteen-seat mini-buses go for about $75 per journey. Our group of 10 lined up the driver from our first trip to be our driver the entire time. He brought beers with him. He smiled a lot. Cracked gags. He was a dead ringer for Kiradech Aphibarnrat. Even when road works meant his GPS betrayed us, we weren't lost for long. Our man the 'Barn Rat' got us to the church on time every time.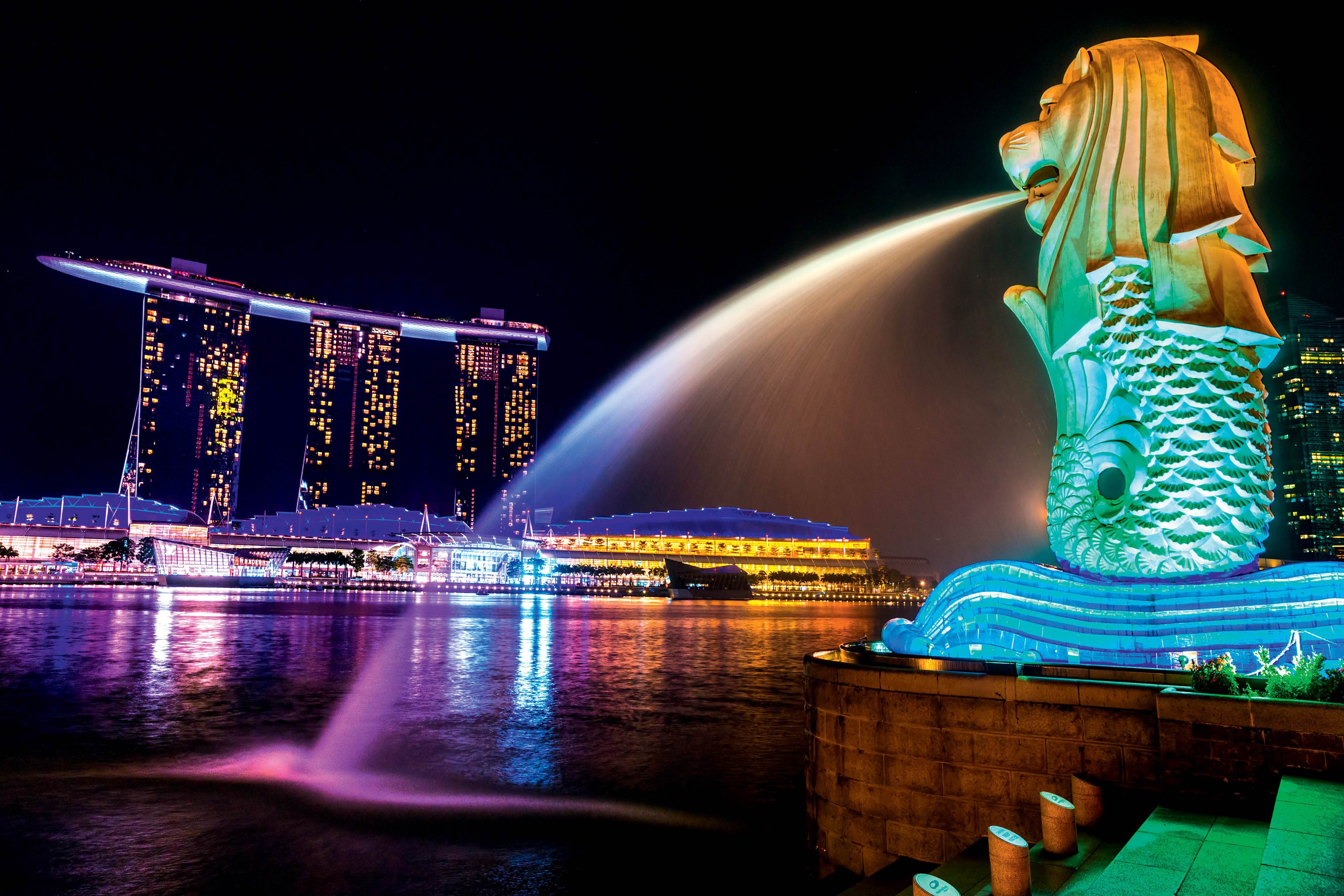 Our group was in Singapore the weekend Donald Trump was meeting Kim Jong Un. We played golf on the very island, Sentosa, where they were to meet. Yet apart from the odd military helicopter, a flotilla of police boats on the water, and the occasional large build-up of cops in the town, Singapore was Singapore – one of the safest places on earth. Some people call it "boring". But very little bad happens, which is a good thing.
Singapore has its issues that might itch a humanitarian's pants. Wealth is generated on the back of low-paid labour from the sub-continent and the Philippines. Its one-party government brooks little dissent. There's one major newspaper that toes the party line.
Yet everything works. And everyone's happy, or looks like they're happy. They don't look unhappy. You can Google up yarns about a "dark underbelly", but you can do that for any place. Mostly Singapore feels like civilisation run by a benign, well-meaning, friendly dictator.
Bastard could lower the green fees, however.
The article "Singapore: Where the golf (and food) is ... Hot & Spicy" was originally published on https://www.golfaustralia.com.au/feature/singapore-where-the-golf-and-food-is-hot-spicy-514868?utm_source=feed&utm_medium=rss&utm_campaign=golf+australia+rss