On November 25, Sun Group-invested Ba Na Hills Golf Club took home two awards from World Golf Awards held in La Manga del Mar, Spain after it was named Best Golf Course in Asia and Best Golf Course in Vietnam.
Previously, Ba Na Hills Golf Clubs, which was designed by former world champion golfer Luke Donald, won "Best New Course 2016-2017" at the annual Vietnam Golf Magazine Awards.
The award title was determined by 1.1 million votes from 40 countries and territories collected between April and October.
Ba Na Hills Golf Club won the titles of Best in Asia and Best in Vietnam
Prior to this, in 2016, Luke Donald-designed golf club managed by IMG was also honoured as the best new golf course in the world at the annual World Golf Awards in Portugal, opening the doors to the country's budding golf tourism.
Tim Haddon, general manager of Ba Na Hills Golf Club, asserted, "The awards are a great recognition for the golf club as well as a monumental achievement considering the tough competition for such a world-class award."
Additionally, in November 2016, Ba Na Hills Golf Club was given the accolade for "Best New Course in the Asia-Pacific" at the Asia-Pacific Golf Summit in Thailand.
Inaugurated in March 2016, the golf club is situated in the foothills of Ba Na Hills in the flourishing central coast of Vietnam, merely a 25-minute drive from downtown Danang city.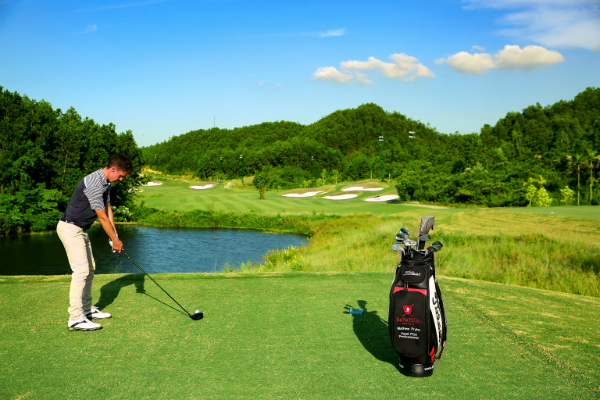 Ba Na Hills Golf Club offers perfect golfing experience amidst the breath-taking scenery of the Vietnamese central coast
Since the debut in 2014, World Golf Awards has become the most reputable awarding ceremony in the golf tourism industry.
Chris Frost, managing director of World Golf Awards, stressed, "World Golf Awards 2017 is the largest golf tourism-focused awards taking place on the largest scale ever."
World Golf Awards is an internationally recognised prestigious award, serving to celebrate and reward excellence in golf tourism, top-class courses, and golf destinations. The awards ceremony was followed by a seven-month worldwide voting process by experts directly working in the industry of golf travelling and tourism, such as senior executives, travel buyers, tour operators, and media professionals.
Ba Na Hills Golf Club is under the management of IMG Group and owned by Sun Group, one of Vietnam's leading property developers.
Ba Na Hills Golf Club launches promotions for summer

From May 03 to July 30, Ba Na Hills Golf Club is going to have summer promotions that would bring to golfers the opportunity to experience interesting challenges and world-class services at a discounted price.
By Sam Luong
The article "State-of-the-art Ba Na Hills Golf Club wins world-class accolades" was originally published on http://www.vir.com.vn/state-of-the-art-ba-na-hills-golf-club-wins-world-class-accolades.html