90 percent of the apartments have been registered for sale in S2 tower of the apartment and mall complex Sun Grand City Thuy Khue Residence at the official launch on September 18 in Hanoi.
The event saw the participation of 600 investors and future residents. Duong Thuy Dung, Head of Market Research at CBRE Vietnam, said there are three reasons the project attracts such attention, namely its prime location, the shortage of luxury real estates in Tay Ho district, and the area's bright future as a hub as the city expands to the north.
According to Dung, by the end of the second quarter of 2016, the luxury apartment market in Hanoi has posted growth both in terms of sales and price. In Tay Ho District, the supply was low with only 1,187 apartments launched for sale.
Meanwhile, the district is becoming increasingly popular as transport is getting easier. The Nhat Tan Bridge and Vo Nguyen Giap road shortened the commute to the city centre. In addition, the Hanoi People's Committee recently approved in principle the construction of Tu Lien Bridge linking the district with Dong Anh.
"The project has such a prime location that investors simply cannot ignore it," she said.
With one side facing Thuy Khue Street and another Hoang Hoa Tham Road, Sun Grand City Thuy Khue Residence is within walking distance of Bach Thao metro station, many embassies, offices, schools, hospitals, restaurants, and entertainment facilities.
The project has total land area of 15,000 square metres, with 60 per cent serving as the residential area, while the rest is set aside for community spaces, a 5,000 square metre Sun Square.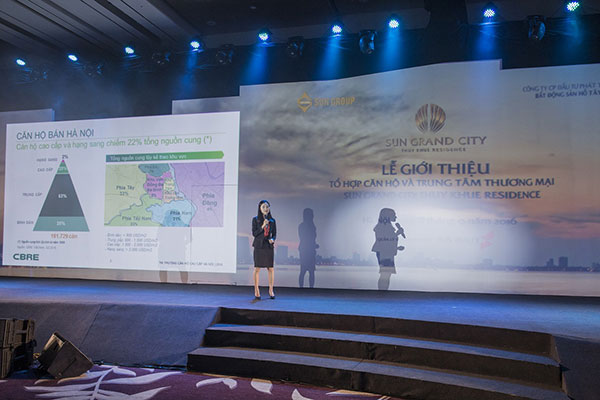 The project offers four types of apartments with areas of 57, 90, 123, and 139 square metres, all with unobstructed view of green and water surfaces. The apartments offer a headroom of 3.6 metres, creating a feeling of ample space.
One of the first apartment buyers of the project, singer Tung Duong named three reasons he picked the project, explaining that the combination of its proximity to West Lake and Bach Thao Park, the prestige of developer Sun Group, and the unique luxurious living experience add up to an irresistible mix.
Vuong Tuan Long, sales manager of the project, said Sun Group picked renowned partners to create the project, such as design company M.System Architecture from the UK, which also designed Sun Group's Novotel Danang Premier Han River, Ba Na Hills Golf Club, and Premier Residences Phu Quoc Emerald Bay. The structural engineering was done by ARUP and the landscape designer is Masterline Design Development FZE from Thailand, while Hoa Binh Corp. is the contractor.
"We are committed to bringing you a luxurious apartment and want to build a prosperous community with you at Sun Grand City Thuy Khue Residence," he said.
The article "Sun Group's new apartments see overwhelming launch results" was originally published on https://www.talkvietnam.com/2016/09/sun-groups-new-apartments-see-overwhelming-launch-results/