Vietnam Investment Review has granted thousands of Swing for the Kids schol­arships worth between VND500,000 and VND10 million to students from disad­vantaged backgrounds across the country. Awarded to students showing high academic potential, the scholarships aim to help them achieve their ambitions. Van Nguyen talked to scholarship students about their hopes for the future.
DINH VAN HOC – The first student to receive a full Swing for the Kids four-year scholarship back in 2009
I would like to extend my sincere thanks to VIR and the Swing for the Kids organisers for supporting me dur­ing my studies at the University of Na­tional Economics. The Swing for the Kids scholarship enabled me to study for four years at university. I have now graduated and have a good job at the Bank for Investment and Development of Vietnam, but the scholarship still en­courages me to work harder.
My father passed away when I was 15. My mother, a rice farmer, became older and weaker as she had to feed me and my younger brother and sisters, who were all studying at school.
My sister has always suffered from illness. At that time, I thought that only by studying could I help my family es­cape from poverty. However, after be­ginning my studies at the university.
our family's life became more and more difficult due to the high study costs. Fortunately, I won a Swing for the Kids scholarship, which provided great fi­nancial assistance.
THAO SEO SI – Thai Nguyen Agriculture and Forestry University
I am studying at the Thai Nguyen Agriculture and Forestry University.
I am very happy to have received a Swing for the Kids scholarship be­cause my family is very poor. I am the youngest son of a seven-member family whose income depends entirely on maize cultivation. My mother, who used to be family bread-winner, passed away in 2012, and my father is quite old now and suffering from serious diseases. My siblings have all married and are living very far from my home. So, things have been difficult for us fi­nancially. I considered dropping out of school, but thankfully the scholarship has enabled me to continue. I will use the money to buy study materials. I will try to study harder to meet the organis­ing board's expectations and become a good citizen, contributing to national development.
NGUYEN THI PHUONG – Former Public Health University student in Hanoi
I am working for a non-governmen- tal organisation supporting poor and disabled people in Hanoi. My job is to raise funds to assist these people. I re­ceived a three-year Swing for the Kids scholarship during my time studying at the Public Health University in Hanoi.
When I first passed the entrance examination to the university all of my brothers and sisters were studying at university but my father suddenly passed away. Fortunately, VIR awarded me a Swing for the Kids scholarship. My family was extremely happy at the news. I think my success in my job is partly thanks to the scholarship, which reflects donors' and enterprises' confi­dence in a bright future for disadvan­taged students like me. I hope that the scheme will continue so more students will receive scholarships.
TONG THI OANH
My family is a typical Thai family with three children, with me being the eldest. My parents are both farmers and they have to work extremely hard day by day in order to afford to send us to school. My dream is to become a police officer so that I can protect my family and neighbors from robbery, theft, and criminals. In order to do that, I think I have to study hard at school and define my goals clearly. I am currently learning martial arts and I really enjoy it.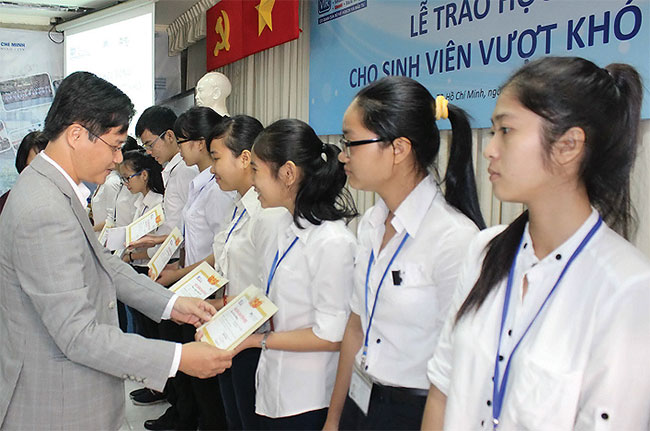 NGUYEN PHUONG TRA
Compared to many other children in Son La Province, I feel very lucky because my family not only has enough food and clothes but also are able to af­ford to send my brother and I to school. My father is an English teacher and that could be the reason why I love English so much. My dream is simple. I want to be a good citizen to contribute to my country. If possible, I also want to be an excellent doctor because doctors can save lives and are loved and admired by many people.
QUANG THUY VAN
My family is a poor Thai family from Son La Province and my parents are both farmers. In our village there are many people suffering from dis­eases who are unable to afford to go to hospital. When I become a doctor in the future I plan to come back to my hometown and give free medical care to poor villagers. In order to do that, I have to study hard in Biology and Pro­fessional Ethics. I want my parents to be proud of me.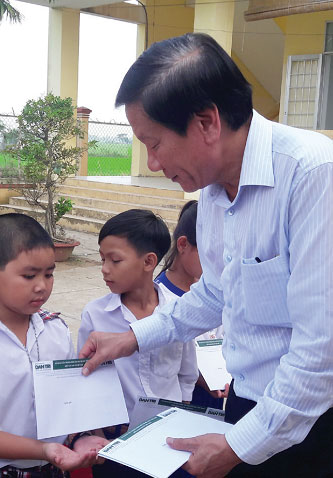 LEO THI TAM DAN
I grew up in a farming family. We raise some chickens and ducks to earn a little bit more income. My dream is to become an MC or a fashion designer be­cause it is my passion. I love talking and singing to crowds and designing. I think an MC or a designer must be very creative and imaginative. If I can be a designer, I will create lots of beautiful dresses and I will redesign my traditional Thai dress to make it even more beautiful.
QUANG THI HUE
My family has four children and my parents are both farmers. Sometimes, our crop yield is poor, and our family faces hardship. Even though there are few sick people in my village, I have seen many of our neighboring villag ers suffering from illness and disease. I want to get into Hanoi Medical Uni­versity and become a good doctor so I can come back and contribute to my province. With VND500,000 I can buy clothes, shoes, food and school supplies.
LO NGOC LAM
I love being a teacher and I usually teach my brother at home, pretending to write lectures on the black board. I want to teach younger generations new things, especially how to behave. I think for now, I have to learn how to behave myself and achieve good marks at school. I love children and whenever
I see their innocent faces, my determi­nation grows stronger.
THAO THUY DUONG
I am a Hmong girl growing up in my grandmother's house. When my parents separated, my 8-year-old broth­er and I lived with my mother, who has poor health and is without a stable job. She is raising both of us by herself and we are all trying to do our best at school so that she can be proud of us. When I grow up, I want to be a doctor because I want to cure people of their diseases and save as many lives as possible. My biggest motivation for becoming a doc­tor is my family, especially my mum and my brother.
TRAN THAO PHUONG
After travelling to Nghe An Prov­ince with the team from VIR's Swing For The Kids, I realised that our country has many beautiful places, which children from remote areas like me have not had the chance to visit. That's why I want to go to Hanoi University of Culture to study Tourism and Culture. After gradu­ation, I will use my knowledge and experience to help people in my village travel around Vietnam through images and stories, even if they cannot afford to visit in person. Moreover, I want to share Son La Province's tourism spots with local and international tourists.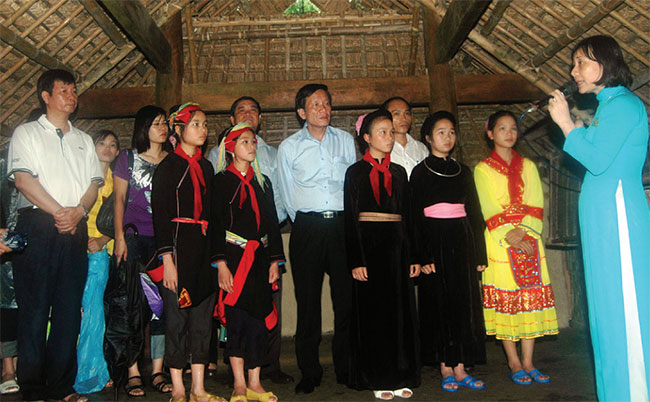 Swing for the Kids is more than just a golf tournament – it is an opportunity for companies to increase educational opportunities for disadvantaged chil­dren. Government and provincial leaders share their thoughts on the tourna­ment and social responsibility more widely. Interviews by Van Nguyen.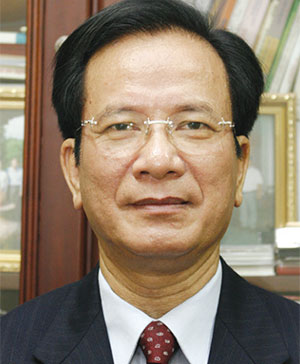 VO HONG PHUC – Former Minister of Planning and Investment, honourable president of Swing for the Kids
Besides its financial value, the tournament has been successful in encourag­ing investors, businesses, and sponsors to focus on Vietnam's education system, particularly for gifted and talented pupils and students from disad­vantaged backgrounds. The tournament is a good opportunity for foreign investors to develop an understanding of the problems facing Vietnam's disadvantaged communi­ties and provide appropriate assistance.

NGUYEN VAN HAO – Former general secretary of Vietnam Golf Association
Swing for the Kids has cre­ated a reputation for itself as an icon of humanity. Many people have become aware of VIR through the tournament. VIR has done an excellent job in terms of event organisation, and by increasing communication and marketing, more firms and people will know about the event.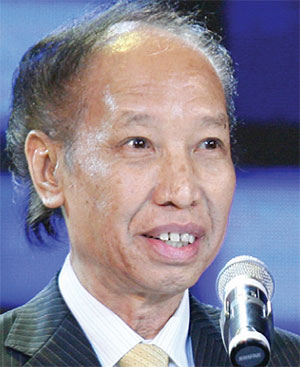 PHAM HUY HOAN – Editor-in-chief of Dantri online news
The tournament's organ­isers and I have agreed to allocate some of the money raised to help disadvantaged military families and children. On behalf of those families, I would like to express my gratitude. Swing for the Kids has proved a swift success, with the value of the fund increasing rapidly. This is all thanks to the organisers, businesses, participating golfers, and other donors. I believe Swing for the Kids will continue to help even more children in the future.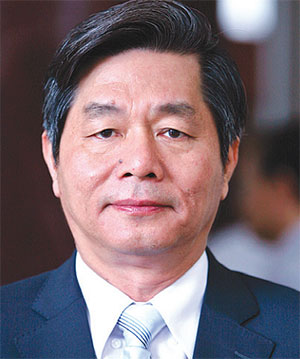 BUI QUANG VINH – Minister of Planning and Investment,
The Ministry of Planning and Investment highly appreciates VIR's organisation of the Swing for the Kids golf tourna­ment, in cooperation with FIA. The tournament has been successful in attract­ing the interest of both domestic and foreign investors.
Over the years, it has raised VND10.5 bil­lion, providing over 12,000 scholarships to disadvantaged children showing high academic ability and financing the repairs of educational buildings in more than 38 provinces.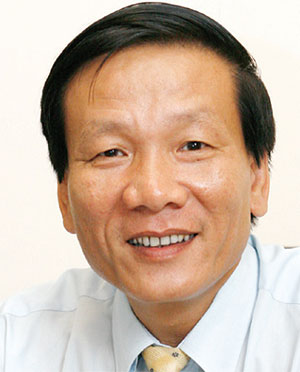 DR. NGUYEN ANH TUAN – Former Editor-in-chiefof VIR, chief organiser
VIR recognises the impor­tance of supporting excel­lent pupils, particularly those from disadvantaged backgrounds, in order to build a study-oriented society. Providing scholar­ships demonstrates VIR's confidence in the future success of the students. I hope that the scholarships will encourage students to work hard in their studies and develop aspirations for their futures. The organis­ing board hopes to receive further sup­port from investors, businesses and other donors, to enable more Swing for the Kids scholarships to be offered to talented stu­dents across the country.
VO VAN DUNG – Deputy secretary of Nghe An province's Hoang Mai district
On behalf of Hoang Mai authority, I would like to thank VIR and the donors for support­ing our students. Though lacking adequate infrastructure, in the school year 2014-2015, Hoang Mai was listed as one of the best dis­tricts in Nghe An province in terms of edu­cational provision. Support from VIR, busi­nesses, and the government has motivated students and educators in Hoang Mai to work harder, in turn contributing to the province's development.
LAM NGHIA SY – President of Kien Giang Learning Promotion Association
I appreciate VIR's support for our local students. The scholarship scheme is a good way to encour­age children from disadvantaged areas, not only in Kien Giang but also in other provinces. It shows the commitment of VIR and donors of the Swing for the Kids golf tournament to fostering educational development in Vietnam.
NGO DUC VINH – Vice chairman of Thanh Ha district People's Committee, Hai Duong province
The Swing for the Kids scholarships provide meaningful support to pupils and their fami­lies, encouraging them in their learning path. We are very grateful and hope that this educa­tion fund can expand further in order to help more excellent students from disadvantaged communities.
GIAP MINH QUANG – Vice president of Bac Giang Learning Promotion Association
I am very grateful that students in Bac Giang have the opportunity to receive valuable schol­arships. I hope that through the support of VIR and the Swing for the Kids golf tournament they will be able to realise their educational ambitions.
The article "Swing for the future" was originally published on http://www.vir.com.vn/swing-for-the-future.html