No matter where you decide, there are many excellent options for a golf getaway here in Vietnam.
This will be my 26th Tet Lunar New Year in Vietnam and I must say that times have really changed since my first one in 1992. Okay, outside of feeling a lot older, I also feel a bit nostalgic for some things, like walking around Hoan Kiem Lake without the sound of a billion car and motorbike horns blaring. But, one thing I am happier about is that there are so many more places to play golf during Tet.
Back in the early '90's, Tet was celebrated with very large firecrackers that came on rolls of 100 or more. So when they went off, it sounded like WWIII. Dogs were walking around shell-shocked and hospitals were busy trying to re-attach kids fingers. Fortunately, the government outlawed fireworks in 1994 which made many of us happier.
Back then, almost every store was closed and you had to plan well ahead of time to ensure you had a good supply of food and snacks to get through the holiday. As most of the foreigners were Korean, Japanese and Chinese, come Tet they all went home for the holidays. This started to change in 1998 when the Asian Financial Crisis took place.
Most golf courses were closed as employees traveled long distances to get back to their village or town. Tet was a family gathering that just couldn't be missed. This drove most foreigners who remained here nuts, as they had nothing to do during the holiday.
In the old days, here in Vietnam there were very few choices. But, nowadays you have 4-5 star golf resort locations in Danang, Nha Trang, Hue, Halong Bay as well as Ho Tram/Vung Tau.

Vinpearl Nha Trang
Being married for 22 years also means that finding a holiday which is "family oriented" is a lot harder than when I was single. Being married means you have other responsibilities to worry about, especially with holidays. So, the best solution is to combine a family holiday with golf.
Yes, I know you're thinking it will cost a fortune, but it doesn't have to be expensive as many resorts have special packages if you book in advance. Also, if money is really an issue, you can consider staying at a smaller hotel outside the golf course. Sure, it will not be as much fun and will make things a little more complicated, but there are other advantages.
There is a good to medium chance that your wife and kids don't want to play golf, so being closer to restaurants, shopping and the beach is better for them. You can tee off in the morning and meet them after lunch for whatever activities you might have planned.
The other thing to consider is that many restaurants and stores will be closed during Tet, so a 4-5 star hotel eliminates any possible inconveniences. Although many tourist areas will have shops open, it's not a guarantee the ones open will be the ones you want.
This year, as I am semi-retired, I have to decide where to go with the family and, to be honest, my natural first choice would be Ho Tram – as I love The Bluffs GC and the Grand Hotel has always taken good care of me and my family over the years. You tend to want to go where you feel most comfortable. Also, my daughter loves the place and Golf Digest just voted The Bluffs as the 35th Best Golf Course in the World. So who am I to argue?
On the other hand, I know many of my fellow foreign golf professionals will be heading to Danang as it seems to be a second home for them (they were smart enough to buy villas there before prices skyrocketed). I cannot think of one thing wrong with heading to Danang as they have some great courses there, including BRG Danang, Montgomerie Links and Laguna Lang Co.
And, of course, Nha Trang is no slouch when it comes to a holiday getaway spot. FLC Nha Trang is an excellent course and Diamond Bay is also available for those who want a challenge. FLC also has a course in Quy Nhon if you want an adventure.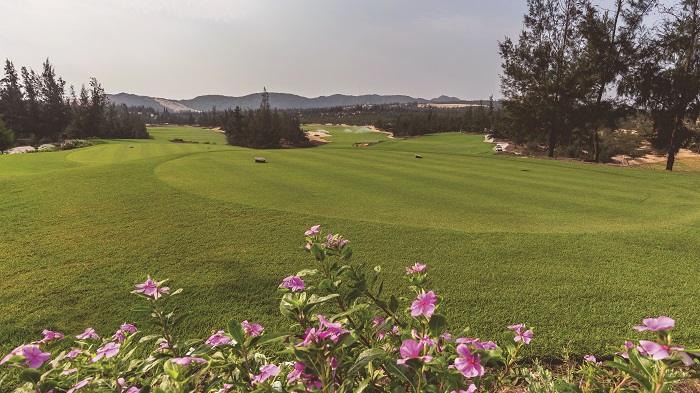 FLC Quy Nhon
For those who want to experience much cooler weather up north, FLC Sam Son and FLC Halong Bay are open for business and have great golf courses. FLC Sam Son feels like a small city and with lots of restaurants and attractions. The entire family will be happy and, as usual, Kings Island and the others will be open as well for those who want to stay closer to home.
So, no matter where you decide, there are many excellent options for a golf getaway here in Vietnam.
Chuc Mung Nam Moi!
The article "Tet on the green" was originally published on http://vietnamgolfmagazine.net/en/tet-on-the-green/