Stunning New Jack Nicklaus II 18-Hole Signature Golf Course Opened Today at Kings Island, Hanoi
The best just got better

The 36-Hole award winning BRG King Island Resort named by leaders in the Asia Pacific golf industry as "The best golf course in Vietnam" for the past 4 years today added a stunning new 18-Hole signature course by Jack Nicklaus II (his first in Vietnam) making Kings Island the top-class 54-Hole golf facility in Vietnam.
The course, declared on the day by experienced golfers as "an instant classic" is the signature handiwork of Jack Nicklaus II, son of the great Jack Nicklaus who is renowned as the most successful golfer of all time and still considered the first voice in world golf today.
As the very first Jack Nicklaus II Course in Vietnam it 'crowns' the portfolio of top class golfing venues owned by golf and business visionary Madame Nguyen Thi Nga. "I'm delighted with 'the course that Jack built.' Joked Madame Nga. "It's beautiful…. I'm very happy with the result."
Jack Nicklaus II added; "It's beyond my expectations. I knew it was a very special site when I first walked it but the finished course has surpassed my expectations and it's definitely my favorite design to date."
BRG Group Chairman Madame Nga commissioned Nicklaus in 2016 to create an 'instant classic' that would raise the bar of Vietnamese golf even higher. And two years in the making that's exactly what Jack Nicklaus II, President of Nicklaus Design, and his team have accomplished by sculpting a connoisseur's course that romantically wonders through avenues of mature trees, past gurgling creeks and plays over and around the peaceful Dong Mo lake to result in a course truly fit for a king.
The new golf course is the result of a long-lasting partnership between BRG Group and exclusive strategic partner Nicklaus Design, and is a testament to the efforts and dedication of the BRG Group to bring new members, both Vietnamese and international, to the top international standard golf club – BRG 54 Kings Club.
Before that, BRG Kings' Island Golf Resort set a new record of being awarded the "Best Golf Course in Vietnam" for four consecutive years from 2014 to 2017 by Asia Golf Monthly Magazine of Asia Pacific Golf Group (Singapore). This award enriches the course as the "must-play course in the north" among golfers in Vietnam with its history and unique mix between beautiful landscape of trees and lakes with the best caddies on course.
BRG Group continues on the path to perfecting its mission as a leader in the development of golf and delivering this elite activity to more and more people in Vietnam, which can only benefit both the country and the sport.
On the same day, the first golf tournament at Kings Course has ended successfully and the Gross Champion was Mr. Yoo Manki with a gross score of 79.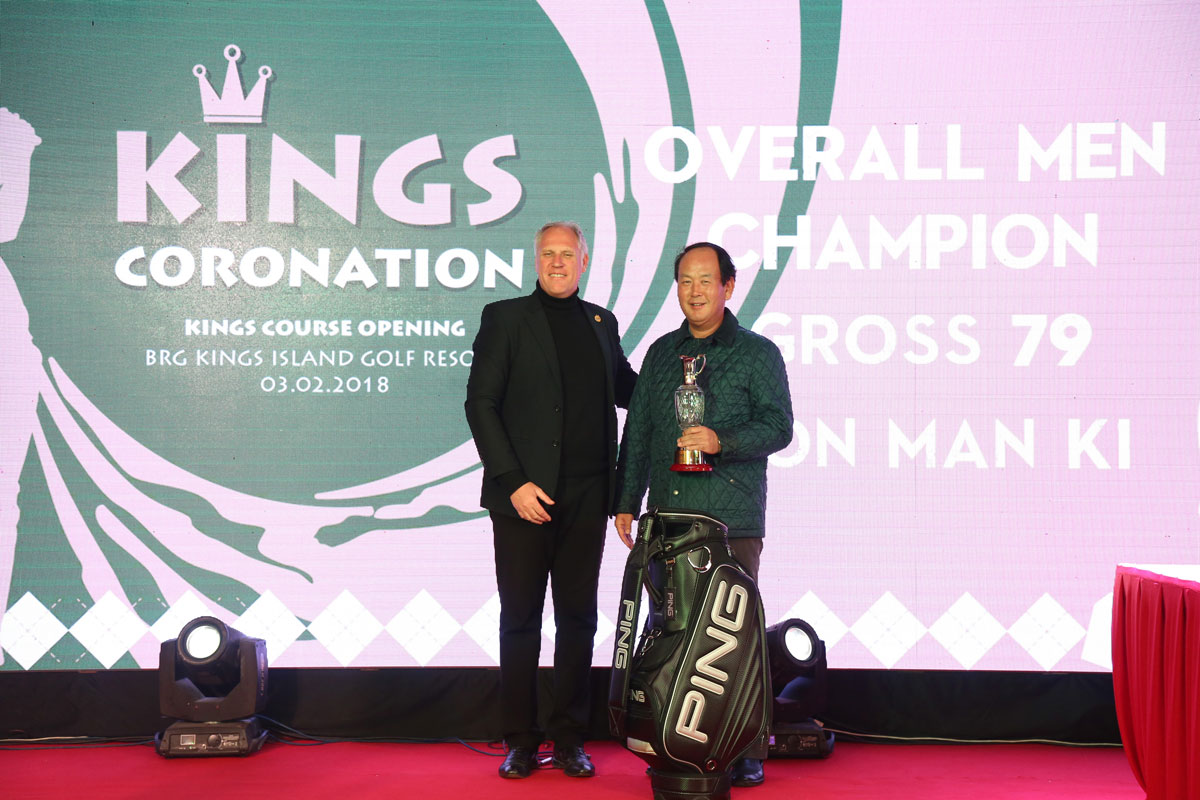 Golfer Yoo Man Ki won the Gross Champion of the first tournament at the new Kings Course
The article "Stunning New Jack Nicklaus II 18-Hole Signature Golf Course Opened Today at Kings Island, Hanoi" was originally published on http://brggroup.vn/2/333-ct/Golf/Stunning-New-Jack-Nicklaus-II-18Hole-Signature-Golf-Course-Opened-Today-at-Kings-Island-Hanoi.aspx