View in TTC Safari – Ta Cu.
---
TTC Safari – Dalat and TTC Safari – Ta Cu Recreation Complexes of TTC Group have officially become members of the International Association of Amusement Parks and Attractions (IAAPA).
IAAPA represents over 4,800 amusement parks and attractions from more than 90 countries, including famous brands such as Disneyland Singapore, Universal Singapore, Studios DreamWorks, Sea Word Australia, Babylon Casino Macau, and Kingdom of Dreams India.
In order to be a part of IAAPA, every member is required to meet all the highest standards and strict requirements on service quality, safety, scenery and environment.
This IAAPA recognition is the result of high evaluation by international experts on TTC Safari chains. Moreover, it is proof of the professionalism and prestige that TTC Safari chains bring to their local and inbound customers, which helps strengthen the position of TTC Tourist in Vietnam.
With a total area of over 220 hectares, TTC Safari recreation complexes combine three tourist areas: the Valley of Love, Dreaming Hill and Thong Nhat Hill. This project is equipped with fully functional subdivisions such as indoor and outdoor amusement parks, cultural and culinary tourism, street festivals, zoo, botanical research center.
There are also plenty of much loved attractions including canoeing, pedal boat, horse riding, camping, paintball, Jeep car hiring, train, golf cars, among many others, which offer tourists the exciting and unforgettable experiences.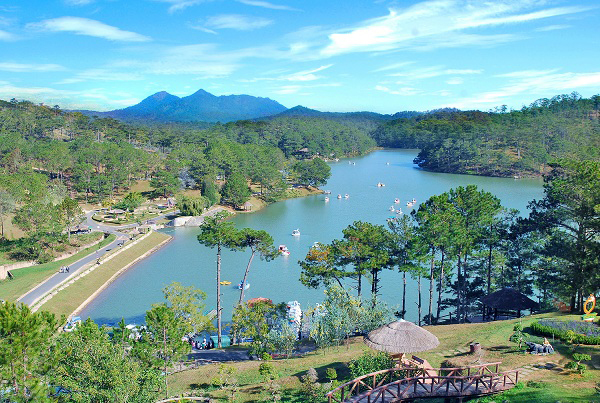 The Valley of Love in TTC Safari – Dalat.
While TTC Safari is well-known for its diversified ecosystem and romantic landscape in the highlands, TTC Safari – Ta Cu is supposed to be an ideal destination for spiritual tourists. Very popular in the famous eco-tourism zones in Phan Thiet city, it owns one of the six most modern cable cars in Vietnam. Located in the sacred land, its temple named Linh Son Truong Tho attracts many Buddhists for pilgrimages. Visitors will discover and enjoy the spectacular natural scenery and exciting activities such as fishing, sailing or tram tours.
On this occasion, Phan Thi Hong Van, Deputy general director of TTC Tourist, expresses her pride when the company's services are highly evaluated by the global experts and organizations. This not only showcases TTC Tourist's quality and efficiency in particular, but also motivates the domestic tourism community to improve the quality of Vietnam tourism.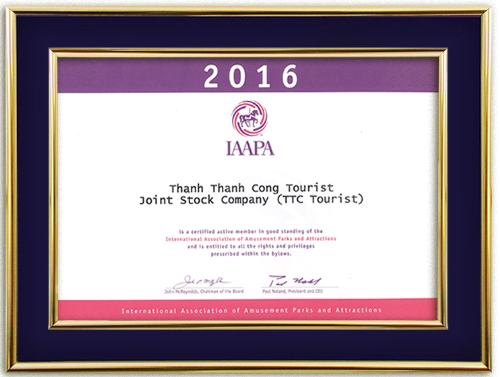 With its development strategies planned from 2016 to 2020 and its advantages including central locations, competitive prices, and all-in services ranging from residence to recreation and traveling, TTC Tourist has been standardizing its quality.
"We strongly believe that TTC Tourist would strive to achieve its goal of transforming itself into one of Vietnam's 10 leading hotel and amusement complex chains in the near future." Van said.
The article "Thanh Thanh Cong Tourist wins IAAPA recognition" was originally published on https://www.talkvietnam.com/2016/10/thanh-thanh-cong-tourist-wins-iaapa-recognition/