IN THE FOURTH AND FINAL PART OF OUR EXTENDED LOOK AT THE BLUFFS HO TRAM STRIP, WE SPEAK WITH MICHAEL KELLY, EXECUTIVE CHAIRMAN OF THE COURSE'S OWNERSHIP GROUP, ABOUT THE EVOLUTION OF THE HO TRAM STRIP INCLUDING ITS MOST RECENT MAJOR ACHIEVEMENT – ASCENSION TO NO. 35 ON GOLF DIGEST'S LATEST LIST OF THE WORLD'S TOP 100 COURSES OUTSIDE THE U.S.
IT'S VIRTUALLY EVERY GOLF COURSE OWNER'S DREAM TO MAKE GOLF DIGEST'S 'WORLD 100 GREATEST GOLF COURSES' RANKINGS. WHAT DOES SUCH AN ACCOMPLISHMENT SAY ABOUT THE BLUFFS?
To be among the top 100 [courses] is an honour in itself. But to go from No. 74 all the way up to No. 35 is just overwhelming. It's an amazing accomplishment and further validation of our efforts and the great team we have assembled led by Sonia Mai (General Manager), Ali Macfadyen (Superintendent) and Patrick Kelly (Club Manager).
WHY WAS THE BLUFFS SUCH A BIG PART OF YOUR OVERALL VISION FOR HO TRAM?
Ho Tram Strip is the largest foreign-owned hospitality project in Vietnam and The Bluffs is a key component. With the help of Greg Norman, we were able to create a links-style layout that blends seamlessly with the natural characteristics of this landscape. The course, the views and the experience are unlike any in the region.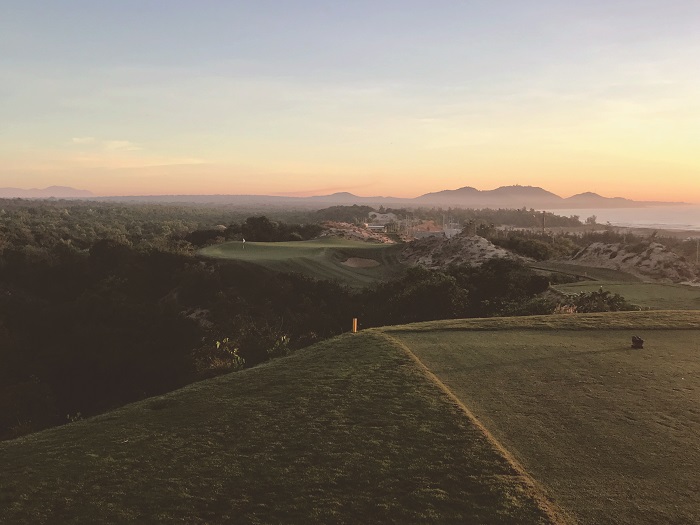 NOW YOU ARE "UPPING THE ANTE" BY EXECUTING A PROJECT DESIGNED TO MAKE THE COURSE EVEN BETTER. WHAT WENT INTO MAKING THAT DECISION?
We never debated the idea of enhancing the course. The only issue was how to go about doing it without impacting on guests' experiences. We are committed to having a course that makes golfers to come back again and again. That's a goal that meshes with our overarching vision, which is to be a place that offers the best of the best across the entire spectrum.
HOW HAVE YOU GONE ABOUT CREATING THE BEST EXPERIENCE POSSIBLE ACROSS THE BOARD?
We have recently added a lot of exciting new amenities to the resort, including a miniature golf course, a 3D movie theatre, family karaoke rooms, retail shops and more. We also have four swimming pools and the largest water slide in Vietnam. Our intention is to be an international destination of distinction. We're right where we want to be with respect to that mission. We're dedicated to excellence and all the awards we've received are shining examples of that.
THANK YOU SO MUCH!
Đăng bởi Thùy Chi
The article "The Bluffs Enhancements (final part)" was originally published on http://vietnamgolfmagazine.net/en/the-bluffs-enhancements-final-part/