Hanoi, 24th October 2017 – BRG Golf, a member of BRG Group, the leading golf course development and operations company in Vietnam, will host the special event "2017 BRG Golf Hanoi Festival", to be staged over 3 exciting days from December 1st to 03rd 2017 on 3 international standard golf courses of BRG Golf: BRG Kings Island Golf Resort, BRG Ruby Tree Golf Resort and BRG Legend Hill Golf Resort.
The 2017 BRG Golf Hanoi Festival, conceived and operated by BRG Golf's PGA professional management team in Vietnam, will bring together golfers from neighbouring countries, especially Korea, Japan, Thailand, Malaysia, Hong Kong and Singapore. And BRG Golf will cooperate with several strategic partners in tourism, hospitality and logistics to implement the event.
Following the success of BRG Hanoi Golf Festival in 2016, this year BRG Golf continues to host this special event. Division Director of Golf Development & Property Business Division of BRG Group, Mr. Mark Reeves said "As the leading golf company in the region, the tradition BRG Group has continued to develop new courses and new events to grow the domestic game in Vietnam. But with this event as a part of our New Vitality campaign to provide more and more tangible benefits to golfers we will pit local golfers against experienced overseas players to promote healthy competition and better performance. Our objective is for all participating golfers to have memorable and rewarding week both on and off the golf course".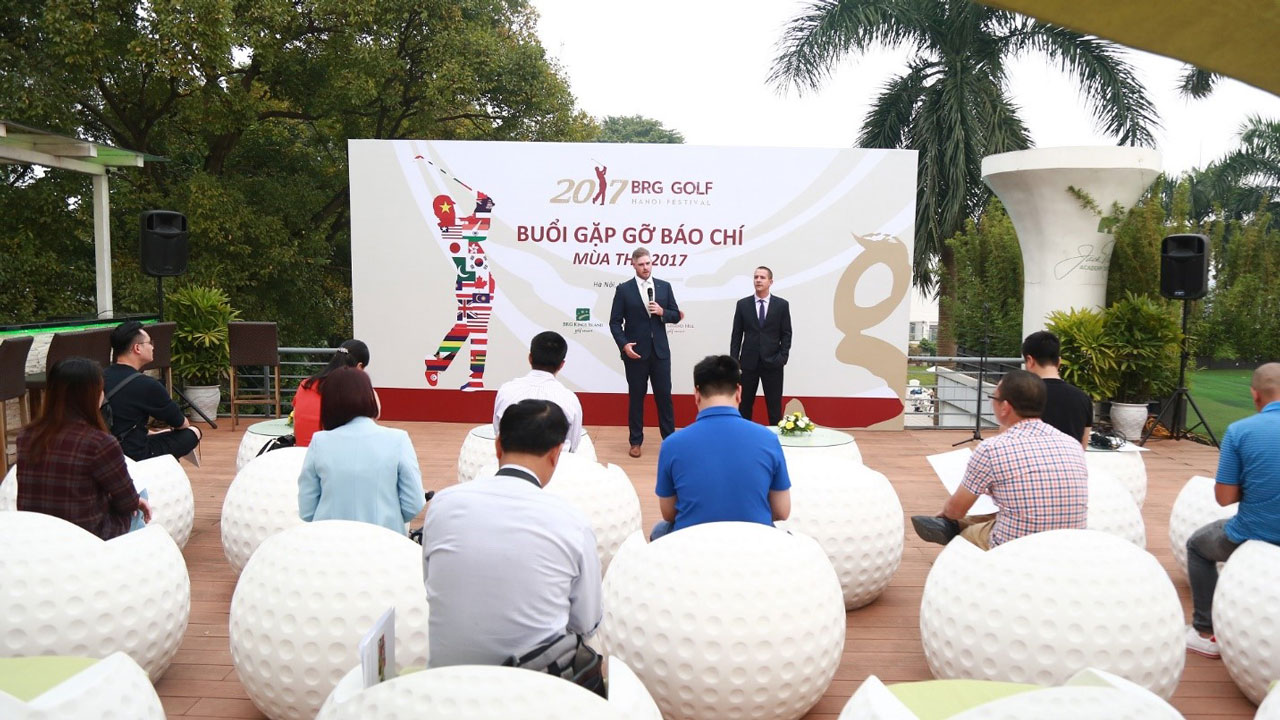 This event hosted by BRG Golf and conducted on BRG Courses in Northern Vietnam will be held at:
– BRG Kings Island Golf Resort, voted best golf course Vietnam 2014, 2015 and 2016 by Asian Golf Monthly;
– BRG Ruby Tree Golf Resort, Best Golf Walk Vietnam, 2015 and;
– BRG Legend Hill Golf Resort, the first Nicklaus Design course in Vietnam.
The Welcome Party and Connecting Golfer will be held on 30 November 2017 at BRG Golf Center (Thang Loi Hotel, Hanoi). The winners will be honored at an Award Gala dinner at BRG Legend Hill Golf Resort on 3rd December 2017.
The 2017 BRG Golf Hanoi Festival package for members of BRG Golf is 3.9 million VND/person and for non – BRG Golf members is 6.3 million/person, including all golf, caddy, cart, breakfast, lunch (on course), welcome party, gala party, souvenir and all taxes and service charge.
According to the prestigious ranking announced by the Asia Pacific Golf Group, Vietnam is the Asia Pacific's Best Golf Destination.in 2017 and BRG Golf is extremely proud to host and sponsor the Asia Pacific Golf Summit 2017 from 14th to 16th November 2017 in the coastal city of Da Nang. This Summit brings together the biggest names of major international experts on golf plus acknowledged industry leaders, as well as the big luminaries in the golf industry to promote the development of this elite sport not only in Vietnam but also in the entire Asia Pacific region.
The article "2017 BRG Golf Hanoi Festival becoming a tradition" was originally published on http://brggroup.vn/2/320-ct/Golf/2017-BRG-Golf-Hanoi-Festival-becoming-a-tradition.aspx