Quality Golf Founder Tony Taylor (pictured left) is a turf manager who made the leap to the Asian golf market 20-plus years ago. In the first of a two-part feature originally published in GCM, Bangkok-based Taylor shares lessons in perseverance and management learned through a different lens.

In the early 1990s, I was working as the superintendent at The Links at Spruce Creek in Summerfield, Florida. One day, the photo on the cover of GCM caught my eye. It was a scene from the golf course construction boom in Asia.
I learned from the article that there was a golf development upswing happening in most of Southeast Asia. In Thailand, there were more than 80 golf courses being built or in the planning stages within a roughly 200-mile radius of Bangkok, a city of over five million people.
This fact piqued my interest. I wondered: "Who's going to take care of all these courses?" Little did I know that I'd soon be smack in the middle of the action.
I'd started my career as a golf course superintendent in northern Florida after graduating from Lake City Community College (now called Florida Gateway College). I did a stint in Texas for ClubCorp, and eventually settled in west-central Florida as a superintendent at Innisbrook Resort where, from 1982 to 1985, I honed my skills in high-quality golf course maintenance.
In 1992, a friend of mine who worked at a neighbouring course was offered a position for the grow-in and maintenance set-up of a course in Thailand. He turned it down because he had a young family, but he recommended me for the job, as I had recently completed a construction and grow-in project in Florida. After some research, discussions with my mentors and thinking back to that GCM article, I decided to take the plunge. I signed a six-month contract to work on Barrington Golf Club in Kanchanaburi, Thailand.
Some 26 years later, I am still in Thailand. I have also worked in Singapore, Vietnam, Cambodia, Bangladesh, Indonesia, Hong Kong, India and Japan. In those years and those countries, I was able to see many things through a new lens, including what it takes to be an effective, successful golf course superintendent.
This know-how – which was often hard-won – can be put into practice by superintendents working in any part of the world. The following six lessons are those that have guided and best served me in my career.
1. Keep your eyes on the mountain
Tony Taylor (left) inspects a green at Kurmitola Golf Club in Bangladesh with course superintendent Mohammad Shameem Sarkar. The club is the site of an annual Asian Tour event. Picture courtesy of Tony Taylor
In the early years, there were no amenities for foreigners in Thailand, as tourism wasn't yet popular in the more remote areas of the country. My accommodations were in an 800-year-old village. No fancy hotels, just the locals and myself. The only food available was from giant cooking pots in the local huts, where everyone ate together. The chilli tossed into the frying pans made me cough and my eyes water. The food was so spicy I could hardly get through breakfast or lunch.
On more than one occasion, I found myself in a jungle hospital all night with food poisoning. Staffing the project was a challenge, too, with at least half the labour force hit with malaria at one point or another. I woke up each morning dreading what I might have to face – food I could hardly eat, dengue fever, cobras, a bit of homesickness. Those first weeks were almost unbearable.
Then one day, while on a mountain overlooking holes I had just grassed, I found myself smiling, envisioning the course's beauty and the enjoyment it would bring once we finished it. I couldn't wait. That was probably the first real smile and sense of joy I'd felt since arriving in Thailand. I realised then that I had allowed myself to get mired in the challenges and, in turn, had ignored that I was getting to do what I love and what I'm good at, and that my actions can produce amazing results. I had lost sight of the mountain and was seeing only the jungle.
As a golf course superintendent, if you are not working from a place of passion, any challenge – even a small one – becomes a stop. A lesson I learned early on in Asia is that if you really love what you do and can keep your eye on the mountain, you can overcome any setback. I was able to persevere following sicknesses and in the face of many other obstacles by looking outward toward my goals and purpose. Redirecting my attention this way – rather than letting the chaos of the 'jungle' dominate my thoughts – allowed me to stay the course.
2. Treat others as you wish to be treated
Barrington Golf Club was a remote, private resort course, yet I often felt like I was living in a glass house, as my every action was scrutinised by people who didn't know anything about golf or golf courses, let alone about how a professional golf course superintendent operates. This annoyed me at first, I must admit, and the annoyance came across in how I interacted with others.
One day, when I was reprimanding a staff member for not carrying out my instructions, I was taken aback by the fear I saw flash in his face. It had never been my intention to get the job done with fear as a management tool, but I was doing just that. I've had my share of tyrants as bosses and I can vividly remember how those circumstances felt and, more importantly, how they did not inspire me to do my best.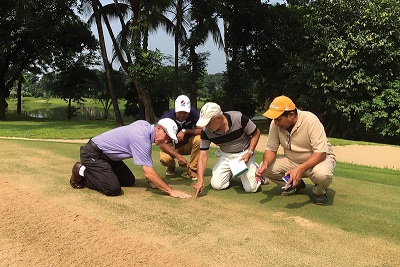 Course as classroom: Taylor (left) trains staff on topdressing application rates.
I decided in that moment to make a conscious effort to always speak to others in a way I would want to be spoken to. Although this meant that, at times, I had to take a deep breath and count to 10 before speaking, this personal-development exercise serves me still.
The decision created a chain reaction in other, unexpected areas of my life and how I operate. For example, I no longer felt annoyed at scrutiny, but viewed it instead as interest and curiosity from those whose community and livelihoods were being impacted by my work.
By virtue of taking a little more time to explain things and to make sure I was understood – not just expecting others to understand – I became more of a mentor without really trying. I had always been proud of my skills as a superintendent, but I was now proud of how I represented my profession, as well as how I represented America in a foreign country.
Another by-product of this resolution was that employees were more communicative and not afraid to ask me questions. They were eager to do a good job and make me proud, and they became loyal members of a team. Staff from those early years still stay in touch with me, come to me when they need jobs and send workers my way when I need them.
All of this arose from a single decision – to treat others as I wished to be treated. The benefits have been well worth the little extra time I invested in ensuring I was understood and pausing to let any initial reaction pass on its own. And it would pass.
*Tony Taylor, CGCS, has been Executive Director of Quality Golf in Thailand since 1994, and is the senior superintendent at Panorama Golf Club in Nakhon Ratchasima, Thailand. A 28-year GCSAA member, Taylor has been the senior consultant superintendent for more than 20 televised golf tournaments in Southeast Asia, India and Japan. In the course of his 26 years in the region, Taylor placed 18 superintendents around Asia. Taylor grew up on a golf course, starting as a caddie in Pittsburgh. He graduated from Lake City Community College with a degree in golf course operations in 1977.
---
The article "A Golf Course Superintendent Abroad" was originally published on https://www.agif.asia/2019/02/a-golf-course-superintendent-abroad/