Cristie Kerr Is on a Mission to Fight Cancer
Cristie Kerr led from start to finish at last year's Lacoste Ladies Open de France, winning by four in a subdued setting as the European women's tour and Kerr reflected on losing friends to cancer.
It was a week that the tour honored the memory of Cassandra Kirkland, a French pro who died about six months earlier from lung cancer. After Kerr's victory, she shared the heartbreak of losing her close friend Pam Kuehne to myeloma during tournament week.
Kuehne was the mother of the former L.P.G.A. pro Kelli Kuehne, whom Kerr grew to know during their junior golf days. The family also boasts the brothers Hank, a former U.S. Amateur champion who briefly played the P.G.A. Tour, and Trip, who took Tiger Woods the distance in the 1994 U.S. Amateur final.
Though Kerr, 40, isn't defending her title this week at Golf du Médoc, she took time during her L.P.G.A. travels to reflect on last year's victory, her devotion to cancer awareness and a career in its third decade after turning pro as a teenager. The conversation has been edited and condensed.
Last year's Ladies Open de France had a somber tone as the tour celebrated Cassandra's life, and you disclosed afterward that cancer had taken your friend Pam during tournament week. What memory from that week stands out to you most?
I just remember putting a brave face on to go to work every day, and then coming home and completely breaking down most nights. It was a really hard week, but I know in my heart I played for them, and it was worth it because we gained a lot of awareness for cancer research.
You mentioned that you felt you had an angel on your shoulder all week. Was that something you sensed from the start, or was there a moment during the tournament that gave you that feeling?
I felt it all week, especially when Pam passed. It had to be her. I felt her warmth and positivity.
Considering all your work on behalf of cancer awareness, did it strike you that maybe you were destined to shine that week?
I'm not sure about that, but I wasn't going to fail her that week. I was going to win for Pam.
It's now been 15 years since you founded Birdies for Breast Cancer, which has raised over $3 million. You've been honored with the L.P.G.A. Komen award and other accolades. How would you assess the impact you've made since 2003?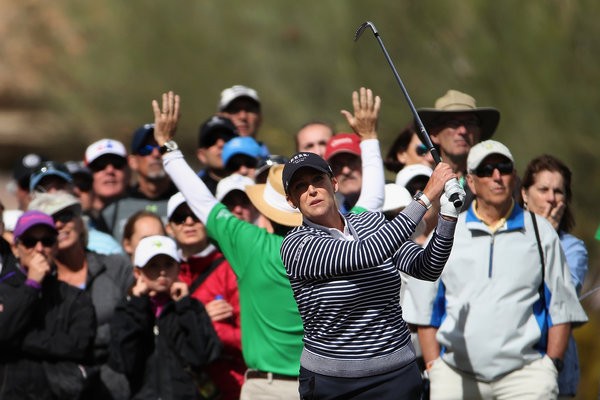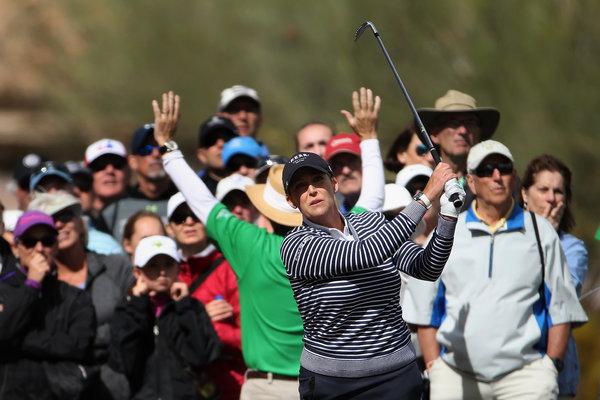 I think we've made a decent impact, especially in the New Jersey area. But I feel there's plenty more work to do. We're hoping we can turn our charity event into an even bigger deal and raise a ton more money.
What tops your list?
We've subsequently moved our event to San Francisco and the famous Olympic Club. I'd like to seek out bigger donations and possibly open a center on the West Coast as well.
A year ago, the Ladies Open de France came after the Evian Championship. This year, it serves as a lead-in. Acknowledging that it doesn't fit your plans this year, do you think it poses a good tuneup for the Evian?
I think you'd have to ask other players about that, but it always helped me to play the week before a major. It just didn't work out for me this year with other commitments.
This is your 22nd full season on the L.P.G.A., which seems like it's flown by. Turning pro as a teenager was still a rarity in 1997. How have you changed as time has passed?
I've definitely matured. I am a person I can be proud of now instead of being a brash teenager.
You've long been known as one of the L.P.G.A.'s best putters. When everything's clicking on the greens, what's that feeling?
You can definitely feel what you need to do. I'm very entrenched in what I need to do as far as hitting it the [right] speed and starting it on line. God's blessed me with this gift. I'm not going to second-guess it.
You're still solidly among the top 20 in the world rankings. There has to be a certain pride in knowing you can still compete and win against players who were toddlers when you turned pro.
For sure. Juli Inkster's pretty much my idol, and she's still playing, and she's in her mid-50s. I've always loved this game. Whatever I've had in my life, it's been because of golf. No matter how much it breaks your heart sometimes, if you have the talent that God's given me, you've got to push forward. I've done some pretty amazing things in my life.
What have you had to do to keep up with the current generation?
Lots of hard work! And a super-determined attitude. Even when it's just making cuts — you do that and then when it's your week it'll be magic!
The article "Cristie Kerr Is on a Mission to Fight Cancer" was originally published on https://www.nytimes.com/2018/09/04/sports/golf/cristie-kerr-golf-fighting-cancer.html?partner=rss&emc=rss