Rooftops: The old quarter of Hội An city is a favourite tourist site. Photo Cafe Faifo
---
ĐÀ NẴNG — The central city of Đà Nẵng will host the 6th Asia Golf Tourism Convention (AGTC) – the premier golf travel event in the Asia-Pacific region – combining a golf tour with tourism meetings from May 7 to 13, 2017.
Vice director of the city's Tourism Department, Nguyễn Xuân Bình, said over 600 tour operators, golf course managers, travel agency and air line representatives, and tourism managers from 39 countries and territories in Asia and the Pacific would take part in the event.
Golden sands: A pristine beach in Đà Nẵng. The city will host a tourism promotion conference and sport activities in 2017. VNS Photo Công Thành
---
The event will also be an opportunity for buyers and sellers exchanging information about tourism services, destinations, hospitality and conferences relating to the tourism industry.
The golf tourism event is a prelude to the 2017 APEC (Asia-Pacific Economic Co-operation) Summit and the annual Đà Nẵng International Fireworks Competition to be held in the city next year.
Đà Nẵng and neighbouring provinces of Quảng Nam and Thừa Thiên-Huế are popular sites in central Việt Nam, with beautiful golf courses designed by Nick Faldo, Greg Norman, Collin Montgomerie and Luke Donald including Đà Nẵng Golf Club, Bà Nà Hills Golf Club, Montgomerie Links, and Laguna Lăng Cô Golf Club.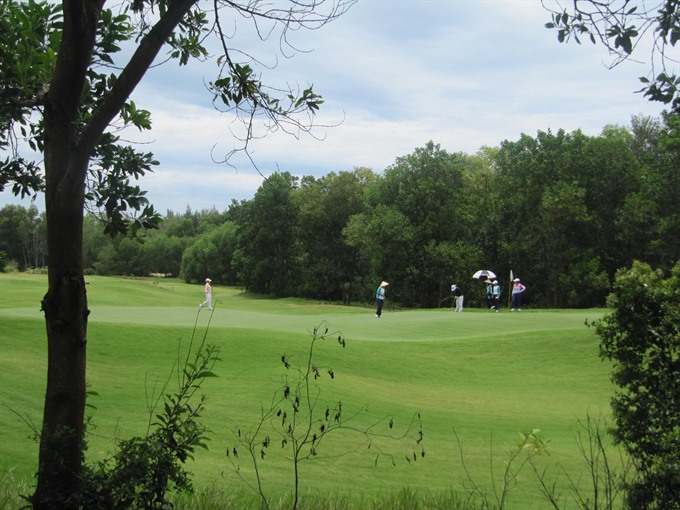 Hole in one: Golfers play at Laguna Lăng Cô Golf Club in Huế. The 6th Asia Golf Tourism Convention – a golf tour combined with tourism meetings, will be held in central Viet Nam on May 7-13, 2017. Photo Laguna Lăng Cô Golf club
---
Last week, Bà Nà Hills Golf Club in Đà Nẵng was awarded the title of Best New Golf Course in Asia and the Pacific and the first runner up of Best Golf Course in Việt Nam at the 2016 Asian Golf Awards.
Đà Nẵng also received an award for hosting Asia's Leading Festival and Event at the World Travel Awards ceremony for tourism last month.
Over 4.6 million tourists visited the city in 2015. — VNS
The article "Đà Nẵng to host golf-tourism convention" was originally published on https://www.talkvietnam.com/2016/11/da-nang-to-host-golf-tourism-convention/