For Tiger Woods at the Tour Championship, the End of a Drought Awaits
ATLANTA — Marcus Lawton, a retired baseball player from Mississippi, stood behind the fifth green at East Lake Golf Club on Saturday listening to Tiger Woods play the fourth hole. Lawton didn't even bother trying to see Woods, who was surrounded by an ever-swelling crowd of spectators.
When a roar rose from the fourth green, Lawton turned to a stranger and said, "Add another birdie."
[Follow our live, hole-by-hole coverage of Tiger Woods at the Tour Championship]
Woods, who began the day tied for the lead with Justin Rose at seven under par, birdied six of his first seven holes on the way to a five-under 65 to sit alone atop the leaderboard after the third round of the Tour Championship.
"I got off to a nice start there," Woods said, adding with a smile, "Good Lord."
In search of his first win since 2013, Woods will go into Sunday's final round at 12 under for the tournament, three strokes ahead of his nearest challengers, Rose and Rory McIlroy.
Woods, who spent 683 nonconsecutive weeks at the top of the men's rankings until his career was derailed by back pain, was paired in the final grouping with Rose, who has topped the world rankings for two weeks.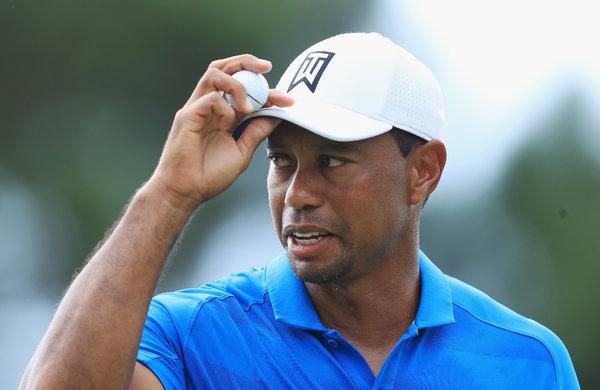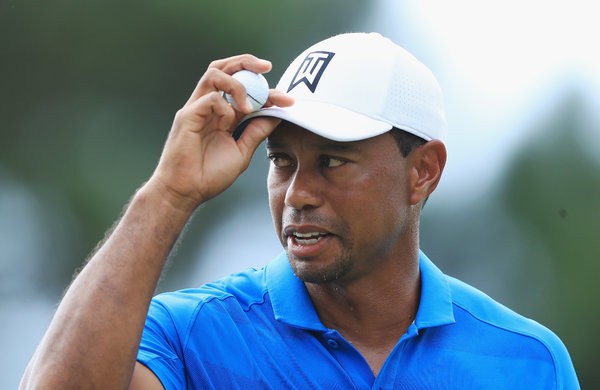 "He's playing against the No. 1 in the world right now, and he wants to show everybody he's still got it," Lawton said.
If that was Woods's message, he delivered it with aplomb. From the opening hole, where he drained a 23-foot putt for a birdie, Woods conducted a clinic for his gallery.
"The crowds were fantastic," Woods's caddie, Joe LaCava, said. "They were polite to Rosey as well but obviously they were pro-Tiger. You can't help but to feed off them."
The thrills should continue on Sunday.
Woods, 42, has won 53 of the 57 times he has held at least a share of the lead after the third round, and he is 23 for 23 in tournaments after leading by three strokes or more heading into the last round. A victory here would be his 80th on the PGA Tour, two shy of Sam Snead's record.
Rose, 38, who has two tour wins this season and nine in his career, bounced back from a bogey-bogey start to post a 68. But he will not have the honor of being paired again with Woods. On Sunday, that distinction will go to McIlroy, who shot a 66 and whose 95 nonconsecutive weeks at the top of men's golf is the second-longest reign of any active player.
McIlroy said he relished the chance to duel Woods. "I dreamed as a little kid playing in the final group with Tiger Woods in a big tournament," McIlroy, 29, said. "He was the best in the world, of all time, and you dream of beating the best."
McIlroy dressed in black on Saturday, and someone suggested that he should have saved his third-round outfit for Sunday, when he surely will be cast as the villain by the pro-Woods crowds. "I think I'll wear red," McIlroy said in a humorous allusion to Woods, who has made that color his final-round signature.
McIlroy laughed and added: "All I can do is concentrate on myself. The game is hard enough without looking at other people. Go out there, take care of my business, and hopefully that's good enough."
On a hot, humid day, Woods, ranked No. 21 in the world, applied more heat on the field, which includes 18 of the top 20 players in the world, with a 30 on the front nine.
Woods won the 2007 Tour Championship here by eight strokes after taking a three-stroke lead into the final round. But that kind of dominance had been a distant, albeit vivid, memory for Woods, who has had four back operations since spring 2014 and was limited to 12 tour starts from 2015 through 2017.
His best showings since returning to the tour in January, about nine months after spinal-fusion surgery, were two second-place finishes: at the Valspar Championship outside Tampa, Fla., in March, where he began the final round one stroke back, and at the P.G.A. Championship, the last major of the year, where he started the final 18 four strokes back.
"In March, I didn't really have a golf swing yet," Woods said. "I was still trying to figure out how to play."
He said he felt infinitely more comfortable with his game now. "I've gone through a lot this year to get myself to this point, and understanding and fighting my way through it," Woods said. "I'm certainly more equipped than I was in March."
Although Woods has not tasted victory for a while, LaCava is pretty sure he has not forgotten the recipe.
"He's been a pretty good front-runner his whole career, and obviously that's going to help tomorrow," said LaCava, adding that this year "he's been chasing, chasing, chasing. And people want him to win so badly and he gets close, but you have to remember there are people playing behind him that are capable of going low. It'll be nice to know that everybody will be in front of us for a change. That will help a little bit. But he's got two great players behind him."
Rose and McIlroy have five major titles between them, so Woods should not expect to be handed the title. This is the FedEx Cup playoff finale, after all, and not the lifetime achievement award portion of the postseason.
"I would love to be able to win this event," Woods said, "but I've got a bunch of guys behind me that have been playing well. We'll see what happens."
A version of this article appears in print on , on Page SP1 of the New York edition with the headline: Trying to End Title Drought, Woods Opens A 3-Shot Lead
. Order Reprints | Today's Paper | Subscribe
The article "For Tiger Woods at the Tour Championship, the End of a Drought Awaits" was originally published on https://www.nytimes.com/2018/09/22/sports/golf/tiger-woods-tour-championship.html?partner=rss&emc=rss