Tiger Woods, Grinding Through Round 2, Keeps Share of Tour Championship Lead
ATLANTA — After Tiger Woods tied for sixth at the British Open this summer, he told his two children that he hoped they were proud of him. Not for playing well or posting a top-10 finish, he said, but for "trying as hard as I did."
The crux of his greatness was right there in his phrasing. Woods, 42, is the king of a craft whose artisans often lose their way in the tall weeds of statistics: swing speed, fairways hit, strokes gained putting. To watch Woods maneuver his way around East Lake Golf Club during the second round of the Tour Championship on Friday was to be reminded that his mastery cannot be explained by numbers on a spreadsheet or by a high-tech tracking device.
[Follow our live, hole-by-hole coverage of Tiger Woods at the Tour Championship]
Woods never stops grinding, and through sheer fortitude, he finished the day with a share of the lead despite hitting only two fairways on the front nine and producing just one birdie through the first 11 holes.
Woods's two-under-par 68 gave him a 36-hole total of seven-under 133 for a tie with the world No. 1, Justin Rose of England, who posted a 67. It was the first time that Woods, who is seeking his first victory in five years, had held at least a share of the lead after 36 holes since the 2015 Wyndham Championship.
"Rounds like today are hard, and they're hard mentally because you have to grind it out," said Woods, who also shared the first-round lead, with a 65. He added: "It's easy to shoot low scores when you're sharp. It's a little bit more difficult to post a low number when I'm off. I was able to do that today, kept myself in the tournament."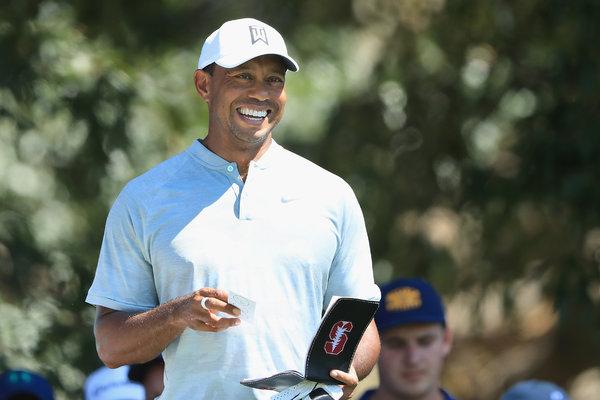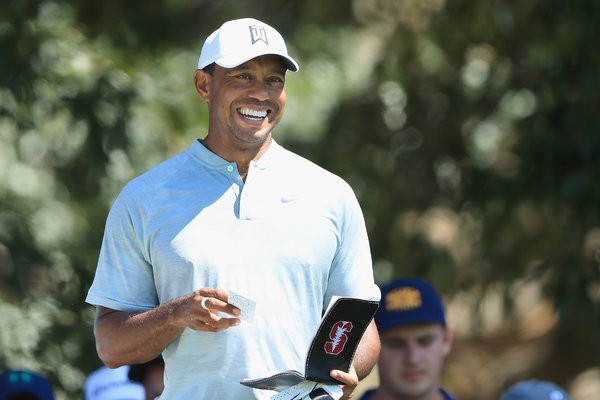 Through 17 starts in his return from career-threatening back surgery, Woods has six top-six finishes, but he is still looking for his first win since 2013. "I just haven't put it all together at the same time," he said on the eve of this tournament. "That's something that hopefully will come together this week."
Friday's round was one of those times when Woods's driver became a shovel that dug him into holes and his putter was the stick he used to climb out. On the ninth hole, a par-3, Woods made a rare mistake on the greens, pulling a four-foot putt for par. At that point, he had one birdie: on the second hole, where he drained a 19-footer.
Woods said he was exasperated — "pretty hot" were his exact words — when he walked to the 10th tee. "I tried to make sure I was focused enough on that back nine to shoot something under par," he said.
Woods found three consecutive fairways, beginning at No. 12, and birdied two of the holes (and got up and down from a greenside bunker to salvage par with a nine-foot putt on the third). He played in the final twosome with Rickie Fowler, who made East Lake an easy geometry exam on the front nine by finding every fairway but one. On the back, his drives started slightly missing their marks, and the test got considerably harder.
Fowler, who played the back nine in 39 strokes after needing 33 on the front, marveled at Woods's ability to post nines of 35 and 33 on a day when his control off the tee had escaped him.
"You understand why he has done a very good job throughout his career of getting the most out of every round when you watch him do it," Fowler said. "When he is in trouble, he plays his way into a position where he can recover. He doesn't compound his mistakes."
Woods believed that he could have used better judgment on two holes. On the 442-yard, par-4 13th, he hit his approach into a right greenside bunker, when, he said, "I could have hit the ball 70 feet left of the flag and been on the green."
And on the 459-yard, par-4 16th, Woods hit his second shot, from the rough, into a fairway bunker that he had been sure he could carry with his 9-iron. If he had pitched out instead, Woods said, he could have turned the 6 that he carded into no worse than a 5.
"I thought I could sneak it up there and get up on the upslope and have a good angle in there," he said, "and it just didn't work out."
Woods won this event in 2007, finishing eight strokes clear of the field in a week when the highest score he recorded was a 66. That kind of dominance is a distant, albeit vivid, memory for a player who has undergone four back operations since the spring of 2014. This year, Woods has proved that he is healthy at last, though he is still seeking a win, which would be the 80th of his career.
But as he told his daughter, Sam, and his son, Charlie, after the British Open, you can't always control the results, but the one thing you can control is your effort.
"They saw how much I was grinding, and they said, 'Well, you weren't going to win.' I said, 'I know I wasn't going to win, but that doesn't stop me from grinding.'"
A version of this article appears in print on , on Page D1 of the New York edition with the headline: Though Not at His Best, Woods Shoots 68 and Is Tied for the Lead at 7-Under
. Order Reprints | Today's Paper | Subscribe
The article "Tiger Woods, Grinding Through Round 2, Keeps Share of Tour Championship Lead" was originally published on https://www.nytimes.com/2018/09/21/sports/tiger-woods-tour-championship.html?partner=rss&emc=rss