Francesco Molinari Steamrolls Into the Ryder Cup
The last time Francesco Molinari played a round of Ryder Cup golf, he ended up as an unlikely hero in Team Europe's "Miracle of Medinah." Now, six years later, he finds himself going into this year's competition, which starts Friday at Le Golf National in France, as the principal standard-bearer for European hopes.
Molinari is the top player in the European Ryder Cup rankings, and after a number of strong finishes this year he is one of the most fearsomely consistent golfers in the world right now. He won the BMW PGA tournament on the European tour this spring, went on to win the Quicken Loans National on the PGA Tour, then capped his surge with his first major when he captured the British Open in July.
It's been a remarkable rise that few would have predicted.
It took Molinari 10 years to achieve four wins on the European Tour before 2018. This summer he went on a run in which he won three out of six consecutive tournaments, and finished second in two of them.
Thomas Bjorn, the European team captain, told journalists at the end of that run, "He's achieved in two months probably what most European golfers want to achieve in a career. He won the BMW PGA, he won in America and then the Claret Jug. It's pretty special."
Molinari credits his new consistency to "working ugly" with Denis Pugh, his longtime coach, Dave Alred, his performance coach, and Phil Kenyon, his putting coach. The approach has emphasized repetitive exercises, particularly around the greens, with Alred building Molinari's psychological armory by not allowing him to move on from playing uncomfortable shots until the exercise has been successful.
Bjorn said that Molinari "just goes about his business, does it quietly, easily" and called him, "one of the hard workers and good guys of the Tour."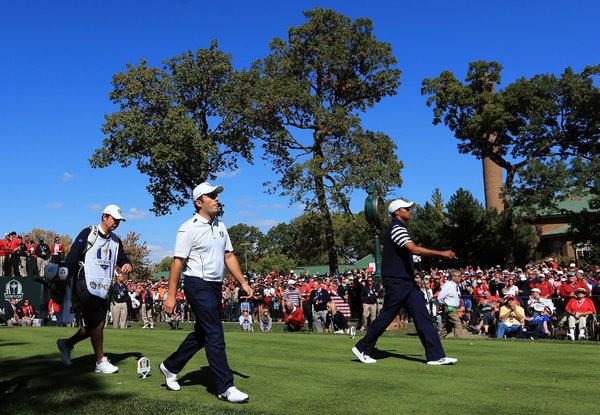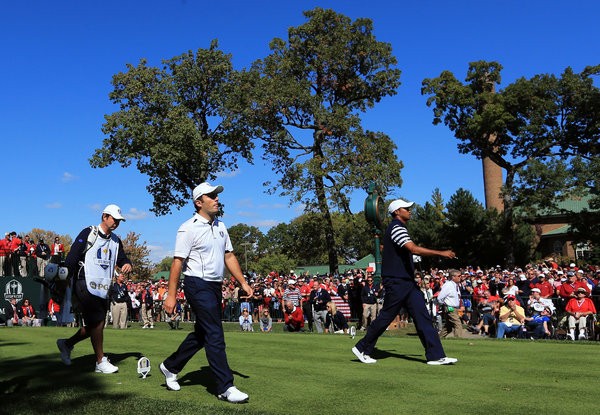 Where Molinari has always had a strong long game, the improvement in his short game and composure this year has elevated him to a new level. Molinari's success may also have set him up for another clash with Tiger Woods, who has been on what he calls a "trending" run of form in 2018 and won the Tour Championship on Sunday.
The two played each other in singles in the 2010 Ryder Cup, with Woods winning, 4 & 3.
In 2012 in Medinah, Ill., Team Europe was down, 10-6, going into the final day singles play, with Woods and Molinari in the final pairing. The European players won match after match, pulling even with the United States team. A win by Woods would only have tied the overall scores and ensured the trophy stayed with the European holders, but Molinari managed a half to cap an outright Europe victory.
Neither player has appeared in a Ryder Cup since, and for long periods since 2012 it looked unlikely either of them would. Until late last year, Molinari appeared preoccupied with the modest goals of retaining his tour standings, and Woods has been recovering from injuries and personal issues.
The two have crossed paths this year, with Woods — as tournament host — presenting the Quicken Loans National trophy to Molinari on July 1, then playing in the final round pairing with Molinari as the Italian won the British Open a few weeks later.
At the time, Pugh described the symbolic significance of Molinari playing that final round with Woods.
"Tiger 10 years ago would have been a much tougher proposition, but even now the crowds are following him because he is the main man," Pugh said. "You have to accept that.
"I think he is the best golfer that ever lived, and I think the nicest thing for Francesco was to play so well, to win the Claret Jug in front of him. He has the card signed by Tiger Woods. That's an extra bit of polish."
Molinari's first breakthrough at a major may mark the final time he is star-struck by Woods or any other player. Team Europe expects him to be the star this weekend.
A version of this article appears in print on , on Page B10 of the New York edition with the headline: After a Stunning Rise, Molinari Emerges as the Standard-Bearer for Europe
. Order Reprints | Today's Paper | Subscribe
The article "Francesco Molinari Steamrolls Into the Ryder Cup" was originally published on https://www.nytimes.com/2018/09/26/sports/golf/molinari-ryder-cup-le-golf-national.html?partner=rss&emc=rss