To Spur Interest, Golf Courses Go Small in France
BUC, France — Just a 15-minute drive from the site of this year's Ryder Cup, the Ugolf Buc-Toussus club is quite a bit farther from the Ryder Cup in style.
Le Golf National, which will be the proving ground for the American and European teams this week, has a modern stone and glass clubhouse and 18 holes on its championship Albatros course that measure a total of 7,331 yards with a par of 72.
The golf club in Buc has a small metal block of a clubhouse with an overhead shade structure typically reserved for roofs over parking lots. The club has a nine-hole layout designed for high handicappers that measures a total of about 1,260 yards with a par of 28.
It is what the French call a compact urban golf course. And it is a French twist on what Americans or Britons would call a "pitch and putt."
These short and modest French courses, designed to fit small parcels of land near major population centers, are also intended to be one of the main legacies of the Ryder Cup and are scattered throughout France.
"I have seen a bunch of them, and I really think they will leave a mark," said Jean van de Velde, the French golfer who was in position to win the British Open in 1999 before infamously splashing down on the 72nd hole at Carnoustie.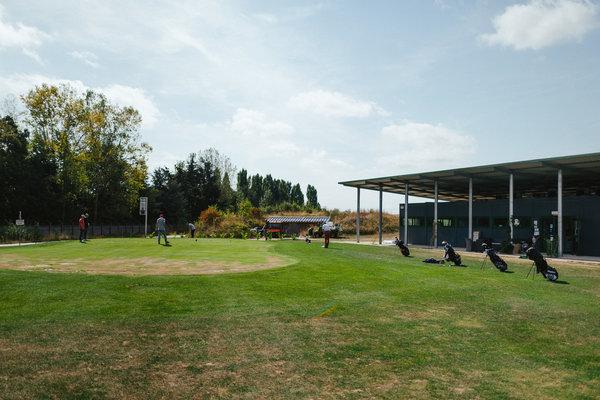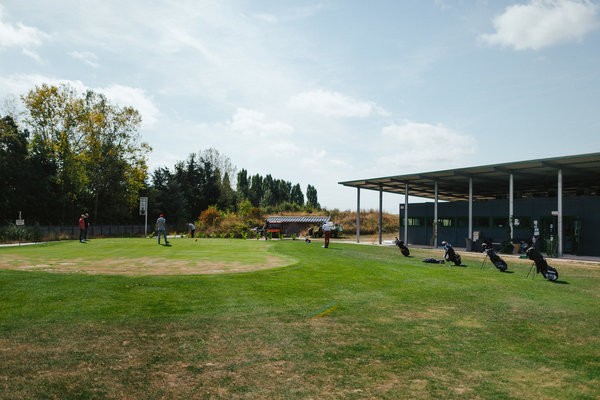 If Van de Velde had won that day, he might have become the big French star that his country's golf industry was searching for to build interest in the game, rather than a gallant loser for the ages.
Now as then, Arnaud Massy, who won the British Open in 1907, remains the last and only Frenchman to win a major.
Though Van de Velde, Thomas Levet and Victor Dubuisson have represented France in the Ryder Cup on one occasion in the last 20 years, there is no Frenchman on the European team this time.
French golf authorities have had to adopt more creative strategies to try to continue growing the sport in the face of a challenging economic climate, no shortage of recreational competition and the lingering perception of golf as an expensive, elitist pursuit.
"It's complicated to develop that great champion, and we thought if we want to develop golf in our country we needed structural change," said Pierre Lasfargue, a director at the French Golf Federation. "We needed more facilities, but not just any facilities."
Lasfargue was one of the driving forces behind the French federation's push to promote the compact course concept.
"I discovered golf in London on a pitch and putt, and I had proposed that we try to develop pitch and putt in France," Lasfargue said. "And they told me at the time it was a very British concept and would never work in France, and I said, 'Hey, I'm French and it worked for me, so that's not a reason.'"
He was told to keep developing the idea and was eventually part of a federation study in the mid-2000s that looked at the French golfing landscape.
"In France, we have about 173 significant residential and commercial zones, and we examined what kinds of golf courses we could put in these zones," he said. "We realized what was missing were the little ones. We needed small facilities close to cities, particularly if we wanted to attract the young."
That was because France already had experienced a building boom for golf courses from 1985 to 1995.
"In 10 years, there were about 400 18-hole courses that were built, which is about two-thirds of the total in the whole country," Lasfargue said. "But when we looked at it closely, we realized more than half of these 400 courses were outside of the residential and commercial zones, which meant they weren't connected to the population."
It was only when France's bid for the Ryder Cup began in earnest in 2009 that the project accelerated and the commitment was made if the bid was successful to build 100 of these compact courses in time for the tournament in 2018.
Pascal Grizot, president of the France 2018 Ryder Cup Committee, said the compact courses had created 47,000 new golfers through the years.
"We can trace the impact because each time there is a new golfer, they purchase a membership in the golf federation," Grizot said. "And these golfers are affiliated directly with these courses."
Lasfargue said the average age was about 10 years younger than at clubs with 18-hole courses. "The level of revenue is a bit lower, and the average age is 40, 41, 42, where on the big courses it's 52," he said. "We also get quite a few young people because the compact courses are often accessible by bus and bicycle. They are not overflowing with the young, but there are quite a few."
Though there has been public investment, the compact courses have been primarily funded by the private sector, which was the case in Buc, one of the earliest examples.
"What the federation has done is not provide the money but provide the business models for private investors," said Paul Armitage, general manager of Le Golf National. "It's also helping private investors talk to town councils or municipalities. Getting ahold of land close to cities is not easy and not cheap, so it's sometimes helping to get planning commissions and maybe municipalities involved and saying, 'Right, you keep the land, and you own it. But why just leave it as a wasteland?'"
In Buc, earth from a large tunnel project was used to shape some fields into an undulating and intentionally unchallenging course.
The first hole, a par 3, measures 119 meters, or about 130 yards, from the back tees, and the fairway resembles a grassy halfpipe so even errant shots will be funneled toward the green.
"For us, these compact courses respond to three big issues," Lasfargue said. "People say golf is expensive, difficult and time-consuming. Compact courses are inexpensive. They are easy, and you can play them quickly."
Florent Terroni, who works at the Buc club, says a good player can finish the nine holes — eight of which are par 3s — in about 45 minutes.
"An average player will finish in about an hour," Terroni said. "We've got a lot of different ages here and a good base. There are about 250 regulars, and then on top of that people in golf schools or who come here to get their green card."
The green card is the permit that allows golfers access to regular 18-hole courses in France. A licensed instructor has to sign off on it after observing a player for at least one round.
Moving up remains the goal for many of Buc's golfers, which creates considerable turnover. But the price at the course is hard to beat. Playing nine holes costs 20 euros, or about $23, less if you have a discount card.
Unlimited access to the course for a year costs €588. There is also a driving range, the only thing about the club that is not compact.
It has room for 110 golfers, even if it is rare if more than half the slots are occupied.
"I've never seen it full," said Benoit Serraz, a Buc resident who often practices at the course. "They are thinking about cutting the driving range in half and redesigning the whole course to make it longer, a real nine holes."
That sounds as if it might not quite fit in with the national smaller-is-better strategy. But for now, with the Ryder Cup just about to start and a Ryder Cup banner behind the reception desk in Buc, the federation's official count of compact courses is at 99.
Tempting though it might be, Lasfargue is resisting the thought of rounding up as he prepares to retire after the Ryder Cup.
"We're almost there, but we want it to be true," he said with a laugh. "We don't want to say 100 if it's not 100, but we'll get there and beyond."
A version of this article appears in print on , on Page B10 of the New York edition with the headline: France's Strategy to Groom a Future Champion: Shrink the Courses
. Order Reprints | Today's Paper | Subscribe
The article "To Spur Interest, Golf Courses Go Small in France" was originally published on https://www.nytimes.com/2018/09/26/sports/golf/golf-courses-go-small-in-france.html?partner=rss&emc=rss