To fully understand the sometimes fractious relationship between golfer and caddie, one needs to first understand there are always two sides to a coin.
Recently, there have been numerous complaints from a certain segment of players in Vietnam about the cost of caddies and the benefits a player receives.
I'll be upfront about my position on this.
First of all, I am notoriously difficult to please when it comes to caddies and, honestly, I would rather play without one as most drive me nuts. Don't get me wrong, I would happily pay the caddie fee to the club and let it keep the caddie for another player.
This is not about cost, it's about not driving myself (and everyone around me) bonkers.
However, I have found some to be exceptional over the years and have written about them in my weekly Sunday Vietnam News column.
The other disclaimer is that I manage golf clubs and understand the need for caddies at clubs and the important role they play.
So, while I can sympathize with some players on the subject, I must consider the actual importance of caddies and why people love or hate them.
The argument, from what I have seen in the local golf pages on Facebook, is that people are annoyed with the cost of caddies at some courses. Not all courses charge the same and not all courses pay caddies the same way either.
I can only speak for my own current club "(Trang An), as other courses I managed in the past may have since changed their policies.
At my club caddies receive a basic salary, social insurance, meal allowance and a percentage of the caddie fee. They also get free housing in a dormitory we built if they live more than 30km away and three winter and summer uniforms, including shoes. We also encourage players to tip a minimum of VND100,000 per nine holes.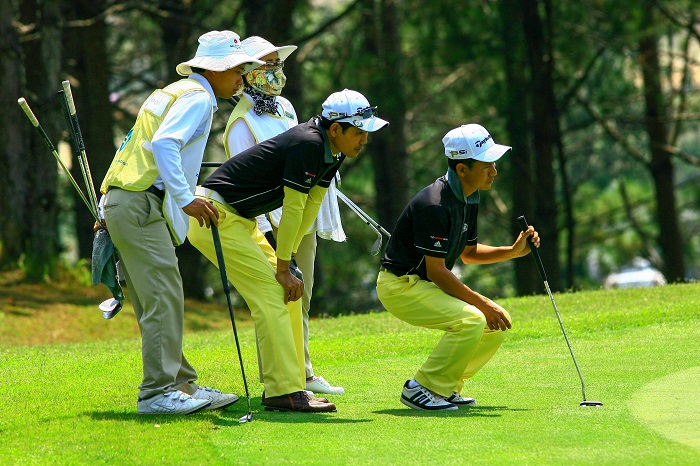 For the most part players usually tip more than that – but VND200,000 is the recommended minimum, although there IS one player who I will not name who is notorious for tipping very poorly.
One of the problems at other courses is some don't pay the caddies a salary or social insurance, nor do they always receive a percentage of the caddie fee. Some work only for tips.
While I can understand why some clubs would do this to maximize revenue and limit expenditures when faced with increasing competition, it's not something I personally consider fair.
But this is each club's call, not mine.
However, when this fact is known and the club charges a high caddie fee, some players get annoyed and refuse to tip the caddie. This is wrong and I don't see why the player should blame a caddie for a club management fault.
Imagine how the caddie feels when a player decides the club is too greedy and refuses to tip, or tips the caddie very little. The poor caddie has worked all day for nothing and yes – this does happen.
The caddie suffers, not the club. This is truly unfair and unjust.
Some players don't want a caddie and prefer to pull their own cart, like in the US or Europe.
First of all, this isn't Europe or the US, and the clubs (and players) here are not the same either.
The expenses of building a golf club in Vietnam are much higher due to land costs and limited time use of that land, so owners must maximize returns any way they can.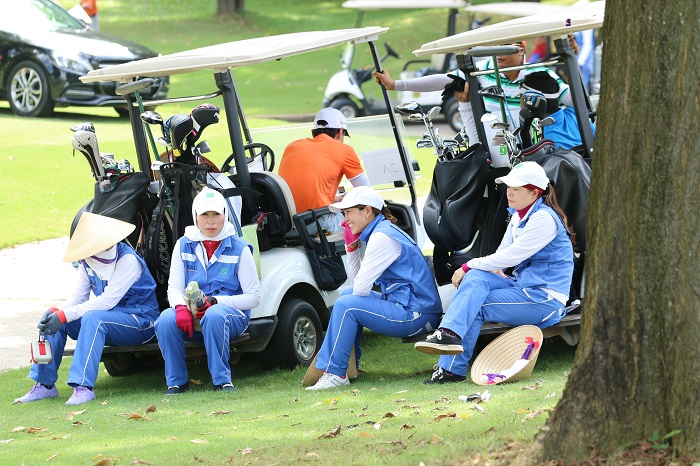 But some players don't care if the owner enjoys a profit. They want cheap golf, don't want to pay for caddies or buy food and beverages at the club. They don't want to buy anything from the pro shop and prefer to buy used balls off the street – and probably also argue about the price there too.
But they want great greens, good fairways and happy employees to fawn all over them and treat them like a king. At the end of the day, they don't care if the club goes bankrupt trying to please them.
If a club goes broke, they'll just move to another club and demand it all until it goes bust.
Caddies are often necessary as many players do not have an urge to fix divots, repair pitch marks or rake bunkers after use. Without a caddie, the course would become a disaster area in a short time.
I believe all players should do these things and if there is a caddie, make sure he/she is doing the job.
So it looks like caddies are here to stay for the foreseeable future and if a player doesn't like it, they can build their own golf course that has no caddies. Some day this will happen.
If a club is smart, it will listen to players and try to meet at halfway at least. Remember, happy players are repeat customers.
But, the bottom line is literally the bottom line: golf clubs are a business and have the right to charge what they want. If players don't like it, they are free to take their business elsewhere.
That's the benefit and curse of a (sometimes) free market.
The article "Golfer & Caddie" was originally published on http://vietnamgolfmagazine.net/en/golfer-caddie/