Celebrating 10 years of successful operations in Vietnam, Kohler-the global leader in kitchen and bathing products manufacturing-launched one more Kohler Dedicated Showroom in Hanoi.
The move shows Kohler's continuous expansion in Vietnam and a strategic step to approach its potential customers in the Northern region, who are known for their demand for luxury goods and flourishing high-end real estate projects.
The showroom takes up about 1,000 square metres in RitaVo Pro Center at 147 Hoang Quoc Viet Street, Cau Giay district.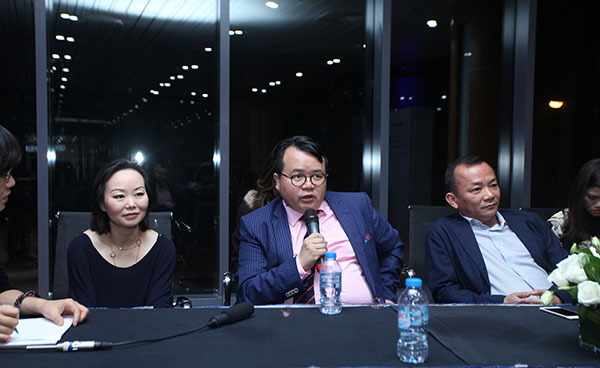 In the framework of the opening ceremony, Kohler launched Jacob Delafon, a luxurious French bathroom brand, with five artful collections inspired by Parisian design, namely Terrace, Replay, Soprano, Halo, and Rythmik. Besides Jacob Delafon, ultra-luxury brand Kallista and Kohler's very own kitchen cabinets and bathroom products will be available at the new showroom.
"During 127 years of operation, French emotion and elegance are the common threads linking all creations of Jacob Delafon. Its products are the perfect blend of exquisite design, innovative technology, and high-end materials. Paris, the City of Light where the magnificent classical beauty harmoniously mingles with the jubilant atmosphere of flea markets and the industrious spirit of modern life, is an ultimate source of inspiration for creating Jacob Delafon collections," said Larry Yuen, group president-Kitchen & Bath.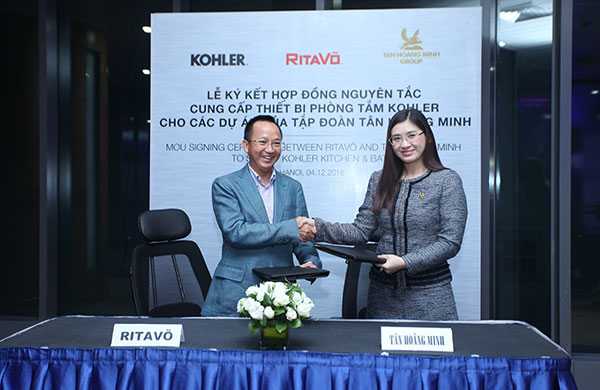 "Moreover, the close historical affiliations between Vietnam and France have infused Hanoi's landscape with familiar landmarks of French aesthetics. Therefore, I believe that Jacob Delafon will receive a warm-hearted welcome from Vietnamese customers," Larry Yuen added.
Founded in 1889, Jacob Delafon has long been known as an embodiment of "French-style bathrooms," thanks to its luxurious products with meticulously-crafted details. Jacob Delafon's emotional, elegant, and sophisticated products are born with the idea that the bathroom is not only a place of personal hygiene, but one of fashion and relaxation.
"RitaVo has been a strong supporter of Kohler in the past decade. The reputation of a 143 years in business has brought us invaluable lessons that significantly help to consolidate RitaVo's leading position in the field of distributing luxury goods. In return, RitaVo's solid experience coupled with a strong understanding of the market also contributed to bringing Kohler closer to Vietnamese consumers nationwide," said Vo Mau Quoc Trien, chairman of RitaVo.
Founded in 1873 and headquartered in Kohler, Wisconsin, Kohler is one of America's oldest and largest privately held companies. Kohler is a leading global manufacturer of kitchen and bath (K&B) products, engines and power generation systems, cabinetry, tile and home interiors, and international host to award-winning hospitality and world-class golf destinations.
Kohler has been exporting K&B products to Vietnam since 2006. It established the Kohler Vietnam representative office in Ho Chi Minh City in 2008 and Kohler Vietnam Limited Liability Company in January 2013. In October 2013, the Hanoi office was opened.
As of now, along with the new showroom, there are two Kohler Design centres, two Kohler Design Boutique showrooms, and two Kohler Dedicated Showrooms in Ho Chi Minh City and Hanoi. The Kohler brand achieved significant brand awareness in the biggest cities of Ho Chi Minh City and Hanoi.
Kohler Vietnam, together with its distribution partner RitaVo, has signed for many four and five-star hospitality projects, such as Hotel de l'Opera Hanoi, Pullman Hotel, Novotel Han River, Mercure Danang, InterContinental Nha Trang, Rex Hotel, Grand Hotel, Grand Ho Tram Strip, The Shell Phu Quoc, Vinpearl Phu Quoc, and many high-end residential projects, including Royal City, Golden Palace, Sun Villa Danang, Diamond Island, Saigon Pearl, SSG Tower, and Sala Dai Quang Minh.
By Ha Vy
The article "Kohler launches Delafon brand and new showroom in Vietnam" was originally published on http://www.vir.com.vn/kohler-launches-delafon-brand-and-new-showroom-in-vietnam.html