Trong khuôn khổ giải Laguna Golf Classic lần hai 2016, Vietnam Golf Magazine đã hân hạnh được tiếp kiến Sir Nick Faldo và có cuộc phỏng vấn thú vị với ông. / Vietnam Golf Magazine enjoys an exclusive chat with golfing legend Sir Nick Faldo, in country to support the The 2nd Laguna Golf Classic 2016.
Được phong tước Hiệp sĩ bởi Nữ hoàng Anh, danh hiệu "Sir Nick" luôn đi kèm với tên gọi ông phải không? Knighted by Queen Elizabeth II for your career with six majors and a Ryder Cup captain, should we call you "Sir Nick" all the time?
Mọi người gọi tên tôi thế nào cũng được. Tôi nghĩ rằng, vào những dịp quan trọng mọi người nên gọi tôi với tên đó, ngoài ra thì các bạn có thể gọi tên tôi một cách tự nhiên như bạn muốn.
I'm for whatever people are comfortable with. I think on formal occasions it's nice to be addressed with it, but after that I'm quite happy with whatever people call me.
Từ một golfer nay trở thành người bình luận golf, ông có nhớ thi đấu không? From on course player to mainly on-air golf analyst, how much do you miss competing?
Tôi rất cố gắng tập trung khi ngồi làm bình luận, tất nhiên nhiều khi tôi nghĩ "ước gì mình đang ở sân để chơi", nhất là ở những sân golf đẹp nơi tôi đã từng chiến thắng. Nhưng để quay trở lại thì tôi chưa sẵn sàng vào lúc này, kể cả thể chất và tinh thần.
I made a conscious effort when I went to the booth that I wouldn't sit there and go, 'Oh, I wish I was out there'. But I'm not geared up for it now, physically or mentally.
Ông có thấy thoải mái khi bình luận về các golfer? Are you comfortable commenting players?
Tôi bình luận golf phát sóng trực tiếp. Khi tôi nhìn thấy golfer phát bóng tốt hay tồi thì tôi thường phân tích vì sao có kết quả như vậy. Tôi cố gắng lột tả chính xác sự việc, cuối cùng mới đưa ra nhận xét cá nhân về cú đánh.
I'm reporting live golf. If I see a guy hit a really good shot, I explain why it's a good shot, and if I see a guy hit a really lousy shot I say why. I try to be factual. The last thing I want to do is get personal about a guy's swing.
Ông nhận xét gì về golf ở Việt Nam? What do you think about golf in Vietnam?
Trước đây tôi được biết rằng golf chỉ dành cho người giàu, nhưng giờ đây thu nhập của người dân tăng lên vì vậy số lượng người chơi cũng dần tăng. Việt Nam có quá nhiều tiềm năng và địa danh để xây dựng sân golf. Càng có nhiều sân giá chơi sẽ càng rẻ và như vậy sẽ nhiều người được biết đến môn thể thao này.
I heard golf before was only for the rich, but now when the income of Vietnamese increases, we have more golfers. Vietnam has a lot of destinations and locations suitable to build golf courses. With more golf courses, we hope the fee will be reduced so people who love this sport can enjoy it as well.
Với hơn 40 sân golf và 100,000 người chơi golf nhưng mới chỉ có 200 tay golf trẻ, theo ông làm thế nào để thúc đẩy golf trẻ? With more than 40 golf courses and 100,000 players around the country but only 200 junior golfers, how can junior golfer be grown?
Điều này phụ thuộc rất nhiều vào gia đình. Tôi may mắn vì bố mẹ đã ủng hộ tôi rất nhiều trong quyết định trở thành golfer chuyên nghiệp. Tôi rất vui khi biết rất nhiều thế hệ trẻ Việt Nam yêu golf và đó là lý do vì sao tôi đưa vòng chung kết giải Faldo Series Asia về Việt Nam vào tháng 3 năm sau.
This depends a lot on family support. I am very lucky that I had great support from my parents with the decision to become a professional golfer. I am happy to know that lots of young Vietnamese love golf and that is one of the reasons I will bring the Faldo Series Asia Grand Final for young golfers in March 2017.
Ông có thể cho biết thêm về Faldo Series? Can you tell us more about the Faldo Series?
Hệ thống giải trẻ Faldo ra đời năm 1996 là cuộc thi dành cho golf trẻ từ 12 đến 21 tuổi để tìm ra những nhà vô địch trong tương lai. Vòng thi đấu của giải gồm hơn 7000 người tham dự, 38 giải đấu và diễn ra trên 30 quốc gia từ châu Âu, châu Á – TBD, Bắc và Nam Mỹ. Các tay golf Rory McIlroy và Yani Tseng đã trưởng thành từ giải đấu này.
The Faldo Series launched in 1996 is a worldwide junior competition for male and female golfers aged 12 to 21 to identify future champions. There are over 7,000 participants each year and 38 tournaments in 30 countries in Europe, Asia Pacific, North and South America. It has helped develop Major champions Rory McIlroy and Yani Tseng.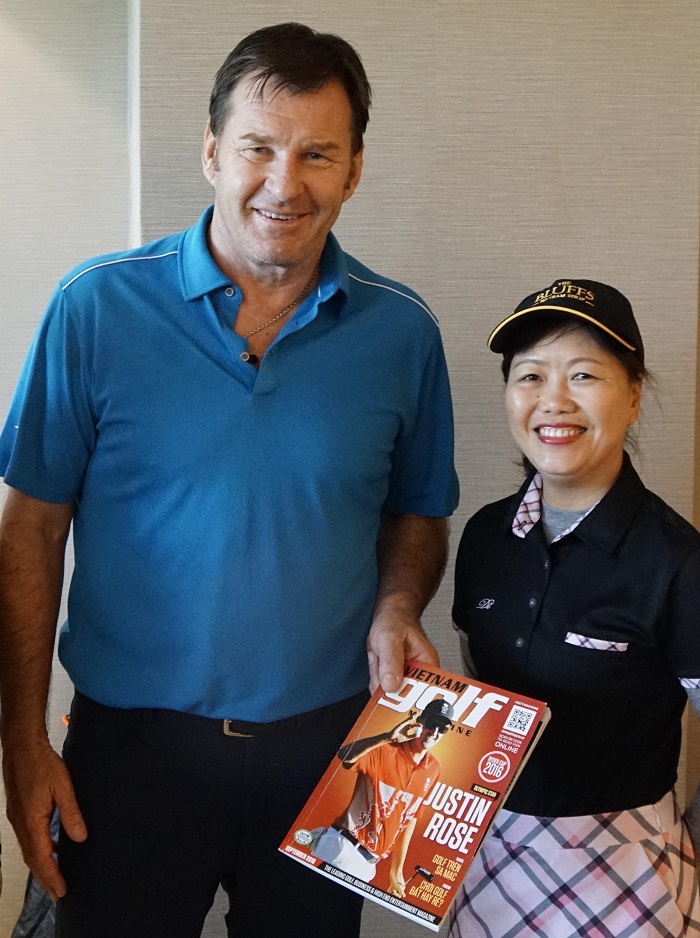 Theo ông, sân Laguna Golf Lăng Cô có gì đặc biệt? What are the special aspects of Laguna Golf Lang Co?
Laguna là một trong những sân golf ngoạn mục và thách thức nhất châu Á. Sân golf có thiết kế nhấp nhô nhìn ra một trong những vịnh biển đẹp nhất Việt Nam. Cách thiết kế có chủ đích uốn lượn theo cảnh quan độc đáo bao bọc ba phía bởi những dãy núi trùng điệp và phía Tây là Biển Đông. Chơi golf ở Laguna Golf Lăng Cô cực kỳ thú vị bởi cảnh quan độc đáo của đồng lúa, các rừng cây cao vút, các lạch nước, suối trong vắt và các mỏm đá lớn cạnh bờ biển.
Laguna Golf Lang Co is one of the most breathtaking and challenging courses in Asia. This rugged course overlooks one of Vietnam's most beautiful bays. The thoughtful design plots its way through the changing landscape framed by mountain range on three sides and the East Sea to the west. The Lang Co golfing experience combines the unique environs of rice paddies, soaring trees, "blowout" areas, creeks, streams and dramatic rock outcrops on oceanfront footage.
Kế hoạch 10 năm tới của ông? Your plan in years to come?
Tôi sẽ tiếp tục chơi golf và làm những công việc liên quan đến golf như thiết kế sân golf, giúp các tài năng trẻ yêu thích môn thể thao này. Tôi cũng có ý định chơi một môn thể thao khác như bóng đá. Tôi cũng yêu bóng đá.
I will continue to play golf and doing things related to it like designing golf courses, helping young talent who love this sport. I also intend to play another sport like football. I love football!
Đăng bởi Thùy Chi
The article "Meeting Sir Nick Faldo" was originally published on http://vietnamgolfmagazine.net/en/meeting-sir-nick-faldo/